Reelblack, Philly's #1 promoter of Black Film, is giving one lucky reader a copy of the soon-to-be-released book, VENGEANCE, signed by its author, ZANE.  Enter to win by sending an email with your FULL NAME AND MAILING ADDRESS IN THE MESSAGE AND THE PHRASE "ZANE BOOK" IN THE SUBJECT LINE to reelblackinc@aol.com
Be sure to join our mailing list at  http://reelblack.com/wordpress/?page_id=17
Mega bestselling author Zane returns to the world of her hugely popular novels Addicted and Nervous in this dark and exhilarating follow-up featuring a beautiful but emotionally damaged pop star desperate and determined to enact revenge on those who have caused her to hide behind her fame.
After fleeing from Atlanta years ago following a traumatic event, Caprice Tatum decides it's time to return to her roots—only this time, she's coming back as Wicket, the international pop sensation who's the very definition of fame and fortune. And while she may be the perfect diva onstage, offstage she's desperate to finally lay her past to rest. Her plan? Revenge.
The deeper she worms her way into Atlanta's most elite circles, the more Caprice unravels, putting herself and the few people she trusts at risk, including Jonovan, her childhood crush whose compassion and allure is almost too hot to handle. When her father suggests she see a therapist, Dr. Marcella Spencer, Caprice finally begins to pick up her pieces and find an inner-strength.
But can Caprice truly overcome her past? Or will it drag her even further into darkness?
Tune in to 900amwurd.com today from 11am-noon ET for another episode of Reelblack Radio on The Mojo. at 11:05, Mike and Steph will chat with comedian CHRIS COTTON about his new webseries, The Trackbreakers.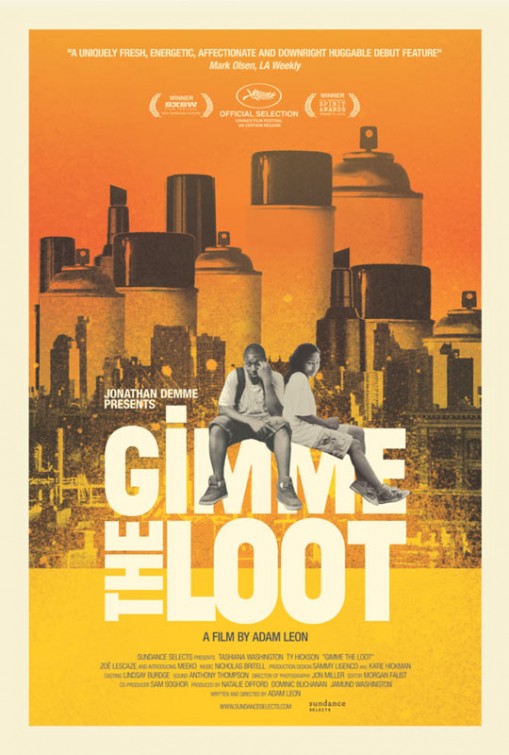 Save $2 OFF any Gimme the Loot screening at the Roxy with code: RB2gimme
May 13-19
GIMME THE LOOT
ADAM LEON / USA / 2012 / 81 MIN
At PFS Roxy 20th and Sansom Streets
This energetic indie hit follows smalltime graffiti artists Malcolm and Sophia as they hustle and scam their way to executing NYC's biggest coup: tagging Mets stadium's iconic big apple.
By delivering weed to flipping stolen phones, Sophia and Malcolm (Tashiana Washington and Ty Hickson) attempt everything in the playbook to scrounge up the $500 they need to pull off their next "bomb," but run into unexpected obstacles at every turn. With his feature debut, director Adam Leon demonstrates a keen eye for offbeat, memorable characters - from a lovelorn sneaker enthusiast to a drug dealer who's more interested in conversing with clients than hawking his wares. But charismatic newcomers Washington and Hickson really steal the show, gamely veering from arrogance to crushing insecurity and back again in a way that will resonate with anyone who has ever been young, ambitious, and broke. Full of boisterous humor and high-risk highjinks, GIMME THE LOOT carries on American indie cinema's storied tradition of shaggy, slice-of-life storytelling while staking out its own territory driven by singular lead characters and a particularly trenchant take on life in diverse but socially stratified New York City.
CAST: Ty Hickson, Tashiana Washington, Joshua Rivera, Melvin Mogoli
PHILADELPHIA FILM FESTIVAL ALUM - PFF21
Awards/Festivals: SXSW (Grand Jury - Best Narrative Feature), Cannes Film Festival, Chicago International Film Festival
Reelblack and the African American Museum in Philadelphia are proud to present the Philly Premiere of ARRAY Releasing's ECHO PARK.  Screening will take place Thursday May 12 7pm at the African American Museum in Philadelphia.  Tickets $7-$13.
ECHO PARK is a lyrical romantic drama that embraces the physical terrain of Southern California and the emotional landscape of love lost and found. Directed by acclaimed celebrity photographer turned filmmaker Amanda Marsalis (Vogue, GQ) and starring Mamie Gummer (CBS' The Good Wife, CAKE) and Anthony Okungbowa (The Ellen DeGeneres Show, MOTHER OF GEORGE).
ECHO PARK takes viewers inside a diverse East Los Angeles neighborhood where residents contend with life and love while being challenged to define themselves in spite of their zip code. Sophie (Gummer) flees from her life of status and security, developing an unexpected romance with Alex (Okungbowa) who is also in search of a new start.
ECHO PARK held its world premiere screening at the 2014 Los Angeles Film Festival and is an official selection of the Ashland Independent Film Festival and Toronto's Female Eye Film Festival.
GET TICKETS NOW AT https://www.eventbrite.com/e/films-with-aamp-echo-park-presented-by-reelblack-array-tickets-24439212342
Reelblack and PEC Present A TRIBUTE TO PRINCE
Friday May 13, 2016 at The United Bank Building, 3750 Lancaster Avenue.
TWO SHOWS! 6:30pm and 9:00pm.Get advance tix at rbprincetribute.eventbrite.com
In honor of the Genius, Reelblack and PEC host a night of rare documentary and video performances of PRINCE ROGERS NELSON. We will screen a seldom seen British documentary showing highlights of his career, then round out the night with over an hour of his best performances Compiled by Reelblack founder Mike D, the clips will span his entire career, from his earliest TV appearances, rare bootlegs, interviews and classic scenes from his films. Come celebrate and sing along with us.
James' SIDE OF THE ROAD JERK CHICKEN will be vending outside and we will have some very cool Prince related giveaways.
NOTE: A limited number of first come, first served tickets will be available at the door for each show ($5.00/please bring cash), however tickets bought online will have seats reserved for them up until the show starts.
The Philadelphia Independent Film and Video Association's Cinema Speakeasy series presents an Open Screen showcase of short work by area artists.
Wednesday May 11, 2016 at L'Etage, 6th and Bainbridge (above Beau Monde Creperie) at 7:30pm.
Local filmmakers can show work of up to 20 minutes long.  Bring as a DVD or mp4 file on a drive.  Signup begins at 7:00pm.  This is a great opportunity for artists to share their work and for audiences to experience something new.
ADMISSION IS FREE AND OPEN TO THE PUBLIC.  But Bring loot for drinks or one of Beau Monde's yummy sweet or savory crepes.

Reelblack was the first to do a video interview with comedian/activist DICK GREGORY to talk about the recent passing of PRINCE.  It immediately went viral, earning over 500,000 views in 3 days–our biggest video ever.  You can check out the video above (Warning-Contains offensive language).  CLICK HERE to find  out how to win a signed copy of Dick Gregory's memoir.
Swing Film Premiere Thursday May 5th, 2016 7:30pm The Pearl Theater 1600 N. Broad Street Philadelphia PA, 19121
Storyline- Trip is an aspiring musician with one foot in the streets and the other in his music. A lifetime of poor decisions has placed him between the police and a mysterious figure named Mississippi Black in 1945. He soon find things are not always what they seem.
Boston2Philly is a coming-of-age independent drama that chronicles the life of Rome "Boston" Williams (Ralph Celestin), a young Black male from Boston, struggling with his identity and his ability to form real relationships in his new city of Philadelphia after a tragic accident takes the lives of his family.
Both melodramatic and comedic, poignant and enlightening, through the personal journeys of the students, Boston2Philly reminds us all that sometimes the first step to true success comes from understanding who you were, who you are, and where you are going.