Congrats to Felton McMillan of Northern Liberties and Robin Frink of Southwest Philly who were randomly selected to win DVD/blu-ray combo packs of BROKEN CITY starring Mark Wahlberg and Russell Crowe courtesy of 20th Century Fox.
Broken City is available wherever you find movies.
Broken City:
Mark Wahlberg, Russell Crowe and Catherine Zeta-Jones star in this gripping crime thriller where everyone has a motive and no one can be trusted.   Seven years after being forced to resign as a New York police officer, private detective Billy Taggart (Wahlberg) takes on his toughest case yet: following the wife (Zeta-Jones) of the city's hard-nosed mayor (Crowe), who's convinced she's cheating on him.  But by the time the mayor reveals his true intentions, Billy is already in too deep. Now, with his freedom — and quite possibly his life — on the line, Billy will risk it all in a desperate bid to expose the truth, and seek redemption in a city where second chances don't come cheap.

Congrats to Caprice Cooper of Frankford for winning a copy of LL COOL J's latest CD, AUTHENTIC, courtesy of UMe.  The first rockstar of rap, star of the hit CBS TV series NCIS: Los Angeles, and host of this year's Grammy telecast LL Cool J returns with a sultry new set. Includes the hit single "Take It" (feat. Joe), along with guest vocals from Eddie Van Halen, Snoop Dogg, Seal, Brad Paisley, Fitz & The Tantrums, Monica and more! Production from DJ Premier, Marley Marl, and Track Masters.
at The Dreaming Building 618 N Front St
Philadelphia, PA 19123 6pm - 9pm
Come out to  Councilman David Oh's Black Film Advisory Committee's next event,
"Return of 'The Set'."
Enjoy a night of mixing and mingling with other professionals in the film industry in Philadelphia. Whether it's food, filmmaking, makeup, set design or fashion, professionals involved in "The Set" will join to network!
Free catered event for the public and open to all filmmakers and individuals in the film industry.
RSVP to attend, space is limited!
http://bfactheset.eventbrite.com/
I feel like I'm being watched down upon. How funny that I'd be looking for something else on an old hard drive and I find a series of pictures taken exactly 12 years ago to the date of my grandmother walking her dog, Betty. Nana was not able to walk without assistance the last few years of her life. After she transitioned, I'd see her in my dreams, walking and smiling just like this, her health fully regained. I'd completely forgotten these photos existed. Now I'll make sure they stay in a safe and cherished place. Coincidence? I think not. Thank you Nana for sharing a smile with me today.
Don't miss The Best of Reelblack TV. Featuring actors Craig Robinson (Peeples) and Anthony Mackie (Pain & Gain), Fillmmakers Chinonye Chukwu (AlaskaLand) and Terrence Nance (Oversimplification of Her Beauty). With music from Alice Smith. Thursdays at 8pm on PhillyCAM (Comcast 66/966• Verizon 29/30). Repeats 10pm Saturdays.
Friday night, May 17, Reelblack will host a special "Secret screening" of a work-in-progress by a local filmmaker.
Word has leaked that this long awaited film is full of great music. We're sure you'll get a kick out of seeing this cool little film.  If you enjoy our regular Dinner and a Movie, you will not be disappointed by this one.
As always, admission is FREE with the purchase of a Cafe Mills Vegan or Seafood Meal ($12 and up).
At Cafe Mills, 6460 Greene Street (at the Upsal Train Station). Doors open 6:30pm. Please arrive early as seating is limited.
RSVP at
Sundance Film Festival hit AN OVERSIMPLIFICATION OF HER BEAUTY opens in Philly on Friday June 7 at the Landmark Ritz at the Bourse.  Reelblack is scheduling a Movie Meetup in support of this amazing film for the night of Saturday June 8.  Filmmaker Terence Nance is expected to be in attendance.  In my opinion, this is the best indie feature to be released so far this year.  Please save the date and show this talented brother some love.
You've just arrived home after a bad day. You're broke and lonely, even though you live in the biggest and busiest city in America. You do, however, have one cause for mild optimism: you seem to have captured the attention of an intriguing young lady. You've rushed home to clean your apartment before she comes over. In your haste, you see that you've missed a call. There's a voice mail; she tells you that she won't be seeing you tonight.
With arresting insight, vulnerability, and a delightful sense of humor, Terence Nance's explosively creative debut feature, AN OVERSIMPLIFICATION OF HER BEAUTY, documents the relationship between Terence and a lovely young woman (Namik Minter) as it teeters on the divide between platonic and romantic. Utilizing a tapestry of live action and various styles of animation, Terence explores the fantasies, emotions, and memories that race through his mind during a singular moment in time.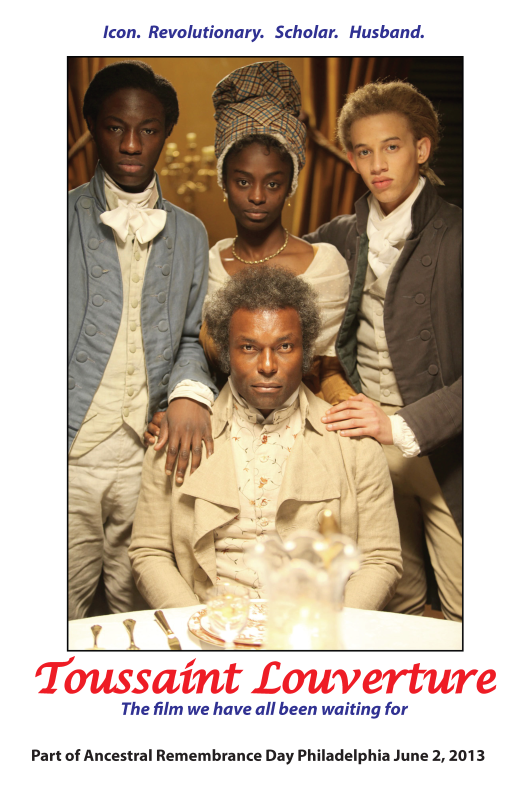 Philadelphia premiere of TOUSSAINT LOUVERTURE starring Jimmy Jean-Louis! This is a special fundraising event for HIPCINEMA and Haitian Professionals of Philadelphia.  Sunday June 2 at 2pm.

The film is presented in conjunction with the Middle Passage Ceremony & Port Marker Project at the Independence Seaport of Museum of Philadelphia.
The English subtitled  180 minute film will be shown with a brief intermission.
Tickets only $10.00

Purchase your tickets now at http://toussaintphilly-estw.eventbrite.com
The PHILADELPHIA MUSEUM OF ART in collaboration with MYTHMEDIA:21 will screen AFROPUNK's new documentary project, THE TRIPTYCH, as a part of the museum's new PAY-WHAT-YOU-WISH WEDNESDAYS: June 12th.
The SCREENING will start at 6PM in the VAN PELT AUDITORIUM with the PANEL to immediately follow at 7:30PM. This event is FREE WITH MUSEUM ADMISSION.
The evening at the PMA concludes at 8:45…but the party continues @ MAMA's GUN! MAMA'S GUN, a new monthly music showcase from the Philly ROCKERS collective, will host the official after-party for THE TRIPTYCH screening at the historic ORTLIEB'S / 847 North 3rd St. / Cover $5 / Doors 9PM.
ABOUT THE FILM
THE TRIPTYCH is a three-part documentary series produced by AFROPUNK PICTURES and co-directed by TERENCE NANCE and BARRON CLAIBORNE. The series' first installment features three cutting-edge New York-based contemporary artists of African descent, including Wangechi Mutu, Sanford Biggers, and Barron Claiborne. The films themselves are works of art, giving platform to bold and culturally resonant voices in the art world. Each monologue is a reflection of the artist's life experience letting the viewer discover how their observations have shaped the art they create. THE TRIPTYCH is currently on national tour with screenings hosted by museums and universities across the country.
Bassist/Composer CHRISTIAN MCBRIDE offers up some Good Advice to aspiring artists in this exclusive clip filmed live at the 2013 Montclair Jazz Festival.  Catch up with all things McBride at www.christianmcbride.com  Special Thanks Montclair Film Festival. Camera Craig Carpenter