ABC's new family comedy, "black-ish",  premiering on September 24th at 9:30pm, takes a fun yet bold look at one man's determination to establish a sense of cultural identity for his family. The series stars Anthony Anderson, Tracee Ellis Ross and special guest star Laurence Fishburne. "black-ish" stars Anthony Anderson as Andre "Dre" Johnson, Tracee Ellis Ross as Rainbow Johnson, Yara Shahidi as Zoey Johnson, Marcus Scribner as Andre Johnson, Jr., Miles Brown as Jack Johnson, Marsai Martin as Diane Johnson and special guest star, Laurence Fishburne.
"black-ish" was created by Kenya Barris and is executive-produced by Barris, Larry Wilmore, Anthony Anderson, Laurence Fishburne, Helen Sugland and E. Brian Dobbins. The series is produced by ABC Studios.
Starring: Anthony Anderson | Tracee Ellis Ross | Yara Shahidi | Marcus Scribner | Miles Brown | Marsai Martin | Laurence Fishburne
Although it doesn't premiere until 9/24 on ABC, The first episode of BLACK-ISH is available NOW as a FREE DOWNLOAD on iTunes.  I found it to be well written and of course the cast is great.  I'm still not a fan of the title, but if you liked The Bernie Mac Show or Modern Family, this might be your cup of tea.
Reelblack HIGHLY RECOMMENDS you check out comedian KIM COLES, the hilarious star of the hit TV sitcom Living Single for the Philly debut of her acclaimed one-woman show chronicling the ebb and flow of her life in showbiz. With her signature sass and irrepressible charm, Kim comically details her struggle to find true meaning beyond the glitz and glam of Hollywood.
Three Shows - Thursday Sept. 11 at 8pm
Friday September 12 at 8pm
Sunday September 14 at 8pm
At Voyeur Nightclub 1223 St. James Street  (12th Street between Walnut and Locust)
The venue for this show is 21+ only. Please remember to bring valid photo ID!
80 minutes
Tickets are just $23 and may be purchased HERE.
This Summer went by so quick, we didn't have time to plan an Anniversary party.  People have been asking if we will do another Birthday celebration like we did last year.  Yes!  We will be doing a combined Reelblack 12th Anniversary and Mike D Birthday party fundraiser at The Point Of Destination Cafe on Saturday October 11 from 1pm - 6pm.  More details will follow.
James' Side of the Road will be providing the vittles and we will be taking pre-orders for Reelblack hoodies.
If you missed Nina "Lyrispect" Ball's book signing on Wednesday, you can order your signed copy of her debut poetry collection, "The Precursor" at www.lyrispect.com
Support!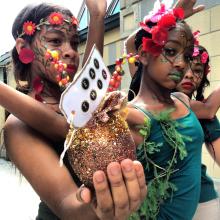 Griot Sway is a hot new rap by kids that celebrates African American heritage and culture. We've made the song and now we're making the music video and premiering it at our music video release party 9/9 at The Harvest where the kids will perform Griot Sway live!
Donate as little as $1 and get an exclusive download of the hit song!
Indiegogo Link:
http://igg.me/at/GriotSway/x/8550007
Angela Davis, Other Activists and Artists Star In Film Coming to Philly, Dramatizing U.S. Political Prisoners Incl. the Rosenbergs, Russell Maroon Shoatz and Others
CARRY IT FORWARD: Celebrate the Children of Resistance stops in Philadelphia on September 23, 2014. This 90-minute film dramatizes the last four days of the lives of Ethel and Julius Rosenberg and celebrates current movements for peace, civil liberties, climate justice, immigrants' rights, and other progressive struggles from Idle No More to efforts to combat police brutality, to the fight to free political prisoners and more.
Angela Davis narrates, and Eve Ensler and Cotter Smith star as Ethel and Julius Rosenberg, with readings of the couple's letters from death row.  Other cast members bring to life the stories of families engaged in progressive struggles today, including international human rights attorney Lennox Hinds, Shola Lynch (acclaimed director of Free Angela and All Political Prisoners and other films), and Djibril Toure (a NYC-based community organizer active with Communities United for Police Reform, Malcom X Grassroots Movement and Copwatch) who portray political prisoner Russell Maroon Shoatz and members of his family. Radical hip hop group Rebel Diaz and folk duo Mike + Ruthy perform their own brands of protest music, and Robert and Michael Meeropol recount what it was like to grow up as the Rosenbergs' sons.
The one Philadelphia screening of CARRY IT FORWARD will take place at 7:00 pm on September 23, 2014 (doors open at 6:30), at The Rotunda, located at 4014 Walnut St. The event is a benefit for the Rosenberg Fund for Children. Admission is a suggested donation of $10, and additional, tax-deductible donations to the Fund are welcome. The screening is co-sponsored by The Shoatz Family and Free Maroon Philly, with support from Prison Radio.
Friday September 19 at the Annenberg Center, 3680 Walnut Street
Philadelphia, PA 19104
215.898.3900
In Devorah Heitner's book Black Power TV, she chronicles the evolution of Black public affairs television during the 1960s and '70s through the emergence of local and national programming. New York's Inside Bedford-Stuyvesant and Boston's Say Brother offered their own take on mainstream discourse while also highlighting important figures in Black history and exploring Black culture and art. Black Power TV reveals how the early Black public affairs television programs redefined African American representations in ways that continue to reverberate in society today.
Join Black Power TV author and media scholar Devorah Heitner for a screening and discussion of segments from Black public affairs shows from around the country including Philadelphia's Visions. Led by Sara Lomax-Reese, WURD President and General Manager, the distinguished panel will include:
Trudy Haynes, Broadcast journalist, Former entertainment reporter for KYW 3; Host, The Trudy Haynes Show, Sunday Magazine and Sunday Side Up
Louis Massiah, Executive Director of the Scribe Video Center
Salamishah Tillet, Associate Professor of English at Penn
Devorah Heitner, Author, Black Power TV
At the conclusion of the forum, Heitner will be available to sign copies of Black Power TV. Copies will be available for sale at the event.
This event is free but a ticket is required!
As you know the heads who were a part of the poetry, music, and conscious communities circa 1990-1999 are coming together to celebrate our rich cultural shared history. Our event will be hosted at Vernon Park in Germantown, Philly on Saturday Sept. 13. What started out as a small gathering of the heads has turned into a huge highly anticipated soiree.
Please Support by visiting http://www.gofundme.com/ctijvc
The event will feature activities for the children, food vendors, music, and fun. We are also taking a commemorative photo during the event of everyone who was a part of this awesome scene and then a pic of all of their children to preserve for posterity's sake.
Read Philadelphia Weekly's listing for the event HERE.
Between September 6 and November 1, 2014, Scribe Video Center will be screening Muslim Voices of Philadelphia at 18 locations across the city in partnership with museums, universities, community centers, and libraries. CLICK HERE for an up-to-date schedule of upcoming screenings. CLICK HERE for more info about the films.
Reelblack, Philly's #1 promoter of African-American film is giving away four (4) passes for two to experience MAYWEATHER VS. MAIDANA 2 broadcast LIVE from The MGM Grand in Las Vegas.  Broadcast will take place this Saturday September 13 8pm at the UA King of Prussia Theater.
Two ways to win - Attend our Movie Meetup tomorrow for NO GOOD DEED or our screening tomorrow night (one pair of tickets will be given away at the meetup/ 3 pair at the screening).

Hope to see you there!
Special Fathom Feature: Mayhem: Mayweather vs. Maidana 2 broadcast LIVE from the MGM Grand in Las Vegas.

Fathom Events, O'Reilly Auto Parts, Mayweather Promotions, Golden Boy Promotions and Showtime bring you the highly anticipated rematch between eleven-time world champion Floyd "Money" Mayweather and the dangerous, power-punching Marcos "El Chino" Maidana. After their thrilling fight earlier this year, which left sports fans clamoring for more, the two prizefighters will face each other again when Mayhem: Mayweather vs. Maidana 2 is broadcast LIVE from the MGM Grand in Las Vegas to select movie theaters nationwide on Saturday, September 13 at 8:00 p.m. ET/5:00 p.m. PT.

This exciting rematch will undoubtedly test the skill and will of both fighters in this electrifying showdown that is set to finish that which was started the first time they met. Despite the brutal nature of their first meeting, Mayweather has chosen to give Maidana a chance to redeem himself and rightfully earn a victory against the undefeated champion by facing off in a rematch that is sure to bring mayhem to the ring!

Don't miss it LIVE and on the Big Screen – where every seat is ringside!
For theaters and tickets, go to http://www.fathomevents.com/event/mayweather-vs-maidana-2-live