Reelblack Unveils "Last Night At The Five Spot," A Feature Length Concert Film Featuring Philly's Hottest Soul Musical Acts At International House on May 12.
Philadelphia, PA April 27, 2009 – Award-winning filmmaker Mike D. has established a reputation for documenting the music and cultural lives of Philly artists through projects like Jazzyfatnastees: In Process and Ursula Rucker: Poet.  On Tuesday May 12, 2009, he will offer the public a chance to experience a special work-in-progress screening of  LAST NIGHT AT THE FIVE SPOT, a feature length concert film featuring Kindred The Family Soul, Jazzyfatnastees, Lady Alma, Carol Riddick, Jazmine Sullivan, Floetry, Jeff Bradshaw, Curt Chambers and D. Ryva Parker.  This one night only screening will take place at International House's recently renovated Ibrahim Theater, 3701 Chestnut Street in University City on Tuesday May 12, 2009 at 7pm. Tickets are just $10  may be purchased in advance through www.ihousephilly.org.  For more info visit www.reelblack.com
http://www.ticketweb.com/t3/sale/SaleEventDetail?dispatch=loadSelectionData&eventId=1417264
Most of the musicians showcased in the film first gained notice through The Black Lily, a weekly live music series that took place at The Five Spot in Old City from 2000 to 2005.  Founded by Mercedes Martinez and Tracey Moore of the Jazzyfatnastees, The Black Lily had officially ended and many of its artists reached nationwide fame when Aja and Fatin Dantzler of Philly's Kindred The Family Soul put out a call for all "Black Lily All-Stars" to perform at the venue once more in celebration of their 8 year wedding anniversary on September 19, 2006.  The result was an once-in-a-lifetime gathering of this generation's brightest Philly Soul artists.  Mike D and his partner, Daryl DeBrest (of Reelblack / Captured Soul) assembled a five person camera crew and professional sound team to capture the night's event. 
From these recordings, a feature-length concert film has been assembled.  A rough cut will screen on May 12, 2009 at 7pm.  Based on crowd response and viewer feedback, the footage will be re-edited and augmented with interviews to provide the foundation for a full-length as-yet-untitled oral history on the history of Philly Soul circa 1997-2007 that will premiere at major film festivals beginning in 2010.
Event sponsored by Rolling Out Weekly, WURD-AM 900 Radio, Reelblack Inc, International House, Raveena Media Group, Captured Soul Productions and Tony Manz Entertainment Group.  Includes light reception featuring music spun by cooldjfrank (www.myspace.com/cooldjfrank) and food by Side of The Road Catering.  Screening will be dedicated to the memory of Greg "Peanut" Houser, who was one of the sound engineers for the film.
Director Sam Raimi (Spider-Man trilogy, Evil Dead series) returns to the horror genre with Drag Me to Hell, an original tale of a young woman's desperate quest to break an evil curse.
Reelblack will be giving away passes to see this film at the May 15 Premiere of its new film "Last Night At The Five Spot" (see above)

Christine Brown (Alison Lohman) is an ambitious L.A. loan officer with a charming boyfriend, professor Clay Dalton (Justin Long). Life is good until the mysterious Mrs. Ganush (Lorna Raver) arrives at the bank to beg for an extension on her home loan. Should Christine follow her instincts and give the old woman a break? Or should she deny the extension to impress her boss, Mr. Jacks (David Paymer), and get a leg-up on a promotion? Christine fatefully chooses the latter, shaming Mrs. Ganush and dispossessing her of her home.
In retaliation, the old woman places the powerful curse of the Lamia on Christine, transforming her life into a living hell. Haunted by an evil spirit and misunderstood by a skeptical boyfriend, she seeks the aid of seer Rham Jas (Dileep Rao) to save her soul from eternal damnation. To help the shattered Christine return her life to normal, the psychic sets her on a frantic course to reverse the spell. As evil forces close in, Christine must face the unthinkable: how far will she go to break free of the curse?
For more info, please visit: http://dragmetohell.net/
Obsessed clawed its way to the top of the weekend box office with a fierce estimated $28.5 million, or nearly as much as the debuts of Fighting, The Soloist andEarth combined. Overall, the weekend was among the most attended ever for the end of April, and business surged 24 percent over the same timeframe last year.
Unleashed on approximately 3,000 screens at 2,514 sites, Obsessedboasted the highest-grossing opening on record for a psycho stalker, erotic or "blank from hell" thriller. That's because the sub-genres' heyday of the late '80s/early '90s, which includedFatal Attraction and The Hand That Rocks the Cradle, was a period when movies played at fewer theaters and had less opening weekend emphasis than they do today.Obsessed, though, outdrew any recent comparable title by a vast margin, such as Lakeview Terrace, Perfect Stranger, SwimFan and Enough.
–From Boxofficemojo.com

Soul Food Cinema Presents - GOSPEL HILL a film by Giancarlo Esposito (2008)
Stellar cast includes Danny Glover, Angela Bassett and Julia Stiles
| | |
| --- | --- |
| Date: | Friday, April 17, 2009 |
| Time: | 7:00pm - 10:00pm |
| Location: | The Nile Cafe |
| Street: | 6008 Germantown Avenue (at High Street) |
| City/Town: | Philadelphia, PA |
|   | |
NOTE: Due to a schedulig conflict we are moving this month's event to the Nile Cafe in Germantown.  We will return to our regular location in May.
*****
Description
Gospel Hill tells the intersecting story of two men in the fictional South Carolina town of Julia. Danny Glover plays John Malcolm, the son of a slain civil rights activist Paul Malcolm (Samuel L. Jackson, in an uncredited role). Jack Herrod (Tom Bower) is the white former sheriff who never got to the bottom of the murder. Their paths begin to cross when a development corporation comes to town with plans to raze Julia's historic African-American community of Gospel Hill, now fallen into disrepair, to build a golf course. Malcolm's wife Sarah (Angela Bassett), a schoolteacher, seems alone in her opposition to the project, which is being endorsed by Gospel Hill's prominent African-American physician, Dr. Palmer (Esposito). Meanwhile, a young white teacher (Julia Stiles) comes to town and falls for a handsome young landscaper (Taylor Kitsch), whose business is booming thanks to Dr. Palmer's patronage. Admission is free with purchase of a Vegetarian Meal.
VH1 Save The Music Celebrates Music Education Through A National "Word Train" Promotion in Conjunction with "The Soloist"
Philadelphia, PA
 - April 17, 2009 - A unique collaboration between music and art will be the focus of a special lunch-hour concert in anticipation of the April 24 release of 
DreamWorks
 Pictures and Universal Pictures' "
The Soloist
," a new feature-length film being released by 
Paramount Pictures
.  On Friday, April 17th, from noon to 1:00pm, Comcast Center will be filled with the breathtaking musicality of Mary Lattimore, Margaret Ayre, & Brooke Sietinsons of The Valerie Project with artist
Rah Crawford
, spontaneously creating a piece of art inspired by the concert.  All are welcome and admission is free. 
***It is my understanding that passes to see The Soloist will be distributed at this event***md
In "The Soloist," an emotionally soaring drama about the redemptive power of music, journalist Steve Lopez (Oscar® nominee Robert Downey Jr.) discovers Nathaniel Anthony Ayers (Oscar® winnerJamie Foxx), a former classical music prodigy, playing his violin on the streets of L.A.  As Lopez endeavors to help the homeless man find his way back, a unique friendship is formed, one that transforms both their lives.  "The Soloist" is directed by Joe Wright (Golden Globe winner for Best Drama and Oscar® nominee for Best Picture "Atonement").  For more information please visitwww.soloistmovie.com
Performing Musicians: Harpist MARY LATTIMORE, originally from North Carolina, has been performing and teaching in the Philadelphia area for four years. Mary's harp-playing will soon appear on upcoming releases by Marit Bergman, Jarvis Cocker, and Fursaxa.
Cellist/guitarist/singer MARGARET AYRE grew up in a household that cultivated literature and music.  Currently she is the singer, songwriter, string arranger and producer for her main oeuvre, Fern Knight, who just released their third and eponymous recording to favorable critical acclaim.
BROOKE SIETINSONS is a founding member of Espers and The Valerie Project (guitar, Omnichord, autoharp, percussion) hailing from Philadelphia. In her spare time, Brooke enjoys curating small-scale community-based musical events.
Performing Fine Artist: Visual artist Rah Crawford, founder of NPIC-Art™ (Neoteric Pop-Iconic Clairvoyance™) has been actively sharing his unique art with the world. Crawford's commissioned Olympic portraits were used to promote several premier medalists competing in the 2008 Beijing games.  The New York Times printed its critique of Crawford's work on two separate occasions, describing his style as "Buoyant… Optimistic and Exuberant!"  The work of art created by Rah Crawford during the event will be donated to the JR Music Executive Program of Philadelphia.
NEW FOOTAGE FROM HIGHLY ANTICIPATED SUMMER 2009 FILM, "INGLOURIOUS BASTERDS"
SEE THE WHOLE CLIP THAT WAS AIRED IN PART ON "AMERICAN IDOL"
LOS ANGELES, CA – APRIL 15, 2009 – Last night, on FOX's mega-hit tv show, "American Idol," Quentin Tarantino made a special guest mentor appearance and debuted a sneak preview of never-seen-before footage from his upcoming movie, INGLOURIOUS BASTERDS.  Below is a link to the entire clip that was too hot to air on primetime tv during "American Idol."
INGLOURIOUS BASTERDS stars Brad Pitt and Diane Kruger and will hit theatres on August 21, 2009.
Check out the trailer for INGLOURIOUS BASTERDS at http://www.inglouriousbasterds-movie.com and sign up to receive future updates about the movie.  Become a fan of INGLOURIOUS BASTERDS on Facebook at: http://www.facebook.com/home.php?ref=logo#/pages/Inglourious-Basterds/56727800941?ref=ts (you must be signed on to Facebook to link through).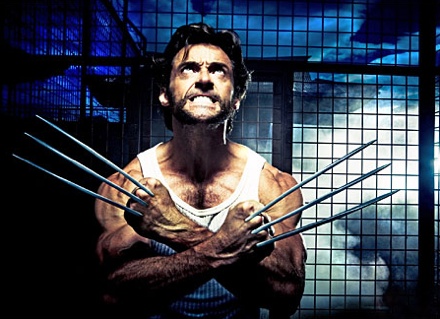 The X-MEN ORIGINS: WOLVERINE Hometown Premiere is happening now. If enough Philadelphians go to the official website and mark an "X" over Philadelphia before Friday 4/17, the World Premiere could be here! The winner will be announced next Monday, April 20th so we still have some time to get as many votes as possible! Details are below. The website is http://www.x-menorigins.com/premiere/. Lets all vote and make this happen!
We're in the top 10 vote getters already.  Reelblack supporters could put us over the top.
FOR IMMEDIATE RELEASE                                           
"X" MARKS THE SPOT FOR OVER 3000 TOWNS ACROSS THE U.S. AS THEY VIE FOR PREMIERE OF X-MEN ORIGINS: WOLVERINE
From Davis, California to Melbourne, Florida - Local Schools, Businesses and Fans Come Together to Bring Hugh Jackman and Cast to Their Hometown
LOS ANGELES, CA (April 8, 2009)….Less than a week after Hugh Jackman announced on YouTube his plans to take the premiere of X-MEN ORIGINS: WOLVERINE to the people who made the X-Men film series one of the industry's biggest, over 3000 towns and cities across the U.S. (including Alaska and Hawaii) are making frenzied bids to nab the big event.
Local schools, businesses and, of course, the legions of X-Men and Wolverine fans, are joining forces to create special videos on YouTube, launching websites and conducting grass roots campaigns — all urging their neighbors to vote for their town. (To put in a bid to host the premiere, entrants need only remember that "X marks the spot": at the website x-menorigins.com/premiere, they should mark their town with a digital "X."  The location with the most votes/X's will win the red carpet, star-studded movie premiere on April 27th.)
The top 10 leading towns (as of 4.8.2009) are:
DAVIS, CALIFORNIA
HASTINGS , NEBRASKA
AUSTIN, TEXAS
MELBOURNE, FLORIDA
DALLAS, TEXAS
SAN ANTONIO, TEXAS
LAS VEGAS, NEVADA
TEMPE, ARIZONA
CHICAGO, ILLINOIS
PHILADELPHIA, PENNSYLVANIA
The winning town will be announced on April 20th. 
The "Origins" of the event came from Hugh Jackman, who plays the famed antihero in X-MEN ORIGINS: WOLVERINE.  Jackman wanted to express his appreciation to the fans by hosting the premiere, in which he will bring the movie and a few of his "friends and enemies" from the film to the winning town.  In addition to the stars and filmmakers, the event will have all the other trappings of a mega-Hollywood premiere, including the red carpet, klieg lights, and media coverage.
X-MEN ORIGINS: WOLVERINE, the first chapter in the X-Men saga, unites Wolverine with several other legends of the X-Men universe, in an epic revolution that pits the mutants against powerful forces determined to eliminate them.  Twentieth Century Fox releases the film everywhere May 1st.
Hurry!  Contest ends tomorrow (Friday 4/ 17).  Winners announced Monday.  Feel free to forward this message to as many people as you know.
Reelblack's most recent film, URSULA RUCKER: POET will screen this coming Saturday 4/18 at TORCH THEATER (2244 Panola Road, Lithonia Georgia 30058) 7pm as part of the Spaghetti Junction Urban Film Festival.  Co-Producer Bianca M. White will be present.  Visit www.sjuff.net for details.
It will also screen on Saturday 4/25 9pm at the Langston Hughes African-American Film Festival in Seattle, WA. Director/Editor Mike D. and Co-Producer/DP Craig Carpenter will be in attendance.   Our other project, The 13th Amendment will also screen as part of the fest on Sunday 4/19 at 1PM.
Visit http://langston.bside.com/2009/films for details.