What:Reelblack Presents THE NEXT UP SHORT FILM SHOWCASE
When: Tuesday December 8, 2009 7pm-9:30PM
Where: International House, 3701 Chestnut Street Philadelphia, PA 19104 215-387-5125 www.ihousephilly.org
Cost: $8/Adults $6 Students Reelblack and IHouse Members Free. Tickets may be purchased beginning one hour before screening at the show or online through Ticketweb (link at www.ihousephilly.org).
Reelblack, Philadelphia's #1 promoter of African-American Film, is proud to host the NEXT UP SHORT FILM SHOWCASE. Compiled of some of the best films from across the country and by area filmmakers, it's goal is to expose Philly audience to the next wave of filmmaking talent.
Featured in this year's showcase are Michael Johnson's BROTHERS INCORPORATED, which is his USC Thesis. Set in 1960s Philadelphia(and filmed here), it's loosely based on a true story. PRODUCTION is from husband and wife team of Lenny Payan and Carmen Scott is about what happens when the writers of an hourlong crime show decide to create and ill-conceived "Urban" episode. HUG is a Sundance hit by filmmaker Khary Jones about a bi-polar musician who gets sidetracked on the way to an important meeting. THE PHONE CALL is a short comedy by Canadian filmmaker and Actress Allison Wilson-Forbes. GRACE is an 8 minute short from NYU graduate Alrick Brown. Philly native Robert x. Golphin is featured in two pieces: he is the star of John Cuie's IN HEAVEN'S COURT, where he plays a lawyer asked to take on a discrimination case. He is also the writer/director of INSIDE OF ME, a thriller about a married couple. Another Philly connection is Benjamin Brown, who just graduated film school in LA. His newest film, THE DIARY OF SASHA ROLAND is a really effective horror short about a young man who becomes possessed by the spirit of a recently executed serial killer. We'll also be screening the promo for Akbar aziz and Mamie Young's ucoming film, A DEVASTATING IMPACT.
Filmmakers in attendance plus lots of cool giveaways and door prizes.
The winners of November's contest giveaways are Viola Wilson, Jennifer Beamont and Jeannine Hendricks - Michael Jackson's This I s It CD.  Michael Wilcox and Elisabeth Ann Burton - Black Dynamite Soundtrack and Score.  James Johnson - I Am The New Black Book and Cynthia Johnson - American Violet CD. Congrats!
Nominated for three 2008 Independent Spirit Awards, including Best First Feature, filmmaker Barry Jenkins' award-winning Indie Gem is now available on DVD from MPI Home Video.
Sex, race, bicycles and urban demographics are the diverse elements that come magically together in Medicine For Melancholy, a refreshingly original first feature from writer-director Barry Jenkins.
Wyatt Cenac (of The Daily Show) and Tracey Heggins star in this love story about two African-American twenty-somethings, their one-night stand, and a revealing day-after in rapidly gentrifying San Francisco - a city with the smallest proportional black population of any other major American city.  One of the most significant hits of the festival season and remains perhaps the most talked-about independent film of the year it was a smash at South By Southwest, London, Philadelphia, Toronto and Athens.  It won two awards at the Sarasota Film Festival and was released theatrically earlier this year by IFC Films.
Medicine For Melancholy is a very special film, beautifully shot and full of truthful moments and honest performances.  It is an instant classic.
TWO WAYS TO WIN
Reelblack will be giving away two copies of the DVD randomly in an online contest.  To enter, simply send an email with your FULL NAME in the body of the message and the phrase MEDICINE FOR MELANCHOLY in the subject line to contests@reelblack.com
An additional copy will be given away to one lucky attendee of our NEXT UP SHORT FILM SHOWCASE at International House on Tuesday December 8.  Winners will be announced a few days before Christmas.
Reelblack, Philly's #1 Promoter of African-American Film offers a rare public screening of the 1979 cult classic THE FISH THAT SAVED PITTSBURGH, Starring Dr. J and a host of 70s b-ball legends.
THE FISH THAT SAVED PITTSBURGH
What: SOUL FOOD FRIDAY PRESENTS THE FISH THAT SAVED PITTSBURGH (1979)
When: Friday November 20, 2009 at 7pm
Where: The Point of Destination Cafe, Greene and Upsal Streets (At The Upsal R8 Train Station) Philadelphia, PA 19119 215-849-7771
Cost: Free w/ Purchase of a Soul Food Friday Meal Meal ($12 and up)
The Pittsburgh Pythons are the worst team in the NBA. Most of the players think the reason why they are in the cellar is because Moses Guthrie who they feel is monopolizing the spotlight. So when they walk out, the towel boy, Tyronne decides to consult with an astrologist, Mona. They in turn decide to hold open tryouts and they only select players who are born under the same zodiac sign as Guthrie, Pisces. And what they get are some weirdos but they play together, they are phenomenal. When they start winning the owner decides to rename the team the Pisces. Starring Julius Erving, Jonathan Winters, Meadowlark Lemon, Jack Kehoe, Kareem Abdul-Jabbar.
Free Headband
Reelblack will be giving  a free LeBron James insignia sweatband to the first 20 attendees so plan to arrive early.
Other cool prizes will include comedy DVDs featuring Katt Williams and Cedric The Entertainer as well as a deluxe edition CD of Michael Jackson's THIS IS IT!
Reelblack Presents hosts the NEXT UP SHORT FILM SHOWCASE on Tusday December 8 7pm at International House, 3701 Chestnut Street.
Featuring new and award-winning work from around the world including Michael Johnson's dynamic BROTHERS INCORPORATED, inspired by real life events and filmed here in the City of Brotherly Love.
FREE for Reelblack Season 7 Members.  Adults $8/ Students $6.
Visit www.Ihousephilly.org for details.
Reelblack recently had the privelege of interviewing the star and director of the Sundance hit, THE MESSENGER.
In his most powerful performance to date, Ben Foster stars as Will Montgomery, a U.S. Army officer who has just returned home from a tour in Iraq and is assigned to the Army!s Casualty Notification service. Partnered with fellow officer Tony Stone (Woody Harrelson) to bear the bad news to the loved ones of fallen soldiers, Will faces the challenge of completing his mission while seeking to find comfort and healing back on the home front. When he finds himself drawn to Olivia (Samantha Morton), to whom he has just delivered the news of her husband's death, Will's emotional detachment begins to dissolve and the film reveals itself as a surprising, humorous, moving and very human portrait of grief, friendship and survival. Featuring tour-de-force performances from Foster, Harrelson and Morton, and a brilliant directorial debut by Oren Moverman (I'm Not There), THE MESSENGER brings us into the inner lives of these outwardly steely heroes to reveal their fragility with compassion and dignity. http://www.themessengermovie.com/
Check out our interview here: http://www.youtube.com/watch?v=BaZ81C38VW8
THE MESSENGER opens Friday for an exclusive limited engagement at the Ritz Five.
When:Thursday, November 19, 2009 4:00 PM - 6:00 PM EST
Where: SOUND OF MARKET 15 S. 11TH STREET PHILA, PA 19107
FINALLY SOUL SINGER ERIC ROBERSON COMES TO THE SOUND OF MARKET RECORD STORE TO MEET FANS AND SIGN HIS LATEST CD. DON'T MISS IT.
Performing live later that evening at Lux Lounge 724 Arch Street.
http://www.myspace.com/ericroberson
Reelblack HIGHLY RECOMMENDS you catch comedian Mark Curry (Hangin' With Mr. Cooper, Showtime at The Apollo) when he makes a rare Philly appearance at Helium Comedy Club, 20th and Sansom Street.  Shows are this Thursday, Friday and Saturday nights.
Mr. Curry suffered a major setback in 2006 when an aerosol can exploded behind a hot water heater, burning over 18% of his body.  After some dark times, where he was encouraged by several comedian friends, he returned to stand up.  In November 2008, he made a triumphant return to LAFFAPALOOZA Comedy Festival in Las Vegas. (View clip here)
Expect a fun night of the Oakland native's trademark energy and quick wit.  Pre-order your tickets at www.heliumcomedy.com.
50 The 2009 Philly Urban Music Awards will take place on November 19th 7pm at The First District Plaza 3801 Market Street. Hosted by the one and only legendary WRNB 107.9's #1 local on air personality Lady B!
This year's award recipients include: Ready Rock C (performing along with Will Smith & Jazzy Jeff, he was one of Philly's premiere "Beat box" pioneers), Cornbread (this internationally celebrated graffiti pioneer is the man who inspired the famous "Cornbread Earl & Me" movie), and the man known as "The Guitar God" Mike Tyler (Mike played on almost all of Philly's early rap hits as well as classics by Kurtis Blow, Billy Joel, Jean Carn, Cypress Hill, The Fugees, Chris Cross and was the musical director for MTVs historic Hip-Hop unplugged featuring LL Cool J, A Tribe Called Quest, Mc Lyte, and De La Soul) Also two of Philly's most popular DJs, Baby DST & Gary-O!
The Lifetime Achievement Award will be presented to the international rap legend Schoolly D (The father of Gangsta Rap).There will also be a special "Welcome back to Philly Radio" presentation to Mimi Brown of WDAS-FM. Tix are only $15 at www.phillyurbanlegendawards.com
Reelblack, Philly's #1 promoter of African-American Film has teamed up to offer you the chance to win some really cool books, movies and CDs that are brand-new and in stores now.
———-

THIS IS IT 2CD DELUXE EDITION
Reelblack and Sony Pictures are giving away three copies of the just released Soundtrack CD for MICHAEL JACKSON'S THIS IS IT!
Disc one features the original album masters of some of Michael's biggest hits such as "Billie Jean," "Smooth Criminal," "Human Nature," and "Thriller" arranged in the same sequence as they appear in the film. The disc ends with two versions of "This Is It," the original and an orchestral version. "This Is It" is featured in the film's closing sequence and includes backing vocals by Michael's brothers, the Jacksons.
Disc two offers fans a rare listen to the early demo versions of classics "She's Out Of My Life," "Wanna Be Startin'," "Somethin'," and "Beat It." This disc also features a recently discovered spoken word poem from Michael Jackson entitled "Planet Earth."
Michael Jackson's This Is It also includes a 36-page, commemorative booklet featuring exclusive photos of Michael from his last rehearsal.
To enter, simply send an email with your FULL NAME in the Body of the message and the phrase THIS IS IT CD in the subject line to contests@reelblack.com.
Two copies of the CD will be given away randomly by email. The Third will be awarded by raffle at our November 20 Dinner and A movie at the Point of Destination Cafe.
———-

AMERICAN VIOLET DVD
If you attended any of the Reelblack-hosted screenings of this amazing indie drama during the Spring, you will definitely want this in your collection.
Nicole Beharie (The Express), Will Patton (Entrapment, The Postman), Charles Dutton (TV's Roc, Mimic) and Alfre Woodard (TV's Desperate Housewives, Primal Fear) star in this gripping true-life story. Falsely accused of distributing narcotics in a school zone, Dee Roberts (Beharie) is offered a deal she can't refuse: plead guilty and accept a 10-year suspended sentence. The alternative: risk serving 16-to-25 in jail. Realizing a conviction would ruin her life, Dee decides to fight back. Suing the DA for racial discrimination, Dee battles impossible odds in a case that will not only change her life but the laws of Texas as well.
Please visit http://www.youtube.com/watch?v=Qi42oGV2Ykc
for REELBLACK TV'S exclusive interviews with the filmmakers.
To enter, simply send an email with your FULL NAME in the Body of the message and the phrase AMERICAN VIOLET CONTEST in the subject line to contests@reelblack.com.
Courtesy Image Entertainment. One copy will be will be given away randomly by email. A second DVD will be awarded by raffle at our December 8 "Next Up Short Film Showcase" at International House.
AMERICAN VIOLET is available on DVD and Digital Download at all fine shops and ITunes.
———-

BLACK DYNAMITE SOUNDTRACK COLLECTION
Apparition and Wax Poetics want three people to win the Soundtrack and Score to the hilarious new blaxploitation spoof, BLACK DYNAMITE.
Over an hour of retro- 70s funk, The BLACK DYNAMITE SCORE is made up of entirely new music cues and songs composed by Adrian Younge, including the jingle for "Anaconda Malt Liquor," The Willie Hutch inspired "Jimmy's Apartment" and the cool as ice instrumental "Jimmy's Dead."
The BLACK DYNAMITE SOUNDTRACK is a collection of vintage 70s "Library Music"–stock music tracks intended for use in TV shows and films. One listen will take you back to all thos 70s shows like The Rookies, The Mod Squad and yes–Starsky and Hutch.
To enter, simply send an email with your FULL NAME in the Body of the message and the phrase BLACK DYNAMITE CONTEST in the subject line to contests@reelblack.com.
Two copies of the CD will be given away randomly by email. The Third will be awarded by raffle at our November 20 Dinner and A movie at the Point of Destination Cafe.
BLACK DYNAMITE (The Movie) is in theaters NOW. Soundtrack and Score are available on CD, Limited Edition Vinyl and Download.
———-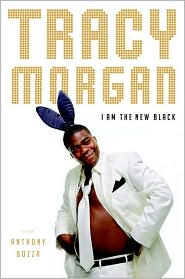 I AM THE NEW BLACK
Comedian Tracy Morgan is best known for his 7 seasons on Saturday Night Live and his supporting roles in movies like Little Man and First Sunday.
In his revealing new memoir, he tells of his path to success, both as an entertainer and a man.
Growing up in the projects of Bed-Stuy, his father was a drug-addicted Vietnam Vet, his mother a single mom with five kids. In his words, he learned to be funny to survive.
Intelligent, funny and touching, I AM THE NEW black provides inspiration for anyone with a gift and a dream.
To enter, simply send an email with your FULL NAME in the Body of the message and the phrase I AM THE NEW BLACK in the subject line to contests@reelblack.com.
Courtesy Random House. I AM THE NEW BLACK is also available on CD and Download as an audiobook. One copy will be will be given away randomly by email. All Winners will be notified by the end of November.
———-
October Contest Winners
Congrats to Cynthia Johnson of NJ and Linda Marin of Philadelphia, who both won copies of CEDRIC AND SHAQ'S ALL STAR COMEDY DVD courtesy Codeblack/Vivendi.
Brenda Levert-Silas of Bessemer, AL won a copy of MICHAEL JACKSON STRIPPED CD, courtesy of Motown/Ume.
And Kelly Stewart of Philadelphia won a copy of the new book, THE CONVERSATION, by Hill Harper courtesy of Penguin USA.
———-
Free Lebron James Sweatband
Reelblack is giving away a FREE Lebron James insignia sweatband to the first 20 people to attend our November 20 screening of THE FISH THAT SAVED PITTSBURGH at the Point of Destination Cafe. More details to follow.