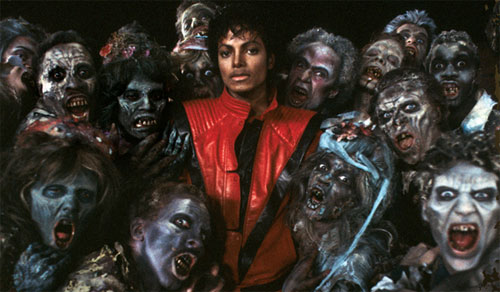 While Hollywood sets records at the box-office this holiday season, the Librarian of
Congress James H. Billington today selected 25 motion pictures that will be preserved as
cultural, artistic and/or historical treasures for generations to come.  Spanning the period 1911-
1995, the films named to the 2009 National Recording Registry of the Library of Congress range
from the sci-fi classic "The Incredible Shrinking Man" and Bette Davis' Oscar-winning
performance in "Jezebel" to the Muppets' movie debut and Michael Jackson's iconic video
"Thriller."   This year's selections bring the number of films in the registry to 525.
Under the terms of the National Film Preservation Act, each year the Librarian of
Congress names 25 films to the registry that are "culturally, historically or aesthetically"
significant to be preserved for all time.  These films are not selected as the "best" American films
of all time, but rather as works of enduring importance to American culture.
Other selections to this year's registry include Al Pacino's "Dog Day Afternoon," the
World War II drama "Mrs. Miniver," the swashbuckling adventure "The Mark of Zorro" and the
popular spaghetti Western "Once Upon a Time in the West."  Among the lesser-known films
named to the registry are "A Study in Reds," directed by amateur filmmaker
Miriam Bennett; Martin Brest's student film "Hot Dogs for Gauguin and
""The Jungle," a hybrid documentary/dramatization made by a group of young African-American gang members at 12th and Oxford Streets in Philadelphia.
For each title named to the registry, the Library of Congress Packard Campus for Audio
Visual Conservation works to ensure that the film is preserved for future generations, either
through the Library's massive motion-picture preservation program or through collaborative
ventures with other archives, motion-picture studios and independent filmmakers.  The Packard
Campus is a state-of-the-art facility that acquires, preserves and provides access to the world's
largest and most comprehensive collection of films, television programs, radio broadcasts and
sound recordings.
Founded in 1800, the Library of Congress is the nation's oldest federal cultural
institution. It seeks to spark imagination and creativity and to further human understanding and
wisdom by providing access to knowledge through its magnificent collections, programs and
exhibitions. Many of the Library's rich resources can be accessed through its website at
www.loc.gov and via interactive exhibitions on a personalized website at myLOC.gov.
Breakwater is back - Philadelphia's legendary rhythm and blues funk jazz horn band is back together and better than ever. Start the year off with Splashdown time, Release the beast and Do it til the fluid gets hot. This is one historic concert you don't want to miss.
Sunday, January 3rd, 2010 | Doors 6pm | Show 7:30pm | Downstairs Live
Tickets:
Floor/Loge Standing Room: $30.00 ($25 ticket + $5 processing fee)
Floor/Loge Reserved Seating: $30.00 ($25 ticket + $5 processing fee)
Mezzanine (Reserved Seating): $40.00 ($25 + $15 premium service*/processing fee)
Please note:
In addition to the ticket price, there is a $10 per person food and beverage minimum for all reserved seating at this show. There is no minimum for Standing Room tickets. Full dinner service is available. For further information, please visit
Michael Jackson - This Is It - Directed by Spike Lee from 40 Acres and a Mule Filmworks on Vimeo.
Exhumed Films is screening a double feature of the 1980 Japanese
classic SHOGUN ASSASSIN and SEVEN BLOWS OF THE DRAGON.  If you're new
to Asian action through movies like Kill Bill or you remember seeing
Bruce Lee double features at the old Budco Goldman back in the day,
they you owe it to yourself to see these classics projected on 35mm on
the big screen.  8pm to midnight.  Admission is $10 (cash only).  3701
Chestnut Street in West Philly.
More details at http://ihousephilly.org/exhumedninjashogun.htm
Turner Classic Movies' UNDERGROUND series shine the spotlight on two long neglected musical comedies from the blaxploitation era.  At 2am, they will air DARKTOWN STRUTTERS (1975), which is filmmaker Mike D's favorite guilty pleasure movie from the 70s.  At 3:45 they will screen THANK GOD IT'S FRIDAY, a miserable film which featured Donna Summer in her acting debut, and won an Oscar for the disco classic "Last Dance."  Between the two films, they will screen a rare featurette starring Redd Foxx about the making  of his feature film, NORMAN IS THAT YOU (1976).
THE LINE BETWEEN GENIUS AND INSANITY CAPTURED ON FILM
One has to wonder exactly what drugs the makers of DARKTOWN STRUTTERS were on when they made the film.  Any film requires a few threshold points before they can be made.  To think that someone came up with the idea, wrote a script, convinced others to finance it then hired a crew and actors to learn the lines and preform in it…find the money to purchase film and rent equipment then more money to develop the film, edit it and strike prints then hire people to ship them to theaters where money was charged for admission…After watching a film like DARKTOWN STRUTTERS is tangible proof that A) DARKTOWN STRUTTERS was an idea everyone was waiting for.  B) By 1975, any movie with "BLACK" in the title was a sure bet or C) Cocaine is one helluva drug.
Sometimes the stars align and we end up with relics like DARKTOWN STRUTTERS.  A movie so unabashed in its point of view that once you see it, it will stay fried in your brain forever.  Like PUTNEY SWOPE before and UNDERCOVER BROTHER and BLACK DYNAMITE afterward, its a film that makes pointed attacks on race while vieled as harmlss exploitation, the plot concerns Syreena (Trina Parks), a motocycle riding leader of an all female club who is intent on finding her mother, Cinderella, who was last seen working of the "Cross Foundation."  Louisiana Cross, is a Cournel Sanders lookalike who owns a chain of successful rib restaurants (free watermelon with every order of ribs) who may or may not be using the foundation to discover a way to eliminate Blacks from the gene pool.  Syreena's journey to take down The Cross includes encounters with a rival motorcycle club led by Roger E. Mosley (Magnum P.I.), an appearance by the woman that played George's mom in The Jeffersons, and a bizarre interlude featuring Stax vocal group THE DRAMATICS , performing their hit "Whatcha See Is Whatcha Get" from behind bars in Cross' dungeon.  Frankiee Crocker and DeWayne Jessie (Otis Day from Animal House) have small roles.  By the end of the film, Syreena's taken on "the pigs" both figuratively and literally.


The movie's comedy is all warmed over kinetic cartoon/slapstick lifted from the Beach Party movies of the 60s that probably never worked.  The cast seems game enough and they give the jokes a fair shake. Produced by Gene Corman (Roger's brother), Written by George Armitage (who wrote and directed HIT MAN and GROSS POINTE BLANK) and directed by William Whitney (a b-movie and TV pioneer), Darktown Strutters was a tremendous flop at the boxoffice.  Apparently nobody thought the title would be offensive while they were spending money to design the poster and newspaper ads.
Nover one to lose a buck, Roger Corman re-released the film a year later as GET DOWN AND BOOGIEit would earn even less money.  Release to VHS in the late 1980s, it has never received an official DVD release (the dollar store DVD is the TV print–it is edited and looks horrible).


So don't miss your chance to see this neglected cult film gem.  It is surreal, bizarre and, at times, brilliant.  If P-Funk made a movie two years before Star Wars, this is probably what it would look like.
DARKTOWN STRUTTERS is the kind of film that gets made when absolutely nobody is looking. There's probably zero chance this will ever see a legitamate DVD release so make sure you set your DVRs to record.  Three stars out of 5.
Lee Daniels' Precious was nominated for 4 Golden Globes, including BEST DRAMA, BEST ACTRESS (Gabby Sidibe) and BEST SUPPORTING ACTRESS (Mo'Nique).
Invictus was also nominated for 3–Best Actor (Morgan Freeman), Supporting Actor (Matt Damon) and Clint Eastwood for Best Director.
Chiwetel Ejiofor was nominated for best actor, TV Film or Miniseries for his role in the South African drama ENDGAME, which premiered on PBS' Masterpiece.
The Golden Globe winners will be announced on January 17, 2010.  A complete list of nominees can be found at http://www.goldenglobes.org/news/

The harrowing drama "Precious,Based on the Novel 'Push' by Sapphire" was named best picture of 2009 Monday by the African-American Film Critics Assn. The film also won best director for Lee Daniels, supporting actress for Mo'Nique and screenplay for Geoffrey Fletcher. The latter tied in the screenplay category with Ron Clements, Rob Edwards and John Musker for "The Princess and the Frog."
Morgan Freeman was selected best actor for "Invictus," while Nicole Beharie was named best actress for "American Violet."
The AAFCA, which was founded in 2003, also gave a Special Achievement Award to Michael Jackson for "This Is It." Besides "Precious," the organization's list of top 10 films are "The Princess and the Frog," "Up in the Air," "The Hurt Locker," "This Is It," "American Violet," "Goodbye Solo," "Medicine for Melancholy," "Good Hair" and "Up."
The honors will be presented this evening during the group's first live event at the Ebony Repertory Theatre in Los Angeles.
– Susan King, LA Times.com
The financially troubled Weinstein Company has dumped two of its Urban themed features direct-to-dvd as Blockbuster Exclusives.  You may recall seeing previews for JANKY PROMOTERS, starring Ice Cube and Mike Epps in theaters last spring.  There was a theatrical release set for late October that never materialized.  Instead, the film was released directly to Blockbuster on November 24 with little to no fanfare.  Which is a shame JANKY PROMOTERS is another fun romp in which Cube and Epps play two would-be-rap music promoters in Modesto, CA.  The film, written by Cube and directed by Music Video veteran Marcus Rayboy, follows the 18 hours leading up to their latest show, featuring Young Jeezy and Yung Seymore (played by BET Comicview's Lil JJ).  The movie is fast-paced and full of the crazy characters one has come to expect from the creator of Friday.  There are a few too many "gully" moments in the film (is it necessarry for Cube's character to be seen peeing in a cup?) for this viewers taste but its too bad JANKY PROMOTERS didn't get a shot at a national theatrical release.
This past Tuesday saw the release of HURRICANE SEASON (aka Patriots) Starring Forest Whitaker, Taraji P. Henson, Isaiah Washington and Lil Wayne.  Directed by Tim Story (The Fantastic 4) and written by Robert Eisele (The Great Debaters), it was originally set to be released last Christmas before the Weinstein Company opted to self distribute rather than rely on partner MGM.  Whitaker plays Al Collins, basketball coach for John Ehret High in Marrero, La., who led his Patriots to the state championship a year after Katrina ravaged the school and displaced many of its students. Collins' team consisted of 10 players who attended five different schools before the disaster.
Currently JANKY PROMOTERS and HURRICANE SEASON are only available for rental at Blockbuster.  Sale copies of Janky Promoters are available at FYE, Amazon.com and Blockbuster.  Sale copies of Hurricane Season only at Blockbuster so far.