Tuesday, February 2 at 7pm
Still Bill - The Bill Withers Story
dir. Damani Baker and Alex Vlack, US, 2008, 77 mins, color and b/w
Reelblack celebrates the DVD release of the award-winning documentary STILL BILL.  Bill Withers is an unexpected superstar.  "Ain't No Sunshine," "Lean on Me," "Lovely Day" and "Just the Two of Us" are only part of a complex and fascinating character: an icon who left the industry behind but never gave up his soul. Through interviews with Dr Cornel West, Sting, Angelique Kidjo, Jim James of My Morning Jacket, Withers' family and his oldest friends, and through countless hours of Withers living a full and contemplative life, the film presents a man who in his seventieth year continues to bring a rich understanding of the heart and soul of a man.  You know his songs.  Now meet the man. Audience Award and Best Documentary 2009 Urbanworld Film Festival.

At International House, 3701 Chestnut Street Philadelphia, PA 19104.  Free admission for Reelblack Season 7 members; $6 students + seniors; $8 general admission.Show starts at 7pm.  Doors 6:30.  DVD pre-orders will be taken after the show.
HEAVY SEDATION IS BACK!
SEASON THREE AIRS ON WHYY-CHANNEL 12
Weekly series will air every Sunday at 11:30 p.m. debuting February 7, 2010
Filmmaker Shannon Newby
Heavy Sedation, the nationally syndicated television series has a new Philadelphia home…WHYY Channel 12. WHYY is the number one public television station in the entire Delaware Valley and the fourth largest in the United States. The first episode of Heavy Sedation's third season will air on Sunday, February 7, 2010 at 11:30 p.m.
Heavy Sedation is a weekly series of quirky, comedic and dramatic short stories created and produced by award winning filmmaker and Philadelphia native, Shannon Newby. In the style of a repertory theater, Heavy Sedation rotates the same actors, but they play completely different characters in different original stories. Some of the notable cast members are Brian Anthony Wilson of HBO's 'The Wire' and David Smyrl best known for his work on the 'Cosby Show' and as Mr. Hanford owner of 'Mr. Hooper's Store' on 'Sesame Street'.
Newby an avid Alfred Hitchcock fan and self proclaimed film geek is always thrilled to share the hundreds of bizarre story ideas he's been writing over the years while instilling his trademark glimmer of hope that many of his films contain. "I am very excited and honored to have my series air on WHYY. Ever since my days at Community College of Philadelphia, I always dreamed of having my work seen on Channel 12…now it's coming true!"
Heavy Sedation has been called "a hip, funny twilight zone …" by local radio personality Charing Ball, and has been praised by the founder of the 'Reel Black' film screening series, Michael Dennis, touting that "Heavy Sedation has smart writing and tongue in cheek thrills. It will keep you on the edge of your seat!"
The show originally debuted on WYBE-Channel 35 in November 2006. Within weeks, Heavy Sedation became one of the top 5 shows on the station. In April of 2007, the success of Heavy Sedation brought about national distribution with The National Education Television Association (NETA). Heavy Sedation is now a nationally syndicated public television program that has aired on over 40 public television stations nationwide, as well as in Canada and Europe.
Click to enlarge.
Kudos to Kathy Staller of South Philly.  Her name was randomly selected to receive a brand new copy of the indie hit MEDICINE FOR MELANCHOLY courtesy of Reelblack and MPI/IFC Home Video.
Another copy of this film will be given away at our screening of STILL BILL this Tuesday at International House (See above).
Check out this exclusive clip of Laura Izibor at World Cafe Live.  Interview to post soon.
Compared to Aretha, Corinne Bailey Rae and Alicia Keys
"The foundation begins with soul," explains 20-year-old singer/songwriter/producer Laura Izibor of her passionate, piano-guided songs. On her debut album, Izibor continues the lineage set out by artists like Lauryn Hill and Jill Scott; artists who combine a reverence for the traditions of early R&B with a thoroughly modern sensibility. After one listen to the powerful, honey-tinged vocals on Let The Truth Be Told, one thing is for sure. For Laura Izibor, it's got to be real.
Fueled by the #2 ITunes Single "Shine," her debut CD reached #2 on the Irish albums chart and #27 US.
Her music has appeared in many films and adverts including Grey's Anatomy, Whi Did I Get Married and Will Smith's "Seven Pounds."
Artist website (includes music videos and song samples)
http://www.lauraizibor.com
Among the giveaway's at tonights screening of FELA: MUSIC IS THE WEAPON will be BOOK OF ELI T-Shirts, Tumblers, Posters and Coasters courtesy of Warner Brothers.
Screening takes place Friday January 15 at 7pm.
The Point Of Destination Cafe, Greene and Upsal Streets in Mt. Airy.
Doors open at 6:15.   Please arrive early as seating is limited.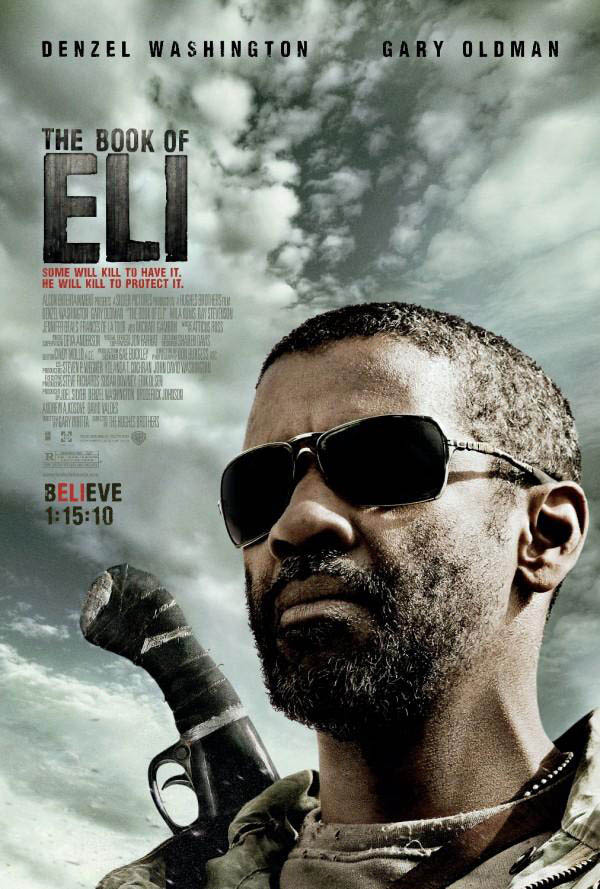 It seems almost criminal that its been almost 10 years since the Hughes Brothers last had a feature film in multiplexes.  They kicked off the 90s with the dazzling one-two punch of MENACE II SOCIETY (1993) and DEAD PRESIDENTS (1995) then seemingly got lost in studio politics and the self-produced indie doc AMERICAN PIMP (1999) before finally coming back with the underappreciated Jack-The-Ripper flick FROM HELL (2001) starring Johnny Depp.
In the meantime a slew of other indie auteurs have moved their way up to directing major Hollywood franchises.  Not to knock Doug Liman, Marc Forster or Christopher Nolan, but one could argue the Hughes Brothers should have long been playing in the league of big-budget blockbusters.
This Friday, Allen and Albert get their chance with the release of  2010's first big movie, THE BOOK OF ELI.  A no holds barred sci-fi apocalyptic western, this violent epic delivers the goods, anchored by a solid performance by Denzel Washington and a solid cast of supporting players.
*****
Much in the way of the best Sergio Leone westerns of the late 1960s, the movie starts off slooow.  With very little dialog for the first 10 minutes, it takes you into its world.  A world of nuclear fallout, where it seems everything we are used to has been reversed.  Food and Water are scare.  Things we place little value on are now cherished commodities.  Perhaps the most valuable objects are books.  Many were destroyed after the apocalypse and Eli (played by Denzel) holds perhaps the most valuable of them all. As the action picks up, we realize he is on a mission to protect it as he travels west.  Alone an on foot, he uses his amazing skills of perception and ability to slay all who step in his way to protect it.

The Book Of Eli benefits from an amazing script credited to first-timer Gary Whitta.  Anyone familiar with classic Samurai films will no doubt be familiar with the texture of the film-its ebb and flow between right and wrong.  Denzel grounds the character with trademark emotional fortitude.  Jennifer Beals, Mila Kunis and Gary Oldman breath life into characters that would otherwise be symbols in lesser hands.  We don't need a backstory-he is guided by faith.  If there is a flaw with the film, it would be it's pedantic nature.  Most sci-fi works as an allegory for what is happening in current times.  By moving things into the future, a space is created where we can absorb criticism and observation about what is going on in our times.

The Book Eli is protecting is a very specific book.  Unlike a New Age Sci Fi like The Matrix, there are no grey areas in this allegory.  The Book Of Eli is straight up Christian allegory.  While the film makes solid reference to how power can be abused, and scores points on how we should place value on simpler things, in an era where it seems we could lose our lives at any moment because of one person or another's fundamentalist belief, THE BOOK OF ELI ultimately becomes another cog in Hollywood's propaganda machine.  From a Reelblack standpoint, this like  I AM LEGEND is fantastic in that it imagines people of  color being heroes in the future, but frustrates in the fact that we still are unable to procreate (Public Enemy is still right-there's a tremendous Fear of A Black Planet).   Book Of Eli is RECOMMENDED.   The Hughes Brothers demonstrate once again their tremendous gift as visual storytellers.  They take us into a world, deliver the goods and make believers of us all.

The Book Of Eli is in theaters everywhere.  There's no need to buy the bootleg!
On Friday January 15, 2010 7PM, Reelblack's Soul Food Cinema is proud to present a special screening of the 1981 classic documentary FELA: MUSIC IS THE WEAPON.  At the Point of Destination Cafe Greene and Upsal Streets Philadelphia PA 19119 215-849-7771.  Admission is FREE with the purchase of a Soul Food Friday Meal ($10 and up).
Due for remastered DVD release on January 23  to coincide with the successful Broadway run of FELA: THE MUSICAL;  Music Is the Weapon may be short, but it's essential viewing for Fela fans. Filmed in 1982, the 53-minute documentary captures the late Nigerian musician/activist at his peak. (There are slight differences between the English and French versions, so it's best to watch both.) For the uninitiated, it's hard to explain–in mere words–how one man could so successfully mate the sexuality of James Brown with the righteous politics of Bob Marley and sinuous sounds of Miles Davis. Fela drew as much inspiration for his "Afro-beat" from Martin Luther King Jr. and Malcolm X as funk, reggae, and jazz. Music Is the Weapon features interviews with Fela and a few of his many wives, along with performances of "ITT," "Army Arrangement," and other anthems. A controversial figure throughout his life, Fela is described as both "superstar" and "man of the people." This short, but potent document ably explores that dichotomy. –Kathleen C. Fennessy
We'll also screen lots of rarities including Reelblack TVs exclusive interview with his son Femi Kuti.
click to enlarge
The Artist's Ball Upscale Affair to celebrate talent of visual and performing arts. There will be special live performances including musicians, vocalists, painters and dance. A night of soothing sophistication for the elite to meet and mingle in the ambiance of elegance and style. Finest attire preferred images and interviews will be captured. This classy chic affair will be held on January 16, 2010 doors open from 9:00pm until 2:00am. All artists are welcome and vending space is available. Free hor d'oevres and wine before 11:00pm. Tickets only $20 (in advance) $25 day of event.  Some proceeds will benefit The Canaan Christian Arts Ministry a Pre- Professional performing Arts training program. All are welcome to attend and if you cant make it please let your friends and family members know to attend on your behalf. Please pass the word on about this extravagant event. DON'T MEET US THERE BEAT US THERE!!!!!******
Formed earlier this year, The Philadelphia Arts Advocates Coalition (P.A.A.C) has taken on the call to create an environment for artists of all disciplines to network, fellowship, and empower each other. This environment is also open to the people that matter the most, the supporters, who without their demand, art would not thrive. P.A.A.C's First Annual Artists Ball is a opportunity for artists and supporters alike to meet, mingle and experience together some of the areas best acoustic, visual, literary, and graphic art on the scene today. P.A.A.C. strives to preserve and promote the arts in Philadelphia and surrounding areas. This annual event will most importantly serve to benefit art training programs for our youth. This years beneficiary will be the Canaan Christian Arts Ministry.
Music by Azel Dixon and Orrin Evans
Guest Artist: Denise King/TC III/Captain Black Big Band and others to be added.