Quality Independent film needs our support.

Let's catch the 1:15pm matinee on Saturday at the Ritz Bourse (4th and Ranstead in Old City) of Oscar nominee CHICO AND RITA.
Academy Award-winning director Fernando Trueba (Belle Epoque) and Spain's most famous and successful designer, Javier Mariscal, celebrate their passion for the music and culture of Cuba with an epic animated story of love and heartbreak, set against the color and bustle of Havana, New York, Las Vegas, Hollywood and Paris in the late 1940s and early '50s. In Chico & Rita, a gifted songwriter and beautiful singer chase their dreams-and each other-across the globe. Chico is a young piano player with big dreams. Rita is a beautiful singer with an extraordinary voice. Music and romantic desire unite them, but their journey-in the tradition of the Latin ballad, the bolero-brings heartache and torment. With an original soundtrack by legendary Cuban pianist, bandleader and composer Bebo Valdés, Chico & Rita captures a definitive moment in the evolution of jazz music. Features music by legends Thelonious Monk, Cole Porter, Dizzy Gillespie and Freddy Cole (brother of Nat King Cole). An Academy Award nominee for Best Animated Feature. Includes some mature sexual content.  Official website: http://www.gkids.tv/chico/
Chico & Rita - Official Trailer [HD]
Event is "Dutch Treat" Tickets are $7.25. We'll meet afterward for discussion at coffee across the street at Cosi.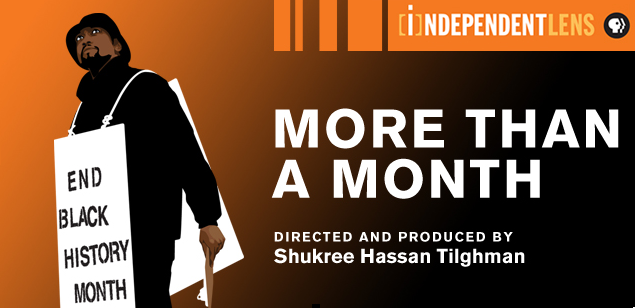 FREE SCREENING
MORE THAN A MONTH
with Filmmaker Shukree Hassan Tilghman in person!
Tuesday, February 21, 2012
6:30pm-8:30pm (doors open 6pm)
Community College of Philadelphia
1700 Spring Garden Ave
Registration is required.
Visit

www.reelblack.com

for details
or call (215) 351-0511 to register.
Presented in collaboration with ITVS Community Cinema and The Free Library of Philadelphia
Shukree Hassan Tilghman, a 29-year-old African-American filmmaker, sets out on a cross-country campaign to end Black History Month. He stops in various cities, wearing a sandwich board, to solicit signatures on his petition to end the observance. He explains that relegating Black History Month to the coldest, shortest month of the year is an insult, and that black history is not separate from American history. Through this thoughtful and humorous journey, he explores what the treatment of history tells us about race and equality in a "post-racial" America.
His road trip begins in Washington, D.C., crisscrosses the country during Black History Month 2010, and ends with an epilogue one year later. Each stop along the journey explores Black History Month as it relates to four ideas: education, history, identity, and commercialism.
Tilgman's campaign to end Black History Month is actually a provocative gambit to open a public conversation about the idea of ethnic heritage months, and whether relegating African American history to the shortest month of the year - and separating it from American history on the whole - denigrates the role of black people and black culture throughout American history. But it is also a seeker's journey to reconcile his own conflicting feelings about his own identity, history, and convictions.
More Than a Month is not just about a yearly tradition, or history, or being black in America. It is about what it means to be an American, to fight for one's rightful place in the American landscape, however unconventional the means, even at the risk of ridicule or misunderstanding. It is a film is about discovering oneself.
Unless you were there, it's hard to believe the amount of controversy Spike Lee's fifth feature film, MALCOLM X stirred up nearly 20 years ago.  Viewing it today, it is a document of three brilliant artists (Lee, Denzel Washington and cinematographer Ernest Dickerson) collaborating at the peak of their powers to tell the story of one of the greatest orators of the 20th Century.
Just released on Blu-ray, MALCOLM X is a definite must-have for any Reelblack home video collection.
It essentially is an HD upgrade to the awesome 2 disc collector's edition of the film that was released in 2005.  There are tons of bonus features including audio commentary, deleted scenes and–best of all–the 1972 documentary MALCOLM X, produced by Marvin Worth.  All of these features are available on the previous edition.  The added capacity of blu-ray allows for the entire 3 hour film to fit on disc one, as opposed to being split onto two discs (as before).  The second disc is the Malcolm X doc. Also included in the package is a 40 page booklet with tons of pictures and background information that is exclusive to this set.
At $35.00, this collection might be a little costly for those who already own the 2005 collector's set, but it would make an awesome gift for any collector or young person who has yet to experience this classic.  It's great to know Warners is using the opportunity to celebrate the 20th Anniversary of Spike Lee's masterwork with its ultimate edition on blu-ray.  AVAILABLE NOW from Amazon.com and other fine retailers.
Click image to enlarge.
Support local Independent filmmakers.  EXIT STRATEGY, written by and starring Philly native JAMEEL SALEEM and produced and starring Germantown's own Q Deezy (Hot 107.9) has been extended for another week at AMC Loews Cherry Hill. Today is its last day at AMC Franklin Mills.  It's a smart fresh and funny take on the (un) romantic comedy.  It deserves our support.  Please spread the word.  If you missed it last weekend you still have time this weekend to see it on the big screen.
*****
Evicted from his apartment, James has to move in with his girlfriend of 3 months. He quickly discovers that she's everything he never wanted in a woman. His only option is to get her to break up with him — but still let him sleep on the couch.
Tickets available at www.amctheaters.com.
click HERE to see pictures from last Saturday's First Weekend Field trip in support of Exit Strategy.
On Friday February 17, Reelblack will showcase two episodes of the critically acclaimed BBC2 documentary series SOUL DEEP: THE STORY OF BLACK POPULAR MUSIC (2005).  Unavailable in the US, this definitive
history of the rise of Black popular music in America features tons of rare interviews and performances.
Friday, February 17, 2012 at 7pm
The Point of Destination Cafe
6460 Greene Street Phila., PA 19119
Admission is Free w/ purchase of a
Soul Food Friday Meal ($12 and up).
WHAT: You, Me & The Circus: A Musical Love Story (Philadelphia Premiere)
WHERE: International House, 3701 Chestnut Street, Philadelphia, PA 19104
WHEN: Tuesday February 14 at 7pm
COST: FREE for IHP & Reelblack Season 9 Members
$7 Students + Seniors
$9 General Admission
From the makers of Miles From Home (Reelblack S4), YOU ME & THE CIRCUS: A MUSICAL LOVE STORY is a fantasy, drama, musical in the vein of great writer/directors of screen and stage including Federico Fellini (8 1/2), and Bob Fosse (All That Jazz, Chicago and Cabaret). You, Me & The Circus is an intimate story about four people falling in and out of love told over an afternoon of intense conversation, soul searching, and new discoveries revealed on a journey leading to an undeniable truth.  A Ty Hodges Film. Co-produced by Omar Epps
Official Selection Urbanworld Film Festival.  www.ymcmovie.com