Now in its third week of release, Ava DuVernay's Sundance winner MIDDLE OF NOWHERE opens in 7 more cities, including Cherry Hill, NJ tomorrow.  If you have not yet seen it, please do your best to support.  It will also continue at the UA Riverview for at least another week.
In case you missed it, CLICK HERE to check out Ava's interview with WHYY's FRESH AIR host Terry Gross, who gives a shout out to Reelblack and PhillyCAM in the middle of the clip.
Oscar-winning filmmaker Robert Zemeckis has taken us Back to the Future, through the American century in Forrest Gump and to the edge of the cosmos in Contact. In Who Framed Roger Rabbit he imagined a human detective with a cartoon bunny as a client, each negotiating the physics of two-dimensional and three-dimensional worlds. A wizard who weds bleeding-edge technology to humanist narrative, Zemeckis films are as intriguing for their digital effects as they are for how he integrates them to tell primal stories.
Flight, the filmmaker's latest, stars Denzel Washington as an airline pilot who by the seat of his pants steers his aircraft out of a nosedive before experiencing other kinds of turbulence. Before Flight's local premiere at the Philadelphia Film Festival, Zemeckis will talk about the stories behind his film stories with film critic Carrie Rickey. A highlight reel of scenes from Zemeckis films will open the conversation, during which the director will talk about a specific sequence in Flight and take questions from the audience. Buy Tickets
Canaan Conservatory for Art & Music
request the pleasure of your company
for an evening of celebration honoring:
Kenny & Fatimmal Gamble
Stephanie Mills
Karen Pendergrass
Kayla Moses Baxter
Bill Jollie
Rick Williams
Ukee Washington
Walter Lomax
Saturday, October Twenty Seventh
7:00-11:00 pm
Formal Attire Requested
African American Museum in Philadelphia
7th & Arch Street
$75.00 per person
On Saturday, October 27, 2012 The Canaan Conservatory for Arts & Music (CCAM) will host their Artist Ball at the African American Museum in Philadelphia. This event will recognize those who have shaped our artistic landscape and their impact in the arts. We want to celebrate work that continues to transform our industry, which is felt in the classroom, the economy, and the community.
Our Arts Educators provide the very best education possible and are indeed themselves professionals performing artists. We have pledged that our students from Pre-K to 12th grades will have a comprehensive understanding of sequential programs designed to provide students with the skills and knowledge of the arts. CCAM provides a positive impact on participants by being the role models that exemplify a commitment to the arts and a love of artistic expression. Authentic learning can be achieved in environments that support communities of practice where young people participate in a social structure that allows them to observe, test, and master their art.
PERFORMANCES BY: DENISE KING
NAZIR EBO AND FRIENDS
LYRISPECT THE AZEL DIXSON BIG SOUL BAND feat SHOWTYME
SUZANNE BURGESS
JOVAN CHANEY and others….
FOR TICKETS CALL CANAAN ARTS :(215) 848-2711
OR DARYL :(215) 620-4776
Check out this awesome in-depth interview with AFFRM Founder AVA DUVERNAY and NPR Fresh Air host TERRY GROSS HERE
The Philadelphia Film Festival is now taking place at several venues around the city.  Showcasing 100 films over 10 days, this year they are featuring the largest number of films from the African Diaspora in quite some time.  Reelblack is a Friend of the the festival.  Readers of this email are entitled to a $2 discount on any festival purchase.  Use the code REEL21 . Visit http://filmadelphia.org for full festival schedule and to purchase tickets.
Of the 100 movies, Reelblack recommends the following:
ALASKALAND

Nigerian born/Alaskan raised/Philly resident CHINONYE CHUKWU's feature directorial debut ALASKALAND finally gets its Philly debut at the Philadelphia Film Festival.
Alaskaland Tells the Story of Chukwuma, an Alaska-raised Nigerian struggling to balance his cultural heritage with the pressures of the larger world around him.
After a family tragedy forces a two-year estrangement from his younger sister Chidinma, the siblings reconnect in their hometown. Although their time apart has created new frictions, they find their reconciliation bringing them closer to each other and to their roots in this gorgeous, knowing debut film.
Screenings:
Friday October 19 5pm | Prince Music Theater
Tuesday October 23 5pm | Rave Motion Pictures
Thursday October 25 10:15pm | Prince Music Theater
FILMMAKER IN ATTENDANCE AT ALL SCREENINGS.
REELBLACK IS SUPPORTING THE FILM by hosting a Meetup in support of the Tuesday October 23rd screening at 5pm at Rave Motion Pictures, 40th and Walnut.  For details of the meetup CLICK HERE.  To pre-order tickets CLICK HERE.
A BAND CALLED DEATH
Brothers David, Bobby, and Dannis Hackney used money from a family insurance settlement to buy instruments and form a band in the early 1970s that played a driving, high energy style of music. Originally named the Rock Fire Funk Express, the band soon changed its name to Death, which did not sit well with record and radio producers. Over the course of one album, the band went through such a series of discouraging trials and tribulations that they found no other choice but to call it quits. Still, their music lived on and influenced early punk bands. But it took the next generation of Hackneys to finally get their fathers' music heard worldwide. A Band Called Death is a compelling rock documentary and a story about the triumph of the Hackney family, who despite undergoing much tragedy, still maintain a positive outlook on life through their love of music.
Screenings:
Saturday October 20 9:30pm | Ritz Bourse
Friday October 26 5:40pm | Ritz Bourse
Directors Jeff Howlett and Mark Covino in attendance on 10/26.
BROOKLYN CASTLE
Five low-income students in Brooklyn share their reasons for being passionate about the game of chess in this enthralling documentary that highlights the importance of sustaining afterschool programs in the aftermath of a recession.
Students at inner-city middle school I.S. 318 have been expertly trained in chess by Ms. Vicary for the last decade. Their efforts have collectively won them 26 national titles - more than any other middle school in the country. Brooklyn Castle follows five students, all passionate about chess for different reasons ranging from getting into the best high schools and colleges so that they can support their families, to combating the effects of ADHD, to dreams of becoming the first African-American female chess master. In addition to their daily struggles outside of the classroom, the students face adversity as they, along with their teachers, find themselves fighting to keep their beloved chess program alive amidst the school's looming budget cuts. Winner of the Audience Award at the 2012 SXSW Festival, Brooklyn Castle is a compelling look at the character of these passionate students, and illustrates the importance of after school activities on the lives of young people.
Director Katie Dellamaggiore and chess teacher Greg Shahde in attendance on 10/24.
Wednesday October 24 5:30PM | Prince Music Theater
Saturday October 27 12:00PM | Prince Music Theater
CALL ME KUCHU
Full of life and exuberance, this powerful and penetrating documentary follows openly gay Ugandan gay rights activist David Kato as he fights a recently proposed "Anti-Homosexuality Bill."
Screenings Saturday October 20 2:50pm | Ritz Bourse
Tuesday October 23 12:00pm | Ritz East
Wednesday October 24 5:20pm | Rave Motion Pictures
THE CENTRAL PARK FIVE
The infamous Central Park Jogger case and the miscarriage of justice that followed are examined in this explosive documentary by acclaimed filmmaker Ken Burns
and his daughter Sarah.  HIGHLY RECOMMENDED.
Screenings
Sunday October 21 7:25pm | Ritz Bourse
Wednesday October 24 12:00pm Ritz East
GIMME THE LOOT
This loose, fun, keenly observed comic drama follows two teenagers as they plan a scheme to make themselves the most famous graffiti artists in New York by putting their tag on the infamous Mets' home-run apple.
It is deep into the summer and Malcolm and Sofia, two old friends from Queens, almost have everything figured out. To complete their latest graffiti masterpiece, all they need is $500 to bribe the security guard at Mets stadium into letting them in after hours. When Malcolm, a pot dealer on the side, makes a house call to Ginnie, a sexy, aloof upper class girl, he discovers that she just might have the key to unlock his and Sofia's dreams. Like a cross between Robert Altman and Spike Lee, first time director Adam Leon's intimate and funny film has the rhythms of the hottest days of summer in NYC. This sweet SXSW Grand Jury prize winner and Cannes official selection entry is consistently a joy to watch, featuring a slew of enormously charming performances from non-professional actors. A lived in feeling of city life combines with an eclectic score that includes jazz, bluegrass and gospel for a real crowd-pleaser. Gimme the Loot is rough around the edges in all the best ways.
Screenings
Thursday October 25 7:25pm | Ritz Bourse
Sunday October 28 2:15pm | Ritz Bourse
Director Adam Leon in attendance on 10/25.
As part of the PFF on Us program, tickets for this film are free. Click "Buy Tickets" for more information.
THE IRAN JOB
Kevin Sheppard, a loquacious point guard from the US Virgin Islands is recruited by an inexperienced Iranian basketball team to help them reach the playoffs.  What begins as a typical job-for-hire, ends in an emotional roller coaster as Kevin forms an unlikely alliance with three Iranian women against the backdrop of revolutionary upheaval in Tehran. Thanks to these women, his apartment turns into an oasis of free speech, where they discuss everything from politics to religion to gender roles. Kevin's season in Iran culminates in something much bigger than basketball: the uprising and subsequent suppression of Iran's reformist Green Movement - a powerful prelude to the currently unfolding Arab Spring.
Screenings Friday October 19 12:25pm | Ritz Bourse
Saturday October 20 5:05PM | Ritz Bourse
AN OVERSIMPLIFICATION OF HER BEAUTY
You've just arrived home after a bad day. You're broke and lonely, even though you live in the biggest and busiest city in America. You do, however, have one cause for mild optimism: you seem to have captured the attention of an intriguing young lady. You've rushed home to clean your apartment before she comes over. In your haste, you see that you've missed a call. There's a voice mail; she tells you that she won't be seeing you tonight.
With arresting insight, vulnerability, and a delightful sense of humor, Terence Nance's explosively creative debut feature, AN OVERSIMPLIFICATION OF HER BEAUTY, documents the relationship between Terence and a lovely young woman (Namik Minter) as it teeters on the divide between platonic and romantic. Utilizing a tapestry of live action and various styles of animation, Terence explores the fantasies, emotions, and memories that race through his mind during a singular moment in time.  OFFICIAL SELECTION SUNDANCE FILM FESTIVAL.
Director Terence Nance in attendance.
In competition for the Documentary Feature Award.
THURSDAY OCTOBER 25 9:45PM | Ritz East
SUNDAY OCTOBER 28 7:30PM | Ritz East
As part of the PFF on Us program, tickets for this film are free. Click "Buy Tickets" for more information.
Reelblack is planning a Meetup in support of this film the night of October 28.  Visit www.meetup.com/reelblack for details.
A PLACE AT THE TABLE

49 million people in the U.S.-one in four children-don't know where their next meal is coming from, despite our having the means to provide nutritious, affordable food for all Americans. Directors Kristi Jacobson and Lori Silverbush examine this issue through the lens of three people who are struggling with food insecurity: Barbie, a single Philadelphia mother who grew up in poverty and is trying to provide a better life for her two kids; Rosie, a Colorado fifth-grader who often has to depend on friends and neighbors to feed her and has trouble concentrating in school; and Tremonica, a Mississippi second-grader whose asthma and health issues are exacerbated by the largely empty calories her hardworking mother can afford.
Directors Lori Silverbush and Kristi Jacobson in attendance on 10/24.
Screening
Wednesday October 24 8:30pm | Prince Music Theater
THE SAPPHIRES
Inspired by a true story, The Sapphires follows four vivacious, young and talented Australian Aboriginal girls from a remote mission as they learn about love, friendship and war when their all girl group The Sapphires entertains the U.S. troops in Vietnam in 1968. Cynthia (Tapsell), Gail (Mailman), Julie (Mauboy) and Kay (Sebbens) are discovered by Dave (O'Dowd), a good-humored talent scout with a kind heart, very little rhythm but a great knowledge of soul music. As their manager, Dave books
the sisters their first true gig giving them their first taste of stardom, and travels them to Vietnam to sing for the American troops
.
Screenings
Saturday October 20 5:15pm | Ritz East
Friday October 26 7:20 | Ritz East
TRAILER | TICKETS
TEY
On the last day of his life, Satché (played by American poet and performer Saul Williams) goes on an epic journey through his town, visiting loved ones and experiencing all the deceptively small moments that encompass the sadness and joy of mortal life.
Through mysterious means never fully explained, a healthy young man named Satché has been made aware that death will be coming for him the following day. Rather than become indulgent or depressed, Satché spends the day visiting friends and family, as members of his community bless and gift him along the way. Experiencing everything from a description of the embalming process from his uncle to watching his children play outdoors, our hero calmly absorbs the complex web of moments that made up his life. A deeply moving tribute to living in the present, Tey may be a film about death, but one that sees it as the final celebration of life. In fact, writer/director Alain Gomis is so dedicated to the present that he never gives us much of a glimpse into Satché's past, or the circumstances of his impending demise; the moment of death itself, and the knowledge that every human being on earth will experience it, matters more than his personal history.
In competition for the Narrative Feature Award.
Screenings
Friday October 26 3:00pm | Ritz East
Sunday October 28 12:30pm | Ritz East
WAR WITCH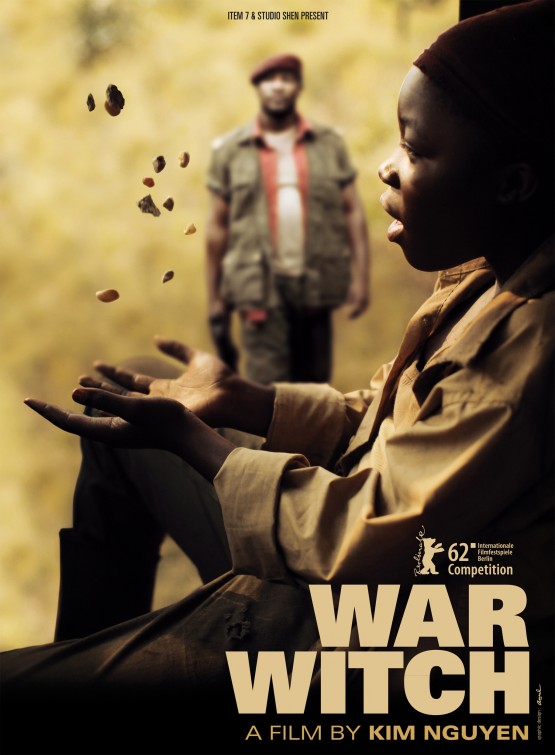 This horrific story of child soldiers being recruited in Central Africa is grippingly told in director Kim Nguyen's vivid and searing drama.
Recounted through her eyes as an adult, War Witch tells the grim tale of Komona (Rachel Mwanza), a 14 year old who was abducted and forced at gunpoint to murder her own family. After being the lone survivor in a violent gunfight, she is named the army's War Witch and believed to be granted supernatural powers. She, along with an albino soldier called The Magician (Serge Kanyinda), attempt to flee in the hopes of building a new life free of bloodshed. Director Nguyen hauntingly captures the ever-present brutality and frenzied violence within a place dominated by spiritual mysticism. The result is a hypnotic and powerfully told story that, despite the near constant horror, is full of resilient characters whose determination to break free is inspiring. Anchoring the film is a soulful performance by Rachel Mwanza, who garnered this year's Best Actress Prize at the Berlin Film Festival, in one of the year's most remarkable performances.
In September 2012, the film was selected as Canada's entry in the Best Foreign Language Film category at the 85th Academy Awards
Screenings
Saturday October 20 12:00pm | Ritz East
Tuesday October 23 5:15pm | Ritz Bourse
There is a leak upstairs at CAFE MILLS.  Reelblack Dinner and a Movie - DUMMY (1979), scheduled to occur on Friday, October 19, 2012 7:00 PM has been cancelled. If you havent already, we urge you to check out the 7:55pm showing of MIDDLE OF NOWHERE at the UA Riverview or the 5pm Showing of ALASKALAND at the Prince Music Theater.
Dinner and A Movie Will return on November 16 with the Philly Premiere of IKE AND TINA: ON THE ROAD '71-'72.
If you have further questions, you can email me through the Contact Us link on Meetup.
Apologies,
Mike D.
www.reelblack.com
Someone killed a hooker, and the cops are sure they've got the perp: a ghetto kid named Donald Lang. But Donald cannot speak. Or hear. Or read or write or understand sign language. Not even Donald's deaf lawyer can communicate with him. Can the state try a man incapable of defending himself? Le Var Burton and Paul Sorvino play accused and attorney in this gripping true story of a case that challenged our legal system and challenges our concept of justice. Winner of a 1979 Peabody Award(r) and nominated for an Emmy(r) as 1979's Outstanding Drama or Comedy Special, Dummy speaks volumes about the value of a human life, whether it belongs to a prostitute or the man who may be unjustly accused of her murder.  Based on a true story.
The #1 Independent film in the country is AVA DUVERNAY's MIDDLE OF NOWHERE.  If you have no idea about the film, then this may be the first time you've opened a Reelblack Newsletter.  If you have yet to see it, we urge you to check it out this weekend–preferably Friday or Saturday at the UA Riverview.  Solid 2nd weekend numbers are key to making sure the movie stays in theaters and can expand to other cities.
If you've seen it, let others know what you thought about it verbally or through social networks.  Feel free to use the above image as your Facebook Cover for the next 3 days.
Thanks for your support.  It takes a movement.
SIDE NOTE:  AVA DUVERNAY WILL BE A GUEST ON NPR'S FRESH AIR WITH TERRY GROSS ON FRIDAY.  Bes sure to tune in.SHOWTIMES AND TIX
If you missed this year's most informative and riveting panel discussion on public education in the 21st century, here's your chance to relive it! DVD's are on sale now for just $10! Entitled Excellence and Equity Securing Our Future, featured panelists included: Chaka Fattah, U.S. Representative, 2nd Congressional District, Pennsylvania; Dr. William R. Hite, Jr., Superintendent, Philadelphia School District; Rahim Islam, President & CEO, Universal Companies; Stacy Holland, Co-founder, President & CEO, Philadelphia Youth Network; Mark Gleason, Executive Director, Philadelphia School Partnership; and Christine Beck, Author/Education Advocate, Listen to Our Voices. Plus, Sandra Dungee Glenn, former chair of the School Reform Commission and member of the Pennsylvania State Board of Education, served as moderator.
Click here for your copy!
Make education a priority and get informed!
The word is out. Middle of Nowhere is among the best reviewed movies of the season. It's also the #1 movie per screen and #1 independent film in the country. If you saw it over the weekend, we thank you for helping to make history. Thanks also to all our presenting partners (including Spoken Soul 215, PIFVA, Scribe Video Center, Art Sanctuary, Kinowatt, Flyygirl, Vivant Art Collection, Philadelphia Film Society, The Brothers' Network and Artists First) plus AFFRM Mavericks who volunteered their resources and time to make this a success.
Thanks to all the Reelblack members (past present and future), who came out in force to celebrate the release of the film and our Season 10 kickoff.
Thanks also to all the Philly media and bloggers who so graciously supported us from the get go and to the BlackStar Film Festival, Painted Bride Art Center and PhillyCAM, who hosted tastemaker events with Ava and Emayatzy in the weeks prior to the release.
Thanks to Warmdaddy's and Stacey "Flyygirl" Wilson for helping organize our afterparty with Omari Hardwick (who was fantastic throughout our press day) and to Sara, Stephanie, Troy, Al and Bill at 900WURDAM for all their professionalism and generosity.
Special shout out to film critic Carrie Rickey, who was an early champion of AFFRM, chronicling our growth with perceptive reviews and profile pieces of Ava DuVernay and cinematographer Bradford Young for the New York Times and the Philadelphia Daily News, respectively.
And Big Big Ups to the force called Nina "Lyrispect" Ball, our AFFRM national volunteer captain (and co-captains Marla and Jos), who was instrumental in so many ways it cannot be expressed succinctly. Major thanks!  I'm so glad the universe brought us together.
Finally, this journey could not have occurred were it not for the vision and brilliance of Ms. Ava DuVernay.  'Nuff said.
If you have yet to see it, there's still time. Middle of Nowhere continues in Philly, NYC, LA, Atlanta and DC for at least another week. This weekend we expand to 6 more cities. Let's keep it going!
We didn't wait for Hollywood to tell this story, get it made and get it in theaters. If you support the AFFRM vison, don't wait another minute to see MIDDLE OF NOWHERE In Theaters (not on bootleg).
Love, Peace and Nappiness,
Mike D.