BADD KITTI will lay down a Smooth Set of Jazz and Neo-Soul (with a little Funk on the Side!)
Friday, Feb. 1st at the Wired Beans Cafe (301 W. Chelten at Pulaski, right next to the Chelten Train Station entrance), as part of the COMMUNITY JAZZ PROJECT. 7pm-11pm (Free parking in the mall parking lot)

About the the Community Jazz Project:
The CJP brings Jazz and Jazz influenced music to the Mt. Airy community every 1st and 3rd Friday in partnership with the Wired Beans Cafe.
The Wired Beans is an alcohol-free, family friendly venue that features the best in cafe style beverages and desserts. The Cafe's ambiance is comfortable, and laid back - just like listening to a concert while chillin' in your living room!
BADD KITTI will be joined by PAT HOAGLAND and KIRA SANTA (from Ladies Night at the Clef Club) and other special guests are bound to stop by!
Come join us for this UNIQUE night of music and culture!
Cover $7
Sound and Lighting by Sounds Krazy!!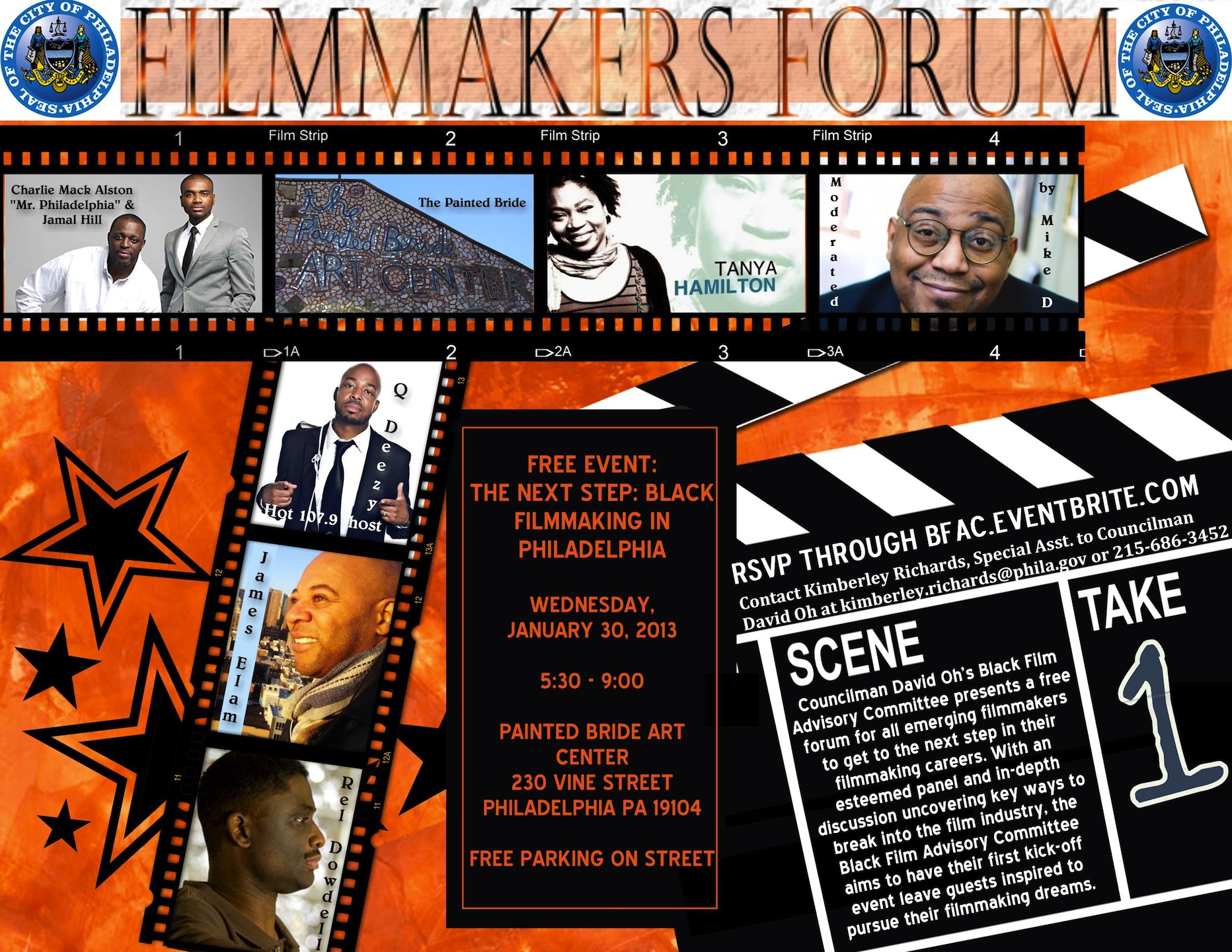 Come out and engage in a discussion with an esteemed panel of filmmakers, who took their films from conception—-to completion—-to distribution!  RSVP NOW AT http://bfac.eventbrite.com

Whether you're an experienced filmmaker or just starting out, the panel will inspire you to take your next step!

Panel discussion moderated by Reelblack founder Mike D.!
Panelists Include:

Charlie Mack Alston "Mr. Philadelphia" ~ Philanthropist, Producer & Jamal Hill Director/Writer of "Streets"

Hot 107.9 Radio Host Q Deezy- Actor/Producer "Exit Strategy"

Tanya Hamilton ~ Writer/Director "Night Catches Us"

Rel Dowdell ~ Writer/Director/Producer "Changing the Game"
James Elam ~ Producer

R.S.V.P via Eventbrite, Space is limited! Parking is Free after 5 p.m.
Doors Open 5:30 p.m.

Contact: Kimberley Richards, Special Assistant/African American Community Outreach to Councilman David Oh at: Kimberley.Richards@phila.gov

Event Description:

Through the Office of City Councilman At-Large David Oh, The Black Film Advisory Committee, a committee of members from prominent media, film and art backgrounds, will host an event geared towards Black and minority filmmaking in Philadelphia. Located at the Painted Bride Center, the committee aims to bring professionals in film and various filmmaking mediums, to inspire, network and educate filmmakers on how to get to the next step. Through an in-depth panel discussion uncovering key ways to break into the film industry, the Black Film Advisory Committee aims to have their first kick-off event leave guests inspired to pursue their filmmaking dreams.
Black FIlm Advisory Committee Mission:
The Black Film Advisory Committee is an initiative stemming from Councilman David Oh's committee on Global Opportunities and Creative and Innovative Economy. The Black Film Advisory Committee will create opportunities for Black filmmakers and increase a space for diversity in art in Philadelphia. One of the committees' main objectives is to make Philadelphia a hub for aspiring filmmakers. The Committee will host workshops, seminars and fundraisers that will benefit both Black filmmakers and other minority filmmakers in Philadelphia.
We just booked the SXSW Film Festival hit WOLF, by Ya'ke Smith to make its Philly Premiere at International House, 3701 Chestnut Street, on Tuesday February 26 at 7pm.
A family is shaken to the core when they discover their son has been molested. As they struggle to deal with the betrayal, their son heads towards a total mental collapse because of his love for his abuser, while his abuser attempts to exorcise his own past demons. The film stars Irma P. Hall (THE LADYKILLERS, COLLATERAL), Eugene Lee (LACKAWANNA BLUES, COACH CARTER) and newcomers Mikala Gibson, Shelton Jolivette and Jordan Cooper.
Haile Gerima
is considered the dean of the Black independent film movement. Over the past 35 years Mr. Gerima has made 11 films, including dramatic features (Bush Mama, Harvest: 3000 Years, Ashes and Embers) and documentaries (Wilmington 10: US 10,000, After Winter: Sterling Brown; Adwa: An African Victory). Mr. Gerima is perhaps best known as the writer, producer, and director of the acclaimed 1993 film
Sankofa.
Born in Ethiopia, he emigrated to the US to study theater at the Goodman School of Drama in Chicago. In the 1970s, Gerima came to prominence as a film student at the UCLA film school as a leader of the film movement known as the "L.A. Rebellion," Since 1975 he has been a professor of film at Howard University. What inspires Gerima is a tireless devotion to independent cinema and the vision of a uniquely cinematic movement that stresses a symbiotic relationship between African Diaspora artists and the larger community.
Haile Gerima will be in Philadelphia on January 25 and 26 to attend the following events:
Producers' Forum:

Teza with Director Haile Gerima
Friday, January 25, 8:00PM
International House Philadelphia
3701 Chestnut Street
$10, $8 students/seniors
$5 for Scribe and Reelblack members
Free for students, faculty, and staff of
University of Pennsylvania and Temple University
Teza (2008, 140 min), set in Germany and Ethiopia, examines the displacement of African intellectuals, both at home and abroad, through the story of a young, idealistic Ethiopian doctor - Anberber (Aaron Arefe). The film chronicles Anberber's internal struggle to stay true, both to himself and to his homeland.
Join us for a reception in honor of Haile Gerima before the film from 7PM-8PM in the lobby of International House.
Presented in partnership with International House Philadelphia, Cinema Studies at University of Pennsylvania, History of Art Department at University of Pennsylvania, The Center for Africana Studies at University of Pennsylvania, Program in Visual Studies at University of Pennsylvania, Film and Media Arts at Temple University, and Reelblack. Scribe's Producers Forum Series and Master Classes are supported by the National Endowment for the Arts, the Philadelphia Cultural Fund, and the Pennsylvania Council on the Arts.
Master Class with Haile Gerima:
Developing an Ethical and Sustainable Practice
Saturday, January 26, 2PM-4PM
4212 Chestnut St, 3rd Floor
Fee: $25, $15 for Scribe and Reelblack members
How do we as media makers and story tellers develop an ethical and sustainable artistic practice? How can we use film as a way to build our communities socially, politically and economically? Join filmmaker Haile Gerima, as he talks about his own artistic journey as a cultural worker. Drawing from lived examples in producing, writing, directing, and distributing his own works (Bush Mama, Wilmington 10: US 10,000, Sankofa, Teza), Gerima addresses the challenges an independent filmmaker must face in being responsible to community.  This special discussion will look not only look at the creative side of filmmaking, but help participants understand that production and distribution of film is a political and economic endeavor.
Join us after the Master Class for a reception in honor of Haile Gerima from 4PM-5PM at Scribe Video Center.
Join us for these L.A. Rebellion Film Screenings Introduced by Haile Gerima
Child of Resistance
and other L.A. Rebellion short films
Saturday, January 26, 5PM
International House Philadelphia
3701 Chestnut Street
$9, $7 students/seniors
Saturday, January 26, 8PM
International House Philadelphia
$9, $7 students/seniors
Just a quick heads up. I'll be an in-studio guest on 900AMWURD with host Al Butler tomorrow (Tuesday) morning at 11AM.
We'll be discussing movies including DJANGO, Lincoln and LUV.
For the record, I'm a little upset at QT's fashion spread in W magazine. A little insensitive if you ask me.
You are welcome to call in at 866-361-0900 or 215-634-8065 and share your thoughts. Listen online at http://900amwurd.com.
NOTE: THIS CONTEST HAS ENDED.  CONGRATS TO AMY LIPSON OF MAPLE SHADE, NJ WHO WAS RANDOMLY SELECTED TO WIN.
Reelblack, Philly's #1 promoter of African-American film is giving you the chance to win a copy of the brand-new JACKSON 5IVE COMPLETE ANIMATED SERIES BLU-RAY/DVD COMBO PACK, courtesy of Dreamworks Classics.

Enter to win simply by replying to this email (sent from Contests@reelblack.com) with YOUR FULL NAME AND MAILING ADDRESS.  Winner will be announced on Friday.
We will also be giving away a copy at THE NEXT STEP FILMMAKERS FORUM on January 30 at the Painted Bride (see website for details.)
******
The Jackson 5ive animated TV show will be officially available to fans for the first time ever next year.
All 23 episodes of the show, which originally aired from 1971 to 1972, will be released on DVD and Blu-ray on January 15, 2013 in the US.
It will be priced at $32.99 for the DVD and $39.99 for a Blu-ray/DVD combo pack.
Each episode of the ABC show includes two complete songs featuring Jackie, Tito, Jermaine, Marlon and Michael.
Produced by Rankin/Bass and Motown Productions, the series was a fictionalised account of The Jackson 5 and their manager Berry Gordy.
"The cartoon paid homage to the band's musical influences with hidden references, and helped to transcend color and gender barriers of its time," the press release for the show reads.
"The classic series is just as relevant for viewers today, and a perfect way for children and teens to connect with their parents."
Official website: http://www.jackson5ivedvd.com/
Order yours at: http://www.amazon.com/Jackson-Five-Completed-Animated-Blu-ray/dp/B0084NZEDS
What: Movie Meetup in support of LUV
When: Sunday, January 20 at approximately 12:30pm
Where: AMC Cherry Hill with Meal and Discussion to follow at Wegman's Market.
Cost: Dutch Treat (approx. $9 for movie and $12 for lunch)
It's important we support quality African-American film in it's first weekend of release-those are the numbers that determine (a) how long a movie will stay in theaters (b) how much additional money will be spent in promoting the film. LUV is filmmaker Sheldon Candis' debut feature film. It premiered at Sundance a year ago and stars Common as a former gangster who must make one last deal while teaching his nephew how to be a man. I've seen it. It features some amazing performances. I had a chance to interview the film's breakout star, Michael Rainey, Jr. The kid's going places. We need to support this film. Pledge to see it with me the first matinee on Sunday January 20 in Cherry Hill. Afterward we'll go eat and discuss the film in depth. Bring a friend or just make one. Movie meetups are always fun.
In June 2009, we showcased a feature film called THIS THING CALLED LOVE, written, directed and starring a talented brother named Eden Marryshow.  What a pleasant surprise when I saw Eden's name in the credits of a new web series called FAMOUS FARRAH, whose first episode premieres today on Youtube:
FAMOUS FARRAH pokes fun at the entitlement of the rich, hip hop culture and the desire to be famous. The series follows infectious disease scientist Farrah as she becomes a member of the hapless, questionably talented, Cake Boys rap crew.
This is to be the first of a nine episode season. New episodes are scheduled to release monthly following the premiere. All episodes will run exclusively on  FamousFarrah.com
FAMOUS FARRAH
is a clever, but not too cool, daffy, but not slapstick spoof on the hip-hop game. As her 26th birthday approaches, Farrah Satrapi (Kathreen Khavari) realizes that she's bored with her monotonous, sterile life in the lab. After John (Mike Ivers), her Wall St. big-shot fiancé, forgets her birthday, Farrah's wannabe socialite sister Ava (Giselle Vasquez) takes her out for the celebration she deserves. During their night out on the town, Farrah has a chance encounter with The Cake Boys — a floundering rap group looking for a gimmick to put them on the map. After meeting Farrah, crew leaders Mac Illa (Lamar Cheston) and Greg Greasy (Eden Marryshow) are convinced that once they make her their "Fergie," they're bound to take over the game. Deciding she needs a little spice in her life, Farrah accepts the offer and the comedy ensues. "The Famous Farrah team hopes to bring a fresh meaning to the idea of career change and transformation with the new comedy series," says director Talibah Newman.

I had a chance to preview the first few episodes of the series, which I found to be quirky, inventive and very amusing.  It will be fun to watch Farrah's transformation from geek to homegirl.  I love shows like this because they represent characters that are mostly left off on network TV and allow actors to do things they ordinarily wouldn't get a chance to do.  Eden does a great job as Greg Greasy (hes's the dude on the right in the clip below).  If you're a fan of shows like Awkward Black Girl, it's definitely worth 6 minutes of your time each month to follow their adventures.
Please check out the clips and subscribe to their mailing list at FamousFarrah.com so as not to miss a segment.
What: Dinner and a Movie: BOSS (1975) starring Fred Williamson
Where: Café Mills, Greene and Upsal Streets ( formerly the Point of Destination Café)
When: Friday January 18, 2013 at 7pm
Cost: Admission is FREE with the purchase of a Vegan or Seafood meal.
Before there was DJANGO UNCHAINED, FRED WILLIAMSON and D'URVILLE MARTIN starred in a trilogy of westerns set in the old west, the best of which (arguably) is BOSS (1975). The pair play bounty hunters who take over a western town is this loose comedic sequel to The Soul of N*gger Charley.  After the movie there will be discussion and giveaways.
AFRICAN-AMERICAN FILM FESTIVAL RELEASING MOVEMENT
LAUNCHES MULTI-PLATFORM LABEL
ARRAY
First Acquisition is Storm Saulter's Jamaican Epic
"Better Mus' Come"
Los Angeles, CA, January 14, 2013 – African-American Film Festival Releasing Movement (AFFRM) today announced the launch of its new label, ARRAY, dedicated to multi-platform distribution of black independent film. The label's first acquisition is the award-winning drama, Better Mus' Come, the debut feature from writer/director Storm Saulter. ARRAY has acquired all U.S. distribution rights. The announcement was made by AFFRM Founder Ava DuVernay.
A landmark in Caribbean filmmaking, Better Mus' Come is a stunning love story unfolding at one of the most violent moments in Jamaican history, when rival gangs were enlisted by warring political factions to disrupt the democratic process - and bloodshed was unleashed on the streets. Winner of Best Feature Awards at Trinidad & Tobago Film Festival and Bahamas Intl Film Festival, Best Director Award at Pan-African Film Festival and Best Actor Award at American Black Film Festival, the film has screened at Toronto International Film Festival, Film Society of Lincoln Center and British Film Institute. The producer is Paul Bucknor, with executive producers Joshua Bratter and Samantha Bratter.
"AFFRM's new label ARRAY is build to serve the tremendous burst of black cinematic talent across the globe, filmmakers who are embracing new technologies to tell their stories by any means necessary. The goal is to expand the brand cultivated over our first four theatrical releases by reaching new audiences via both digital and traditional platforms," explained DuVernay. "Storm's work on Better Mus' Come as director, writer and cinematographer is wildly impressive, incredibly important and deserves to be seen by as many filmlovers as possible. We're proud that his gem will launch ARRAY."
The deal was negotiated by Gordon Bobb of Del, Shaw, Moonves, Tanaka Finkelstein & Lezcano on behalf of AFFRM with the producers.
About AFFRM
Founded in 2011, AFFRM is the African-American Film Festival Releasing Movement, a distribution collective of black film organizations dedicated to quality black independent films. AFFRM's founding organizations include Urbanworld (NYC), Imagenation (NYC), Reelblack (Philadelphia), Langston Hughes Film Festival (Seattle), BronzeLens (Atlanta) and DVA (Los Angeles). AFFRM's theatrical releases to date include: 2012 Sundance Best Director Award Winner MIDDLE OF NOWHERE; 2011 Sundance World Cinema Audience Award Winner KINYARWANDA, 2011 Sundance Film Festival Official "Next" Selection RESTLESS CITY; and 2011 NAACP Image Award nominee for Best Independent Picture, I WILL FOLLOW.