Soul food is a quintessential American cuisine, with a rich history and an abiding significance to black cultural identity. But with its core celebration of all things fried and smothered, it has also had lasting effects on African Americans' health, both for better and for worse. Filmmaker Byron Hurt looks at the past and future of soul food - from its roots in Western Africa, to its incarnation in the American South, to its contribution to modern health crises in communities of color. Soul Food Junkies also looks at the socioeconomics of the modern American diet, and how the food industry profits from making calories cheap, but healthy options expensive and hard to find. Premieres tonight at 10 pm on WHYY-TV 12 Independent Lens.
ITVS COMMUNITY SCREENING 2/7 with FILMMAKER BYRON HURT
If you are unable to catch this great film tonight, filmmaker BYRON HURT will be in Philadelphia for a special FREE SCREENING of the film on February 7 at Community College presented by ITVS Community Cinema, WHYY, Reelblack and BlackStar Fest.  CLICK HERE TO RSVP.
Reelblack and Allied/THA are giving one lucky reader a pair of tickets to see the incredible stage production of CATCH ME IF YOU CAN live at the Academy of Music this upcoming Tuesday (1/15).
This exciting show is in town for a limited time only and we want to offer you a chance to "catch it" while you can!
Synopsis:
Based on the hit DreamWorks film and the incredible true story that inspired it, Catch Me If You Can is the high-flying, splashy new Broadway musical that tells the story of Frank W. Abagnale, Jr., a teenager who runs away from home in search of the glamorous life. With nothing more than his boyish charm, a big imagination, and millions of dollars in forged checks, Frank successfully poses as a pilot, a doctor, and a lawyer-living the high life and winning the girl of his dreams. But when Frank's lies catch the attention of FBI agent Carl Hanratty, Carl chases Frank to the end…and finds something he never expected. This delightfully entertaining musical has been created by a Tony Award®-winning 'dream team,' with a book by Terrence McNally (The Full Monty, Ragtime), a swinging score by Marc Shaiman and Scott Wittman (Hairspray), choreography by Jerry Mitchell (Hairspray, Legally Blonde), and direction by Jack O'Brien (Hairspray, The Full Monty, Dirty Rotten Scoundrels). Don't miss this big-hearted musical adventure based on an astonishing real-life story of being young, in love…and in deep, deep trouble!
Enter to win simply by sending an email to

Contests@reelblack.com

with YOUR FULL NAME and TELEPHONE NUMBER IN THE BODY OF THE MESSAGE.
Good Luck!
RBTV's LYRISPECT sat down with actor/ producer MARK WAHLBERG and director/producer ALLEN HUGHES to discuss their new political thriller BROKEN CITY during a recent stop in Philadelphia.  Camera: Craig Carpenter and Mike D.  BROKEN CITY is in theaters everywhere on January 18, 2013.  http://www.brokencitymovie.com
In a broken city rife with injustice, ex-cop Billy Taggart (Mark Wahlberg) seeks redemption–and revenge–after being double-crossed and then framed by its most powerful figure, the mayor (Russell Crowe). Billy's relentless pursuit of justice, matched only by his streetwise toughness, makes him an unstoppable force–and the mayor's worst nightmare.
IHouse's LA REBELLION series continues Saturday with 3 screenings of rare features by African-American filmmakers who attended UCLA in the 1970s and 80s. At 3701 Chestnut Street in University City.
2pm • The newly restored Bless Their Little Hearts (1984), a collaboration between director Billy Woodberry and writer/cinematographer Charles Burnett that focuses on a black family in crisis.
5pm • Zeinabu irene Davis' Compensation (1999), which depicts two Chicago love stories, one set at the dawn of the twentieth century and the other in contemporary times.
8pm • A new print of Larry Clark's rare masterpiece, Passing Through (1977), about a jazz musician released from jail, searching for his mentor and grandfather.  The only starring role of actor Nathaniel Taylor, who played Rollo on the classic series Sanford and Son.
None of these films are available on TV, home video or Netflix.  Please come out and support.
Admission is $9.00 adults/$7.00 students and seniors.  Visit http://ihousephilly.org/film for more info.
Thursday, January 10 from 11:00 am - 6:00 pm
PhillyCAM, 699 Ranstead Street (7th Street bet. Market and Chestnuts Streets)
Phone: 267-639-5481     info@phillycam.org
BMe (Black Male Engagement) is a growing network of Black men committed to making our communities stronger. They are fathers, coaches, students and businessmen.
Men interested in sharing their stories about how they are strengthening their community should come to PhillyCAM, the city's public access television station, on Thursday, January 10 prepared to record a 1 - 4 minute video story. PhillyCAM volunteers and the BMe Street TEam will be on hand to provide technical assistance videotaping and uploading stories to the  bmecommunity.org website.
Here are some suggestions for developing your digital video. The following questions will help you develop the points to discuss when sharing your story:
What is your name and where are you from?
What do you do to help out in your community?
What major obstacle stood in your way - and how did you overcome it
What are your hopes for the future of our community?
Why did you choose to share your story through BMe?
For more info visit http://bmecommunity.org/STORIES/Overview/tabid/119/Default.aspx
BMe is backed by a leading partnership of foundations including the John S. and James L. Knight Foundation, Open Society Foundation and Heinz Foundation.
What: The Next Step: Panel Presented by the Black Film Advisory Committee
Where: The Painted Bride Arts Center, 230 Vine Street in Philadelphia
When: Wednesday January 30 at 6pm
Cost: FREE (Light refreshments will be served)
Panel discussion presented by Councilman David Oh's Black Film Advisory Committee. Filmmakers Rel Dowdell, Q Deezy, James Elam, Tanya Hamlton, and Jamal Hill & Charlie Mack have all made feature films in the City of Brotherly Love and have found national distribution for their work. In this panel discussion moderated by Reelblack founder Mike D, these Philly-based filmmakers will discuss their projects and reveal their secrets for success in fundraising, production, distribution and marketing their wares.
Friday, January 11, 2013, 7:00PM
@ Scribe Video Center
4212 Chestnut Street
$5, Free for Scribe and Reelblack Season 10 members
director Morenike Olabunmi in person!
Presented in partnership with Reelblack
Her Spirit Was For Dancing (2013, 60 mins) chronicles the death rituals performed for Phyllis Gordon, a 92-year-old Etu member and Yoruba descendant in Jamaica, West Indies. The deceased is honored with a Christian funeral in addition to age-old African celebrations that involve the community. This film is an intimate look into the coexistence of Christian and African traditions.
————————-
Morenike Olabunmi is a Jamaican-born independent filmmaker, writer, and researcher. Her documentary, Etu & Nago: The Yoruba Connection which illumines the story of Yoruba/Nago descendants in Jamaica, West Indies, received Best Documentary Short awards at Reel Sisters of the Diaspora Film and Jamerican Film and Music Festivals. It also won the Jurors' Choice award from the Brooklyn Chapter of Links Film Festival.
Reelblack founder Mike D. will be a guest on Dr. Richard Cooper's radio show this Friday at 4:45pm on WURD 900-AM  Listen Live at http://900amwurd.com
If you're up early, Mike D will also be a guest on Jerry Mondesire's talk show this Sunday morning from 7-7:30am.  WDAS-FM 105.3
Listen live at http://www.wdasfm.com
The Community Jazz Project would like for you to begin the year, supporting Jazz (and other good music) at the Wired Beans Cafe this first Friday .
This kick-off week will feature Philadelphia's own, world renowned, one of the best that ever did it, and still doing it DENISE KING on vocals!!
The great arranger, composer, and producer AARON GRAVES on keys!!!
Another Philadelphia treasured, multi-recorded and touring artist Drummer LUCKY THOMPSON
Special guest will include the sensual , warm , and melodic SUZANNE BURGESS (vocalist) and many others are welcome to stop through and bless us if willing.
http://www.facebook.com/events/149774585171970/
Wired Beans Cafe has been a gracious visionary in our community that deserves our support and patronage.
Donation $5.00
Please contact us if you or group are interested in hosting a first or third Friday Jazz event with the Community Jazz Project : (215) 620-4776
Sound engineering and Lighting provided by Sounds Krazy
Images by ReelBlack/Captured Soul
At International House, 3701 Chestnut Street. Cost $9.00 adults/ $7.00 Students and Seniors. Complete schedule available at http://ihousephilly.org/film
Every Saturday in January, Scribe Video Center and International House will present a retrospective of seminal works by African-American filmmakers who studied at UCLA in the 1970s. The work they created was a reflection of the worlds they knew and, for the most part, a rejection of the Blaxploitation films that were being released at the time by Hollywood. Dubbed THE LA REBELLION, filmmakers that came from this collective include Julie Dash (Daughters of the Dust), Charles Burnett (Killer of Sheep), Haile Gerima (Sankofa) and the late Jamaa Fanaka (Welcome Home, Brother Charles). For more information/pre-order tickets, visit http://scribe.org/news/larebellioncreatingnewblackcinema
In this tour, we proudly present 36 titles that range from well-known works securely in the canon to others seldom seen since school days, such as: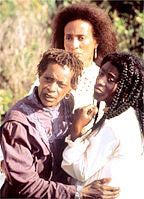 • A new print of Julie Dash's Daughters of the Dust (1991), the first American feature directed by an African American woman to receive a general theatrical release
• A new print of Haile Gerima's influential first feature, Bush Mama (1975), a study of a Watts welfare mother's political awakening
• The newly restored Water Ritual #1: An Urban Rite of Purification (1979), Barbara McCullough's depiction of a Black woman's attempt to cleanse herself and her blighted urban environment
• A new print of Jamaa Fanaka's Emma Mae (1976), a portrait of a young Black woman from the South and her difficult adjustment to life in the big city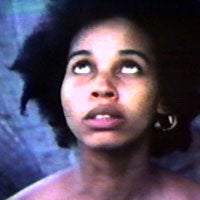 • A new print of Ben Caldwell's I & I: An African Allegory (1979), an experimental mix of drama and documentary
• A new print of Larry Clark's rare masterpiece, Passing Through (1977), about a jazz musician released from jail, searching for his mentor and grandfather
• A new print of Alile Sharon Larkin's A Different Image (1982), in which a woman living away from her family yearns to be recognized for more than her physical attributes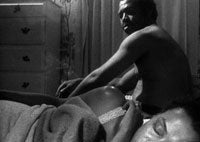 • The newly restored Bless Their Little Hearts (1984), a collaboration between director Billy Woodberry and writer/cinematographer Charles Burnett that focuses on a black family in crisis
• The director's cut of Charles Burnett's My Brother's Wedding (1983/2007), a tragicomic portrait of a young man's complex relationship with his Watts community
• Zeinabu irene Davis' Compensation (1999), which depicts two Chicago love stories, one set at the dawn of the twentieth century and the other in contemporary times
• and much more!