Artist & Activist HARRY BELAFONTE discusses the idea of Post-Racial America in this excerpt from the Montclair Film Festival's Q&A for SING YOUR SONG, the documentary of his life. Photographed on 4.28.2013 by Mike D. for Reelblack, Inc.  The 2nd annual Montclair Film Festival runs April 29- May 5, 2013.  For more information, visit www.montclairfilmfest.org
ACCLAIMED DJS SPINDERELLA, CASH MONEY AND RICH MEDINA
TO PLAY AT INAUGURAL "ART OF TURNTABLES" PARTY
DURING ANNUAL PENN RELAY WEEKEND
University City is definitely the place to be on the final weekend of April 2013, and not just because the world-renowned Penn Relays are returning to Philadelphia for 119th time. No, the other spectacle sure to please discriminating locals is the inaugural "The Art of Turntables" party, featuring a trio of acclaimed party rockers: DJ Spinderella, DJ Cash Money and DJ Rich Medina, working in tandem to heat up the dance floor, hosted by respected rapstress/radio vet Monie Love.
For five solid hours, the trio of DJs will mix it up both on the stage and in their sets, spinning the irresistible blend of classic hip-hop, soul and R&B, Afrobeat, house and reggae jams for which their respective fans have come to love them worldwide, packing nightclubs from sea to shining sea for the past 20-plus years to prove it. Thanks to "The Art of Turntables," presented by the Philadelphia Art of Turntables Preservation Society, lucky attendees will see — and hear — why, with video accompaniment courtesy of VisualEyez.
"The Art of Turntables," takes place on Friday, April 26, from 9 p.m. to 2 a.m., at The Blockley, 3801 Chestnut St. Tickets are $20 in advance, and $25 the night of the event.
RBTV's LYRISPECT sat down with artist TERENCE NANCE to discuss is debut feature, AN OVERSIMPLIFICATION OF HER BEAUTY.  In this exclusive clip, he discusses his intentions, inspirations and finding an audience for his singular work, which opens in NYC on April 26.
You've just arrived home after a bad day. You're broke and lonely, even though you live in the biggest and busiest city in America. You do, however, have one cause for mild optimism: you seem to have captured the attention of an intriguing young lady. You've rushed home to clean your apartment before she comes over. In your haste, you see that you've missed a call. There's a voice mail; she tells you that she won't be seeing you tonight.
With arresting insight, vulnerability, and a delightful sense of humor, Terence Nance's explosively creative debut feature, AN OVERSIMPLIFICATION OF HER BEAUTY, documents the relationship between Terence and a lovely young woman (Namik Minter) as it teeters on the divide between platonic and romantic. Utilizing a tapestry of live action and various styles of animation, Terence explores the fantasies, emotions, and memories that race through his mind during a singular moment in time.  http://oversimplification.mvmt.com/
Special thanks Philadelphia Film Festival, Variance Films.  Camera: Craig Carpenter.
Philadelphia International recording artist BILLY PAUL receives a special citation from Philadelphia City Councilman DAVID OH at the Philly premiere of "Am I Black Enough For You" at Reelblack Presents at International House on April 2, 2013.  Camera: Gabriel Baldwin.  Special thanks: Black Film Advisory Committee, International House.
In this exclusive clip, actor ANTHONY MACKIE speaks with RBTV's MIKE D. about his new movie PAIN & GAIN, difference between working with Michael Bay and Spike Lee and his newfound freedom to work on both big-budget and personal projects.  A Reelblack exclusive.  www.painandgainmovie.com  In theaters April 26.  Camera: Craig Carpenter and Phillip Todd.
Eye of the Storm: The Films of Michelle Parkerson
Join Scribe as they proudly present a series of retrospective screenings and a Master Class to celebrate Michelle Parkerson's groundbreaking film work. Among the first African American women filmmakers to explore the intersections between race, gender, LGBT sexual identiy, and class, Michelle Parkerson's impressive body of work contains portraits of some of the most extraordinary artists of the last half of the 20th century, including the jazz musician vocalist Betty Carter, the a cappella innovators Sweet Honey in the Rock, and the extraordinary poet/essayist Audre Lorde.
http://scribe.org/events/michelleparkersonretrospective

Screening of A Litany For Survival: the Life and Work of Audre Lorde
Tuesday, April 30, 5:00PM
International House Philadelphia
3701 Chestnut St.
Tickets:  $10, $8 students/seniors, $5 Scribe members
Screening of Storme: The Lady of the Jewel Box and …But Then, She's Betty Carter
Tuesday, April 30, 7:00PM
International House Philadelphia
3701 Chestnut St.
Tickets:  $10, $8 students/seniors, $5 Scribe members
Screening of Odds and Ends and Gotta Make This Journey: Sweet Honey in The Rock
Wednesday, May 1, 2013, 8:00PM
Scribe Video Center
4212 Chestnut St, 3rd Floor
Tickets: $10, $8 students/seniors, $5 Scribe members
Master Class with Michelle Parkerson: Creative Process and Coming Attractions
Wednesday, May 1, 2013, 5:30PM-7:30PM
Scribe Video Center
4212 Chestnut St, 3rd Floor
Fee: $25, $15 for Scribe members
Filmmaker Michelle Parkerson examines milestones in her documentary career from concept to production. Parkerson's Master Class will contrast non-fiction strategies with her current endeavors as a screenwriter, using fictional narratives to explore the less celebrated histories of African American women, as well as using speculative fiction to create visions for the future.
On Friday April 19 at 7pm, Reelblack's Dinner and a Movie celebrates the 80th birthday of the late James Brown with an original compilation of rare performance clips and interviews with the Godfather of Soul.
At CAFE MILLS (formerly The Point of Destination Cafe) 6460 Greene Street (at the Upsal Train Station), Philadelphia, PA 19119 215-849-7771.
Admission is FREE with the purchase of a Cafe Mills Vegan or Seafood dinner ($12 and up).
Monday, April 22, 2013, 7:00 PM
REELBLACK presents EARLY WORK
A compilation of student films by Philly-based filmmakers of color, curated by Reelblack.
at PhilaMOCA 531 N. 12th Street, Philadelphia, PA 19123
Advance tix are $8:
http://cffreelblack.brownpapertickets.com
Facebook event page.
EARLY WORK features films by Reelblack Founder Mike D, Chinonye Chukwu (AlaskaLand), Rel Dowdell (Changing The Game), Tanya Hamilton (Night Catches Us) and Nadine Patterson (Tango Macbeth). All have gone on to make feature films and will be on hand to discuss how film school and short filmmaking proved to be an integral step in their development. Most of these films have not been shown on the big screen since their original festival runs and are not available on YouTube. Q&A Moderated by Gretjen Clausing of PhillyCAM.
The program will feature:
THE HARDEST PART (1994, NYU, Dir. Michael Dennis, 11 min, 16mm)
THE KILLERS (1995, Columbia University, Dir. Tanya Hamilton, 20 Minutes, DVD)
TRAIN RIDE (1996, Boston University, Dir. Rel Dowdell, 30 min, 16mm)
RELEASE (2005, London Film School, Dir. Nadine Patterson, 13 min, DVD)
THE DANCE LESSON (2010, Temple U., Dir. Chinonye Chukwu, 14 min, DVD)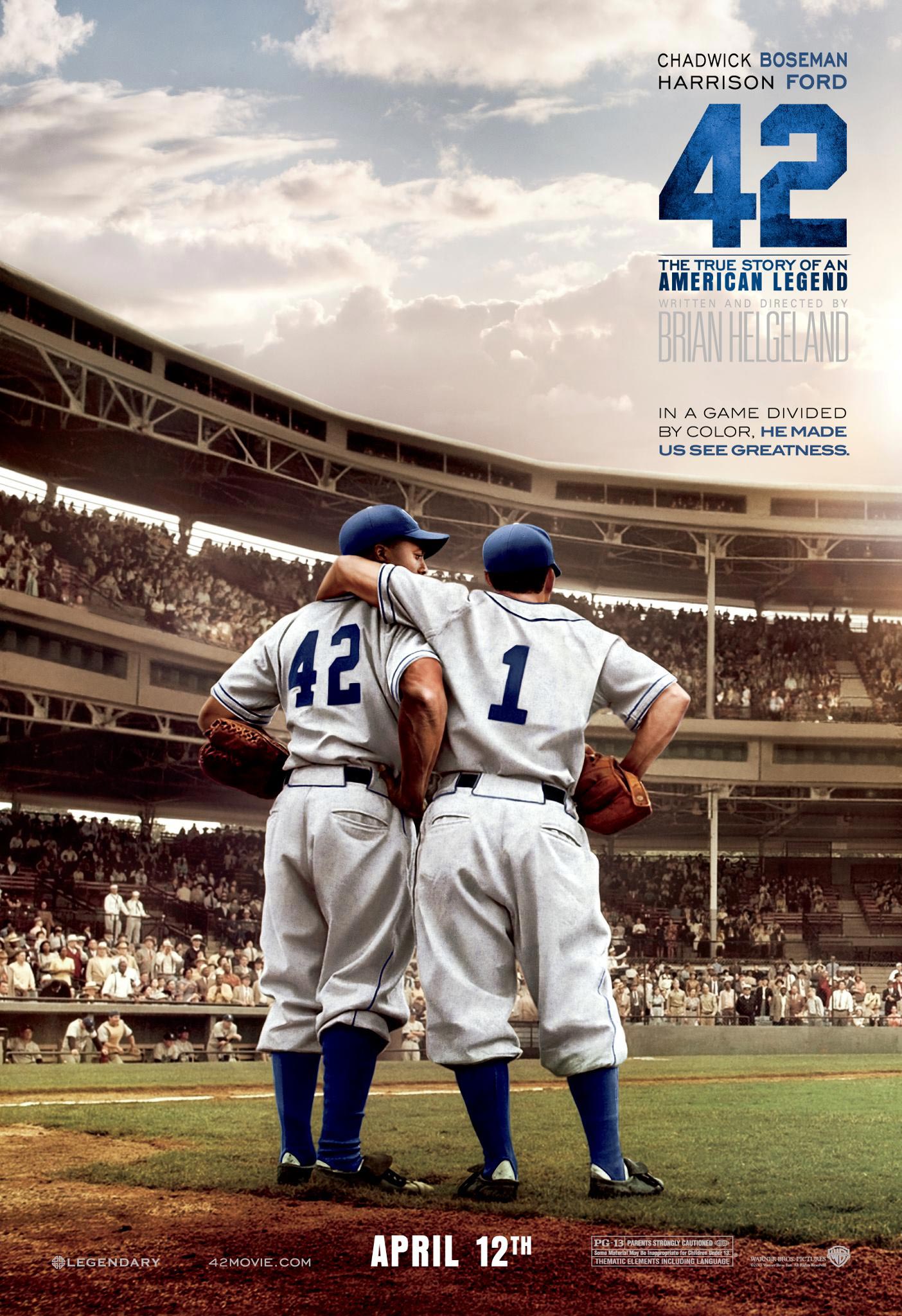 42, the long-awaited Jackie Robinson biopic hits theaters nationwide today.  You should see it.  Reelblack members had a chance to see it last week and the response was overwhelmingly positive.  It's a by-the-numbers sports biopic.  The leads, Chadwick Boseman and Nicloe Beharie do an excellent job as Jackie and Rachel.  Harrison Ford nails it as Branch Rickey.  But the film seems to be of another time and place–Jackie is presented here as an enigma.  We never get to know him as a blood-and-guts human being.  Just as a Christlike hero who atoned for America's sin of Racism.  The problem I have with the film is that it treats Racism with a capital "R". Racism is the sign on the door that keeps a Black man from using the toilet.  Racism is the white man who teaches his son to jeer Jackie with the "N" word.  And because those things no longer exist, the film makes Jackie the hero.  This didn't feel true to me.  The story is told more from Branch Rickey's point-of-view than Jackie's.  The love story between Jackie and Rachel is counterbalanced with scenes of Branch inspiring Jackie to turn the other cheek.  In the end,  42 tries to capture an Americana that no longer exists, and frame Jackie's accomplishment as a victory for us all.  But what does it say about today?  Just because bathrooms have been liberated and yelling racial taunts in the stands is no longer tolerated does that mean that there can only be accidental racists from now on?