I just found out that Spike Lee's OLDBOY opened in Philly.  There was no fanfare.  I apologize for the short notice, but who wants to join me for the 2:40pm show on Saturday?  Tickets are $10.00/ We can go to Ruby Buffet afterwards for giveaways and discussion.
An advertising executive (Josh Brolin) who was inexplicably abducted and placed in solitary confinement for 20 years seeks revenge against his mysterious captors in Spike Lee's remake of director Chan-wook Park's critically acclaimed 2003 thriller (adapted from a popular manga of the same name). Teaming with a young social worker in his desperate search for answers, the newly freed man falls into a treacherous web of conspiracy that could be his undoing. Elizabeth Olsen, Sharlto Copley, and Samuel L. Jackson co-star. ~ Jason Buchanan, Rovi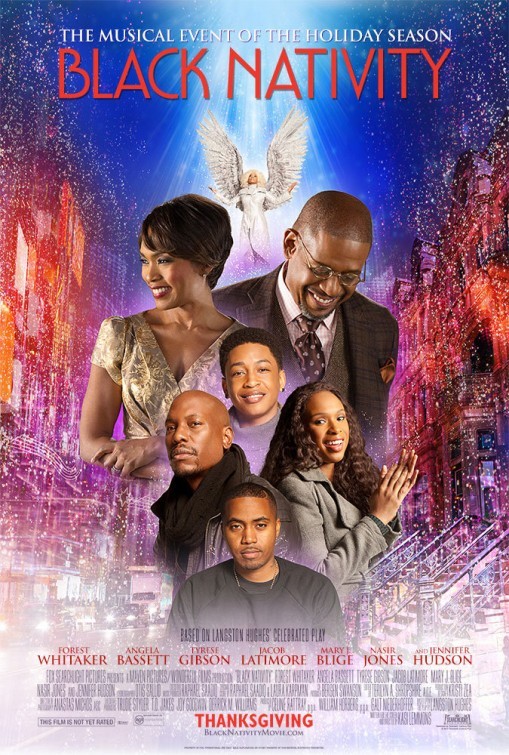 Kasi Lemmon's (Eve's Bayou) highly anticipated, star-studded musical BLACK NATIVITY opens today in theaters nationwide.  Adapted from Langston Hughes perennial stage play, it stars Forest Whitaker, Angela Bassett, Jennifer Hudson and relative newcomer Jacob Latimore.  With a new songs produced by Raphael Saadiq and choreography by Otis Sallid, it had all the makings of a new holiday classic.  I'm sorry to report, this production falls woefully short.
Full disclosure, I have never seen Hughes' original production, but I feel the fault lies in Lemmon's adaptation.  She grafts on a new story about Langston (Latimore), a Baltimore kid who, because of economic circumstances, must visit his grandparents in Harlem for the holidays.  He runs into and witnesses several characters who make their way into his dreams when he falls asleep during a performance of BLACK NATIVITY being staged at his grandparents church.  What a lazy way to pad out the movie, which would've run half as long and might have demanded a bigger budget if its intention were to simply translate Langston Hughes' original property.
BLACK NATIVITY originally was conceived as a way to graft African-American culture into the traditional tale of the birth of Jesus.  This film does nothing to reinforce a sense of pride to its viewership.  Instead it grafts on a fairy tale of a dysfunctional family that would not seem out of place in a 1980s afterschool special.  The new music is not memorable and to my ears does not convey a Christmas spirit.
If you like the cast members, by all means support.  But if you're looking for a good holiday film for the family, check out BEST MAN HOLIDAY or (dare I say it) wait 'til MADEA'S CHRISTMAS to come out on December 13.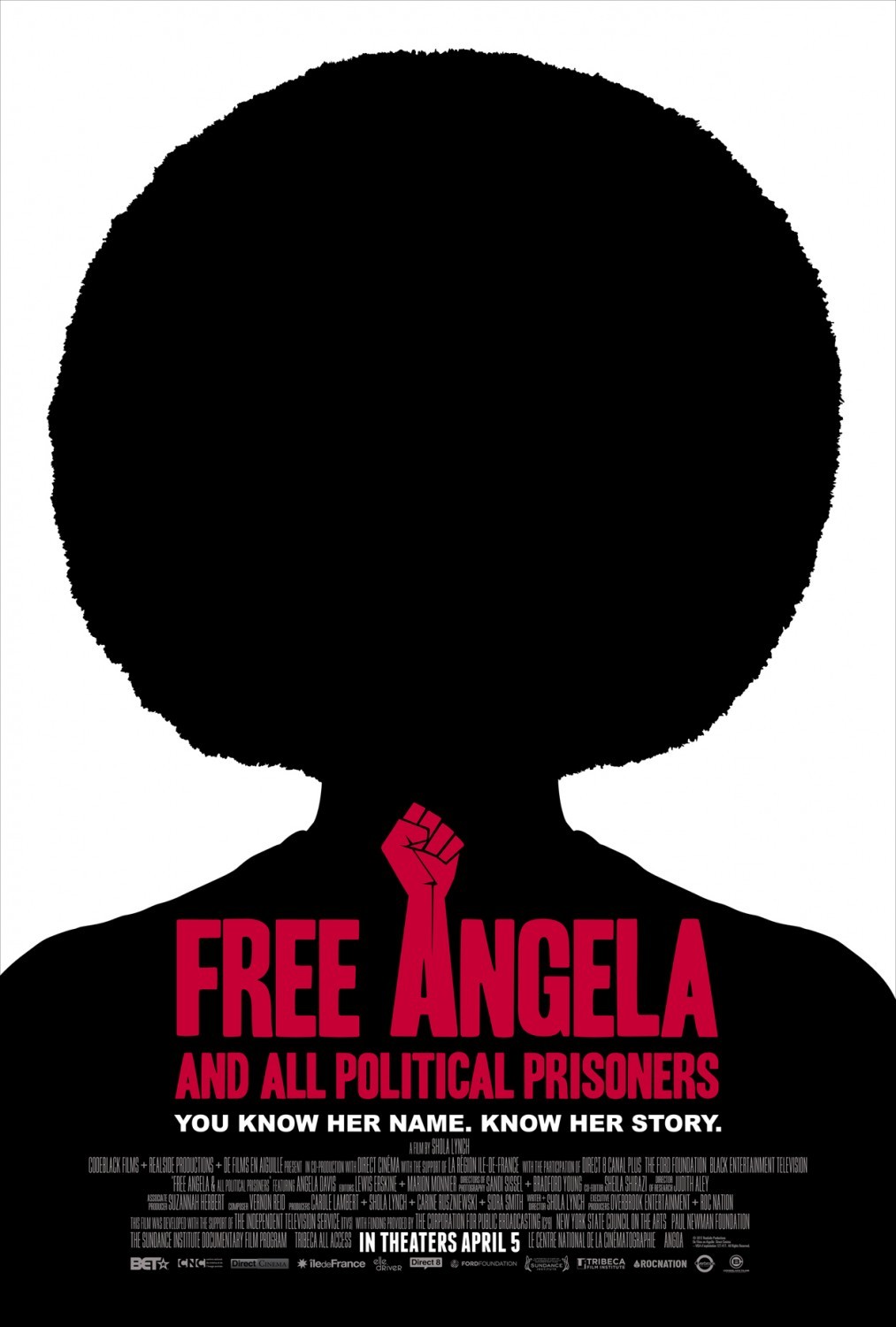 Tuesday, November 26, 7:30PM
Free Angela and All Political Prisoners
A Film by Shola Lynch
(USA/France, 2012, 102 min)
International House Philadelphia3701 Chestnut StreetPhiladelphia, PA, 19104
$10 General Admission, $7 Students and Seniors
$5 Scribe and IHP members
Free admission for Penn Students, Staff and Faculty with ID
Director Shola Lynch in person
Shola Lynch in Philadelphia is made possible thanks to the generous support of University of Pennsylvania's Cinema Studies Program and Scribe Video Center.
Presented in partnership with International House Philadelphia
Free Angela and All Political Prisoners is a gripping historic account of the events that catapulted a young University of California philosophy professor into a controversial political icon in the turbulent late 1960s. On August 7th, 1970, Dr. Angela Davis is implicated in the politically motivated kidnapping and murder of a judge at the Marin County California courthouse. Her flight, capture, and trial place her at the center of an international movement that identifies her as a political prisoner and works to set her free. Forty years later on the occasion of the anniversary of her acquittal, Free Angela and All Political Prisoners discusses this crucial period of the second half of the twentieth century.
On Friday December 13 we will celebrate te DVD release of Russ Parr's award-winning film, THE UNDERSHEPHERD, starring Isaiah Washington with a special screening at the United Bank Building 3750 Lancaster Avenue.  Admission is $5.00 (includes refreshments).
Best friends LC (Isaiah Washington) and Roland (Lamman Rucker) are two young, ministers climbing the ranks at the First Baptist Church,under the leadership of Pastor Dr. Ezekial Canon (Bill Cobbs). Both have dreams of taking over the church, but when the aging pastor stubbornly refuses to step-down, the two ministers make pivotal decisions that ultimately fray the fabric of their deeply woven friendship.
We're back at it again on Friday November 22 with an All Star Edition of some of our favorite features since we began the event almost 6 months ago!! Time fliers when you're having fun! Come out and support these super talented wordsmiths.
Just Greg will be your host / Master of Ceremonies as some of Philly's dopest poets & performers take the stage! Enjoy powerful poetry by heavy hitters - Vision, Kai Davis, Furious George, The Whisper, Lady Sarkazym and Drew Mills!……. There is also a live band to back them up when needed!
Doors open at 11pm and the show starts at Midnight!
Free parking and the kitchen will be open until 1am.
Seating is first come first served.
……………………..……………………..……………………..…
Friday November 22 and every 4th Friday after!
Flygirrl, Artists First & Ms. Wise present
SpeakEasy - a lil' late night word play.
ALL STAR EDITION!
with poetry by
VISION
KAI DAVIS
FURIOUS GEORGE
THE WHISPER
LADY SARKAZYM
DREW MILLS
Hosted by JUST GREG
Doors at 11pm
Show at Midnight sharp**
$10 / 21+
free parking behind venue
kitchen open until 1am
Warmdaddy's
1400 S. Columbus Blvd @Reed St.
Philadelphia PA 19147
YOU ARE INVITED TO THE OFFICIAL "THE EXPATS" LISTENING PARTY
starring WAYNA
UP CLOSE & PERSONAL:
Ethiopian-born Alt-Soul Singer Wayna shares her new music
with an exclusive Listening Party celebrating her just-released album, "The Expats"!
Join us as the Grammy-nominated artist explains the stories & her inspirations
- song for song - in a Q & A session with her fans!
MORE: Get your autographed copy of "The Expats", signed in person!
JAM: Live AfroSoul DJ Set by DJ Rahsaan
Doors 8PM - Tickets $10
Fleisher Art Memorial - 719 Catharine Street - Philadelphia
www.fleisher.org
This is Part 1 of the AfroTaino Productions X Fleisher Art Memorial Collaboration
We at Reelblack are super-duper proud that AaFFRM founder AVA DUVERNAY makes her episodic TV directing debut with tonight's episode of the ABC hit show SCANDAL.  Tune in tonight at 10pm.  Ava will be live tweeting along with the rest of the "Gladiators."  Follow along @AVAETC @ScandalABC #Scandal .
Potted Potter - The Unauthorized Harry Experience. It's been playing to sold out theaters all over the world and takes on the ultimate challenge of condensing all seven Harry Potter books (and a real life game of Quidditch) into 70 hilarious minutes!  It comes to the Prince Music Theater, Broad and Chestnut Streets from December 10 - January 5.  Allied/THA is giving one lucky reader a pair of tickets to see the show, valued at $118.
Enter to win by sending an email with your full name and the name of your favorite Harry Potter book/movie in the body of the message to contests@reelblack.com .
"With all the Harry Potter books and movies done, and no new material to pore over, where can a devoted Muggle get a fix? Make your way to the gloriously goofy Potted Potter… Billed as 'the unauthorized Harry experience,' this parody makes the perfect claim for the Twitter age: all seven books - roughly 4,000 pages - in 70 minutes. You don't need to know all the plot twists and nuances of Hogwarts to enjoy the in-jokes, though clearly most of the delighted crowd does. Casts the perfect spell over the audience!" (The New York Times).
"When you first hear of the show, you may think it will feature a full cast, music, spectacular lighting, stage props and costumes. But if that is the show you are looking for, this is not it. While the show does feature music, lighting, stage props and costumes, the cast consists of just two actors with props, costumes and music that make you want to roll out of your seat and laugh till you can't stop…Not only do these two guys flow well together, but the comedy also is pure and genius. Their take on the Harry Potter series is a show that everyone will enjoy and want to see again and again." (Edge, New York New York)
Winner will be notified on Monday.  Remember, tickets can be purchased now at http://princemusictheater.org/events/potted-potter
'80s Black Film pioneer CHARLES LANE (Sidewalk Stories) offers up some GOOD ADVICE for up-and-coming filmmakers. In this exclusive clip, he relates his experience with Touchstone pictures and the making of his second film, TRUE IDENTITY (1991), starring Lenny Henry.  His debut feature, SIDEWALK STORIES is currently being re-released by Carlotta Films.  Special thanks Film Forum.  Find out more about the restoration and playdates at https://www.facebook.com/pages/Charles-Lanes-Sidewalk-Stories/220068131350135