CONTEST HAS ENDED.  CONGRATS TO JEANETTE DEMBY OF YEADON, WHO WON THE PASSES.
Reelblack, Philly's #1 promoter of African-American Film, is giving 1 lucky reader tickets to see HOW TO TRAIN YOUR DRAGON 2, the 3D animated feature from Dreamworks.
The movie is now playing in select theaters.  The admit four complimentary passes are good anytime at the theater of your choice.
ENTER TO WIN by sending an email with your FULL NAME AND MAILING ADDRESS IN THE BODY OF THE MESSAGE and the PHRASE "DRAGON 2″ IN THE SUBJECT LINE TO contests@reelblack.com Winners will be selected at random and notified on tomorrow afternoon.
Set in the mythical world of burly Vikings and wild dragons, and based on the book by Cressida Cowell, the action comedy tells the story of Hiccup, a Viking teenager who doesn't exactly fit in with his tribe's longstanding tradition of heroic dragon slayers. Hiccup's world is turned upside down when he encounters a dragon that challenges he and his fellow Vikings to see the world from an entirely different point of view.
Area Artist: Going to South Africa, July 2014
Betty Leacraft, fiber mixed media artist and 2014 Leeway Foundation Art and Change recipient, will travel to South Africa in July. One of her art quilts has been selected for inclusion in the traveling group exhibition and publication Conscience of the Human Spirit: The Life of Nelson Mandela. The exhibition will debut at International Quilt Convention Africa (IQCAfrica), the only all-Africa continent quilt convention, at Emperor's Palace Convention Center in Johannesburg, South Africa, July 24-26, 2014. The exhibition will tour South African venues for up to a year, then in 2016 circulate in the United States. This exhibition has been organized by Michigan State University Museum of Art and The Women of Color Quilters Network, Dr. Carolyn L. Mazloomi, Founder. www.iqcafrica.com/
Help "Young" South African Children! Donate "New" Socks!
New socks are being collected by Betty Leacraft for distribution to agencies serving children in Johannesburg and Cape Town, South Africa. Sock distribution will occur in late July to agencies serving the needs of young children. Your donation is greatly appreciated.
Deadline: Monday, July 14, 2014
Sizes Needed: Baby / Toddler / Pre-School / Youth
Drop Off Locations:
Center City
Leeway Foundation
1315 Walnut St., Ste. 832 The Philadelphia Building Philadelphia, PA 19107 Tel: 215-545-4078
Mon. - Fri., 10:00 am to 5:00 pm
West Philadelphia
Community Education Center (CEC)
3500 Lancaster Avenue Philadelphia, PA 19104
Tel: 215-387-1911
Mon. - Sat., 11:00 am to 9:00 pm
Atiya Ola's Spirit First Foods
4505 Baltimore Avenue Philadelphia, PA 19143
Tel: 215-933-3298
Mon. – Sun., 9:00 am to 6:00 pm
South African Children's Sock Drive – July 2014
Drop Off Locations:
North Philadelphia
Uptown Entertainment Development Corporation (UEDC)
2227 N. Broad St. Philadelphia, PA 19132 Tel: 215-236-1878
Tue. – Fri., 9:00 to 5:00 pm
WHAT:                  Twentieth Century Fox Home Entertainment brings the party to the people with its cross country RIO 2 Summer Party Tour. Families will have plenty of reason to shake a tail feather down to the tour; it's full of interactive activities for all ages including portable viewing stations to watch soccer games, live from Rio; screenings of RIO 2; Samba performances and lessons; customizable Carnival masks; soccer challenges, and much more! All guests can also turn their fun into a global sensation by joining a cross country karaoke   from the party via the sing- and dance-along photo booth.
SCHEDULE:
TUESDAY 7/1      FRANKLIN SQUARE (6th & Race St.)
EVENT TIME:   12:00PM-6:30PM E/T
GAME TIME:     12:00PM-4:00PM E/T
WHY:                    With the Blu-ray/DVD and Digital HD release right around the corner, Fox Home Entertainment will bring the party from the Amazon this summer with a bunch of family-friendly fiestas across the country. You can find the Summer Party Tour any time of day, check out pictures from the tour, follow the GPS enabled tour bus, and explore all sorts of RIO 2 goodies at www.rio2summertour.com.  Follow the tour on social media with #rio2summertour.
Give into temptation this October with Lionsgate's upcoming provocative thriller ADDICTED!  Everything appears to be perfect on the outside, but Zoe Reynard is battling a deep, dark secret that is about to consume her life. Drawn by an intense inner desire, Zoe risks everything as she pursues a secretive life and heads down a perilous path she may not survive. Based on the best-selling novel by Zane, ADDICTED hits theaters everywhere October 10.
SYNOPSIS: Based on the best-selling novel by Zane, ADDICTED is a sexy and provocative thriller about desire and the dangers of indiscretion.  Successful businesswoman Zoe Reynard (Sharon Leal) appears to have attained it all - the dream husband she loves (Boris Kodjoe), two wonderful children and a flourishing career. As perfect as everything appears from the outside, Zoe is still drawn to temptations she cannot escape or resist.   As she pursues a secretive life, Zoe finds herself risking it all when she heads down a perilous path she may not survive.
DIRECTED BY: Bille Woodruff
CAST: Sharon Leal, Boris Kodjoe, Tyson Beckford, Kat Graham, and William Levy
SCREENPLAY BY: Christina Welsh and Ernie Barbarash
Join us for the next installment of
Dollars & $ense:
The Business of Black Music
Monday, June 30, 2014
6pm - 7:30pm

FREE w/ RSVP.  RSVP NOW

Are you thinking about law school? Want to manage artists? Know how to write music? Considering a career in PR? Want to help your MC friends reach their dreams sooner? Are you a member of an outstanding church choir? If any of these describe you, then this is where you need to be on Monday night.
The panel will be moderated by:
Stef Renee, Program Director of 900AM-WURD and host of the Mid Morning Mojo
Panelists include:
Kenny Gamble - International Music Legend
Damon "Mr. Dizzy Fingers" Bennett - Producer, Songwriter, Performer
Tonya Evans - IP attorney and Widener Law professor
Ivan Barias - President, Recording Academy Philadelphia Chapter

RSVP TODAY! https://www.eventbrite.com/e/dollars-ense-the-business-of-black-music-tickets-11960447019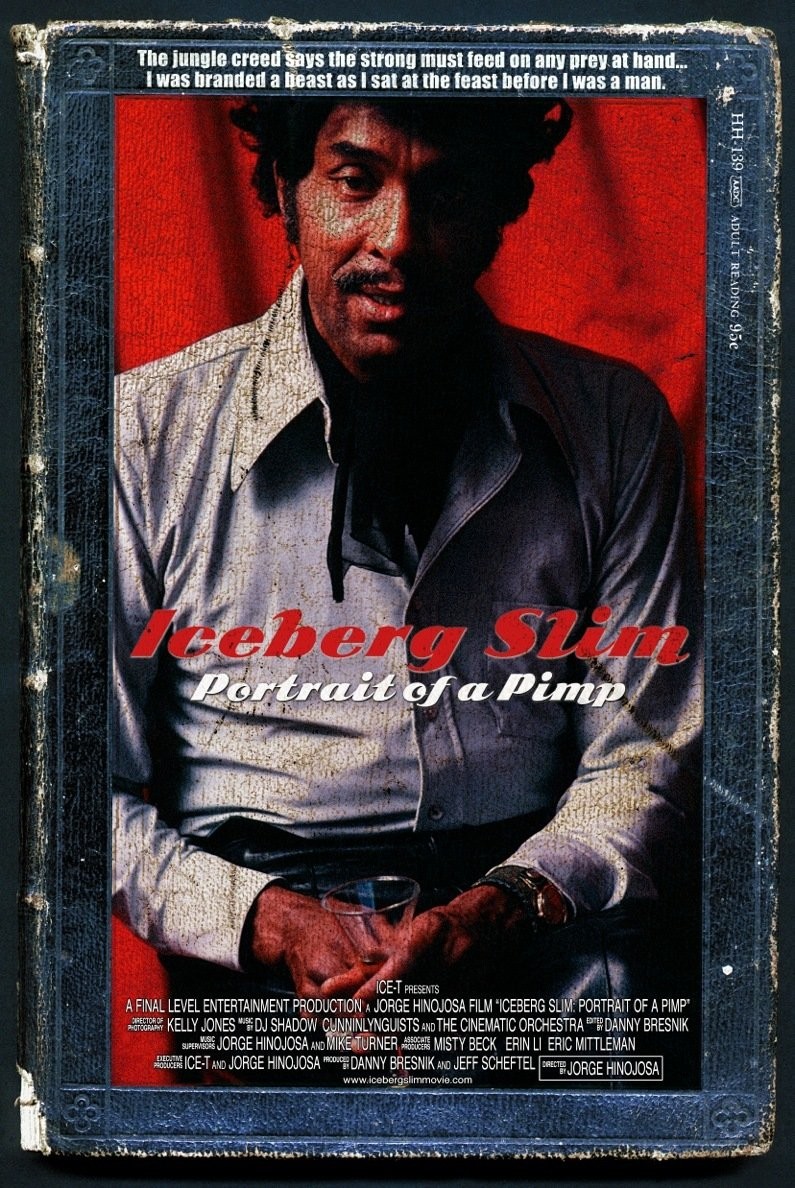 Reelblack Second Fridays will host a special screening of producer ICE-T's insightful doc ICEBERG SLIM: PORTRAIT OF A PIMP at 4017 Lancaster on Friday July 11 at 7pm.  Admission $5.00 includes refreshments.
Examines the tumultuous life of legendary Chicago pimp Iceberg Slim (1918-1992) and how he reinvented himself from pimp to author of 7 groundbreaking books. These books were the birth of Street Lit and explored the world of the ghetto in gritty and poetic detail and have made him a cultural icon. Interviews with Iceberg Slim, Chris Rock, Henry Rollins, Ice-T, Snoop Dogg, and Quincy Jones.
James Leggett's Side of The Road Jerk Chicken was featured last week in Drew Lazor's food column in the Philadelphia Daily News.  He shared with the world what most attendees of Reelblack events already know.  James serves the best chicken sammitches in the city.  Read the article HERE.
Harwood Duncan, a partner in the local film production company HarMaggeddo Productions passed away on June 14 of liver failure.  He was 38.  Harwood and partners Atif Lanier and Mike Pender were responsible for a number of projects including THE NEGRO ZONE and COMPUTER LOVE.  Most recently, Harwood attended the Philly Shorts screening of Pender and Lanier's short, TRIP AND MARY JANE, which premiered at our recent Philly Shorts showcase. Harmageddo was one of the first guests on Reelblack TV, where they discussed their friendship and collaborration.  Gone too soon, he will be missed.
Reelblack recently traveled to NYC for the WOrld Premiere of Skye Dennis and Hakim Hudson's feature film MYRA's ANGEL at the American Black Film Festival.  The nearly sold-out house enjoyed the drama about a hustler who loses everything and has one last shot at redemption before it is too late.  The cast, which includes Tobi Gadison, Tiffany Greene, Nakia Dillard, John Canada Terrell, Chris Mann, Brian Anthony Wilson and J'Vonne Pearson were all in the house as the 215 repped in NYC.  Big shout out to producer Rip Hamilton for doin' it big.
From SHADOW AND ACT:
BET has announced the television premiere of Ava DuVernay's 2012 Sundance Film Festival winning film (Best Director Award), "Middle of Nowhere," which stars Emayatzy Corinealdi, Omari Hardwick, and David Oyelowo.
To be broadcast under its BET Premiere Cinema banner, "Middle of Nowhere" will make its television debut on BET, on Wednesday, July 23 at 9/8c.
Lorraine Touissaint, and Edwina Findley round out the film's key cast, in a story that follows the struggles of an African American woman (played by Corinealdi) to maintain her marriage and identity, after her husband (Hardwick) is incarcerated.
The film was jointly-acquired by Participant Media and AFFRM, and saw a limited theatrical release in October 12, 2012.
Its BET premiere on July 23 will mark its first ancillary release since its 2012 theatrical run, which should be music to the ears of many of you who still haven't seen the acclaimed drama.