#GriotWorksFuture Campaign on Indiegogo
GriotWorks has been a force in Philadelphia since 2007! We've produced over 100 programs to include storytelling programs, cultural competency courses, panel discussions, films, videos and theater productions. We've reached the END of an era. Under NEW LEADERSHIP, GriotWorks will evolve into a resource for a national base of Modern Griots and will serve even more communities through tours, technology, and music production.
?******
GriotWorks Future Celebration and Awards Ceremony
With a line up of some of the most noted poets from our area and master storytellers from PA, New York and Virginia, the GriotWorks Future Celebration is sure to be a treat for all who attend. The event is dress to impress, with a reception at 5:30pm and the program at 6pm.
?
The organization will honor 4 change makers who have used storytelling, media and literacy to make a significant social impact. Baba Jamal Koram, Michael Dennis and ReelBlack, and mother and daughter Mrs. Carolyn Jones and Donielle Jones.
Donations of any amount will qualify for a raffle entry for other cool perks to include tickets to the event, DVD's, t-shirts and other giveaways.
Free Events:
Friday, May 22nd - GriotWorks Outdoor Open Mic and Dance Party, 6-8pm at the Cosmic Cafe located at 1 Boathouse Row (behind the Art Museum)
Friday, May 29th - Happy Hour at Ms. Tootsies, 5-8pm, 1320 South Street, Philadelphia
While I generally don't go for big budget tenpoles, I do like The Rock. So I was excited to see San Andreas, the 3D disaster film filled with earthquakes, Tsunamis, building collapses and assorted mayhem. Dwayne Johnson stars as a firefighter who effectively steals a helicopter in order to rescue his estranged wife and daughter from a mega earthquake. The effects are realistic and the Rock gives a solid performance that keeps you believing that all this stuff could really happen. If you watched the trailers and didn't scream "bullshit" then this movie is for you. It definitely delivers the goods. Although one thing really bugs me–The Rock is a Black man but seldom do the people who play his offspring have any Nubian features. I think his wife in the movie is keeping a secret. My rating: B/B+.
Learn true film producton from Acclaimed Director Devin Hampton. Sundance - Music Video of the Year Nominated - Televison Writer- Feature Film Writer and Director.   At the end of the class, one person will be selected to join Devin Hampton on set in LA - One Day- all expenses paid.
In this 5 hour course you will learn:
How to break down a script

Budgeting

Pre-production

How to build a shot sheet

How to set up the proper tech scout

Who's who on set and role responsibilities

How to command a set as the Director

How to break into the industry - music videos, commercials and film
At the end of class you will have a chance to put your knowledge to the test and see if you have what it takes to make it in the industry.  The winner will win the trip to LA.
http://www.eventbrite.com/e/the-number-one-film-class-tickets-17037679157
Whitney Thomas Studio Suite 505
1080 N Delaware Ave
Philadelphia, PA 19125
Sunday, May 31, 2015 from 11:00 AM to 4:00 PM (EDT)
Reelblack founder MIKE D. will be screening his work-in progress edit of his short documentary, BLACK FILM NOW at ART SANCTUARY'S LITERARY & ARTS CONFERENCE.  Please come out and support.  Feedback is needed.  Screening will take place Saturday May 23 at 1pm
Cecil B. Moore Avenue between Broad Street & 13th Street, Philadelphia, PA
More than 50 workshops and performances will be presented throughout the day.  For a full list and to RSVP, visit http://www.celebrationofblackwriting.org/4-columns-portfolio
*****
"Black Film Now" is a 25 minute film that explores the current state of Black Film and features interviews with Spike Lee, Ava DuVernay, Harry Belafonte, Will Packer and more.  Participants will examine the content of the film and place current trends within a historical perspective while attempting to answer the questions, "Where are we now and what needs to happen in order for it to grow?"
CONTEST HAS ENDED. Congrats to Amelia Stevens of West Oak Lane, who won a copy of Whitney on DVD courtesy of Reelblack and Lionsgate.
Reelblack, Philly's #1 promoter of African-American film is giving one lucky reader a copy of the just released WHITNEY on DVD courtesy of Lionsgate.
Enter to win by sending an email with YOUR FULL NAME AND MAILING ADDRESS IN THE BODY OF THE EMAIL and THE PHRASE "WHITNEY" IN THE SUBJECT LINE to reelblackinc@aol.com
The winner will be selected at random and notified early next week.  Good luck!
*****
Whitney Houston's highly flammable relationship with husband Bobby Brown is rendered candidly in this biographical drama depicting both her dizzying rise to stardom and the turbulent private life that made her an icon of the tabloids.
Tune in tonight at 8pm to PhillyCAM for a brand-new episode of REELBLACK TV.  On the show– Mekhi Phifer, Pam Grier, Brotherly Love Red Carpet and Jeff Bradshaw and Friends.
PhillyCAM airs on Comcast 66/966 and Verizon 29/30.
CONTEST HAS ENDED.  Congrats to Robert Monroe of Schenectady, NY + Charles Woods of the Bronx, who won copies of BLACK OR WHITE on Blu-Ray courtesy of Fox Video
Reelblack, Philly's #1 promoter of African-American film is giving two lucky readers a copy of the just re-released BLACK OR WHITE on Blu-Ray courtesy of Fox Video.
Enter to win by sending an email with YOUR FULL NAME AND MAILING ADDRESS IN THE BODY OF THE EMAIL and THE PHRASE "BLACK OR WHITE" IN THE SUBJECT LINE to reelblackinc@aol.com
The winners will be selected at random and notified at the end of the week.  Good luck!
*****
Oscar® winners Kevin Costner* and Octavia Spencer** co-star in this touching comedy-drama based on real events. When two grandparents, Elliott (Costner) and Rowena (Spencer), engage in a heated custody dispute over their beloved granddaughter, the ensuing legal battle forces them to confront their true feelings on race and forgiveness. Can people from two seemingly different worlds find common ground when nothing is as simple as black or white?
*Dances With Wolves, 1990: Directing, Best Picture (Jim Wilson and Kevin Costner, Producers)
**Supporting Actress, The Help, 2011
Special Features:
Shades of Gray: The Making of Black or White
Kevin Costner Featurette (Blu-ray only)
Family First Featurette (Blu-ray only)
Theatrical Trailer
Digital HD (Blu-ray only)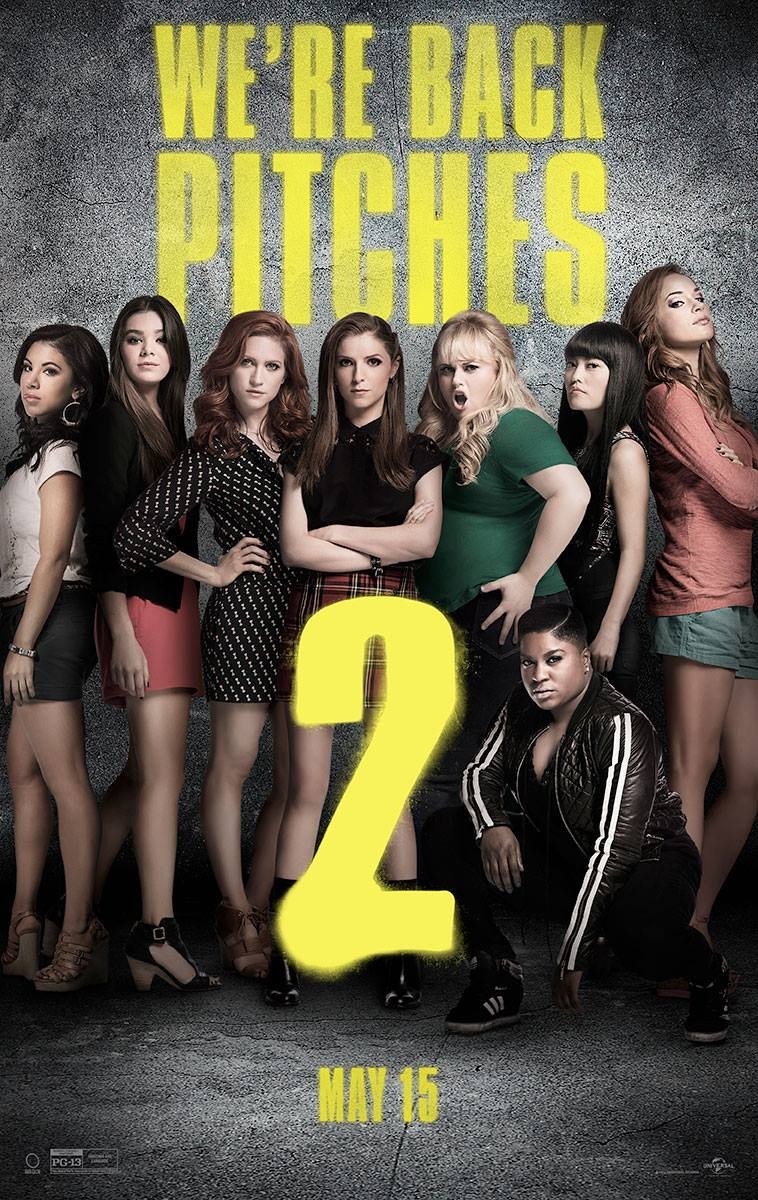 Reelblack, Philly's #1 promoter of Black Film, has obtained a number of passes for two to an advanced screening of PITCH PERFECT 2, the eagely anticipated sequel to the 2012 hit. Screening will take place Wednesday May 13 at 7:30pm in North Philly.
To put your name in the hat, simply SEND AN EMAIL WITH YOUR FULL NAME IN THE BODY OF THE MESSAGE AND THE PHRASE PITCH PERFECT 2 IN THE SUBJECT LINE TO CONTESTS@REELBLACK.COM.  Confirmations will be sent out over the weekend.
Synopsis
Genre:                              Comedy
Cast:                               Anna Kendrick, Rebel Wilson, HaileeSteinfeld,
Brittany Snow, Skylar Astin, Adam DeVine, Katey Sagal, Anna Camp, Ben Platt, Alexis Knapp, Hana Mae Lee,
John Hodgman, Jason Jones, Joe Lo Truglio,
Reggie Watts with John Michael Higgins
and Elizabeth Banks
Directed by:                      Elizabeth Banks
Written by:                       Kay Cannon
Produced by:                     Paul Brooks, Max Handelman, Elizabeth Banks
Executive Producers:          Scott Niemeyer, Jason Moore
The Barden Bellas are back in Pitch Perfect 2, the follow-up to 2012's smash hit and stars Elizabeth Banks, Anna Kendrick, Rebel Wilson, Hailee Steinfeld and Brittany Snow. Enter to win a four-pack of passes to a special preview of Pitch Perfect 2, in addition to a four-pack of shirts, cups, slap bracelets and other items.
Reelblack and PEC present a special 20th Anniversary screening of CLOSED DOORS: THE INTEGRATION OF BASEBALL,  Rick Morris' seminal history of the Negro Leagues on Friday May 8 at 7pm (note new time).  At The United Bank Building, 3750 Lancaster Avenue Philadelphia, PA 19132.  Admission is $5 (includes refreshments).
Filmmaker RICK MORRIS will be on hand for a post film Q&A.
Closed Doors reexamines baseball's integration saga by broadening the historical and chronological perspective of this traditionally limited study. The film traces the evolution of black baseball since its inception in the 1800's.  It discusses black ball's relation to white society and the Major Leagues, as well as places these two divergent cultures (black & white baseball) in the context of America's ever evolving race relations from the 1800's to the 1950's.  In doing so, the film shows both how changes in society led to baseball's integration, as well as provides insight into how the pioneers who broke the color line of this highly visible whites-only club contributed to more significant breakthroughs in the civil rights movement.
The film includes interviews with Hank Aaron, Bob Feller, Buck O'Neil, Max Manning, Monte Irvin and many other Negro League & Major League veterans, as well as baseball historians.