Comedian/Activist/Author DICK GREGORY shares his thoughts on recent Oscar favorites Concussion, Spotlight and The Big Short plus gives his unexpurgated opinions on Selma, Miles Ahead and Barbershop 3 in this exclusive clip. Camera: Les Rivera Interviewer: Mike D. Help us grow. Like/Comment/Subscribe.
The Philadelphia Independent Film and Video Association is proud to present a night of films by Eli and Lu Bevins. Wednesday June 22, 2016 7:30pm at L'Etage, 6th and Bainbridge (above Beaumonde Creperie). Admission is FREE. Filmmakers will be on hand for a post-film Q&A.
When Karma Calls - Following the mysterious outbreak of parallel punishments, a blogger searches for answers to a supernatural force driven by karma. (51 min)
My Dear Arthur - A mother suspected of witch craft takes her own life and her son's to avoid death by the townspeople. She puts their spirits in a painting in hopes to live again through the souls of a couple who purchases the painting 400 years later. (9 min)
The Exit - A woman contemplates in her diary different scenarios to exit the abusive relationship she's in but her reality is far different from her thoughts. (4 min)
Reelblack, Philly's #1 promoter of Black Film, is giving FIVE lucky readers a passes to see PRESENTING PRINCESS SHAW, courtesy of Magnolia Pictures.  Presenting Princess Shaw opens in NYC, LA and on Amazon and iTunes this Friday.  It comes Friday June 3 to Philadelphia at the Ritz at the Bourse.  Passes are good for any screening 6/6-6/9. Enter to win by sending an email with your FULL NAME AND MAILING ADDRESS IN THE MESSAGE AND THE PHRASE "PRINCESS SHAW" IN THE SUBJECT LINE to reelblackinc@aol.com
Winners will be selected at random and passes mailed on June1.  Good luck!
The true story of the incredible Princess Shaw and the enigmatic composer Kutiman, who discovers her from the other side of the world. By day, Samantha Montgomery cares for the elderly in one of New Orleans's toughest neighborhoods. By night, she writes and sings her own songs as Princess Shaw on her confessional YouTube channel. Raw and vulnerable, her voice is a diamond in the rough. Across the globe, Ophir Kutiel creates video mash ups of amateur Youtube performers. Known as Kutiman, he is a composer, a musician, and a pioneering video artist embraced by the world of fine art. Kutiman "transforms sampling into a multimedia art", whether at his home on a kibbutz in Israel or at a live performance at the Guggenheim in New York. Two strangers, almost 7,000 miles apart, begin to build a song. The film unfolds as Kutiman pairs Princess Shaw's emotional performances in a beautiful expression of generosity and compassion, revealing the bona fide star underneath and her fight to never give up on her dreams.
Reelblack recommends you check out comedian ARNEZ J May 26-29 at Helium Comedy Club, 2031 Sansom Street in Philadelphia.
To those in the know Arnez J. is quickly emerging as one of the hottest, most talked about comedic artists in the game. His raw energy, talent and comedic skill quickly landed Arnez the coveted hosting slot on BET's longest-running comedy series "ComicView" for two seasons joining the ranks of hosts such as D.L. Hughley and Cedric the Entertainer. His hilarious new comedy special "Racially Motivated" is now available on Netflix.
This show is 21+ (18+ with parent). Tickets will be available for pick up at the box office prior to the show (they are generally available 1.5-2 hrs prior to showtime.) Get Tix HERE

Reelblack, Philly's #1 promoter of Black Film, is giving two lucky readers a copy of the Sundance hit, TANGERINE on DVD, courtesy of Magnolia Home Entertainment.  Enter to win by sending an email with your FULL NAME AND MAILING ADDRESS IN THE MESSAGE AND THE PHRASE "TANGERINE" IN THE SUBJECT LINE to reelblackinc@aol.com
It's Christmas Eve in Tinseltown and Sin-Dee (newcomer Kitana Kiki Rodriguez) is back on the block. Upon hearing that her pimp boyfriend (James Ransone, STARLET, "Generation Kill") hasn't been faithful during the 28 days she was locked up, the sex worker and her best friend, Alexandra (newcomer Mya Taylor), embark on a mission to get to the bottom of the scandalous rumor. Their rip-roaring odyssey leads them through various subcultures of Los Angeles.
Be sure to join our mailing list at  http://reelblack.com/wordpress/?page_id=17
Reelblack, Philly's #1 promoter of Black Film, is giving one lucky reader a copy of the soon-to-be-released book, VENGEANCE, signed by its author, ZANE.  Enter to win by sending an email with your FULL NAME AND MAILING ADDRESS IN THE MESSAGE AND THE PHRASE "ZANE BOOK" IN THE SUBJECT LINE to reelblackinc@aol.com
Be sure to join our mailing list at  http://reelblack.com/wordpress/?page_id=17
Mega bestselling author Zane returns to the world of her hugely popular novels Addicted and Nervous in this dark and exhilarating follow-up featuring a beautiful but emotionally damaged pop star desperate and determined to enact revenge on those who have caused her to hide behind her fame.
After fleeing from Atlanta years ago following a traumatic event, Caprice Tatum decides it's time to return to her roots—only this time, she's coming back as Wicket, the international pop sensation who's the very definition of fame and fortune. And while she may be the perfect diva onstage, offstage she's desperate to finally lay her past to rest. Her plan? Revenge.
The deeper she worms her way into Atlanta's most elite circles, the more Caprice unravels, putting herself and the few people she trusts at risk, including Jonovan, her childhood crush whose compassion and allure is almost too hot to handle. When her father suggests she see a therapist, Dr. Marcella Spencer, Caprice finally begins to pick up her pieces and find an inner-strength.
But can Caprice truly overcome her past? Or will it drag her even further into darkness?
Tune in to 900amwurd.com today from 11am-noon ET for another episode of Reelblack Radio on The Mojo. at 11:05, Mike and Steph will chat with comedian CHRIS COTTON about his new webseries, The Trackbreakers.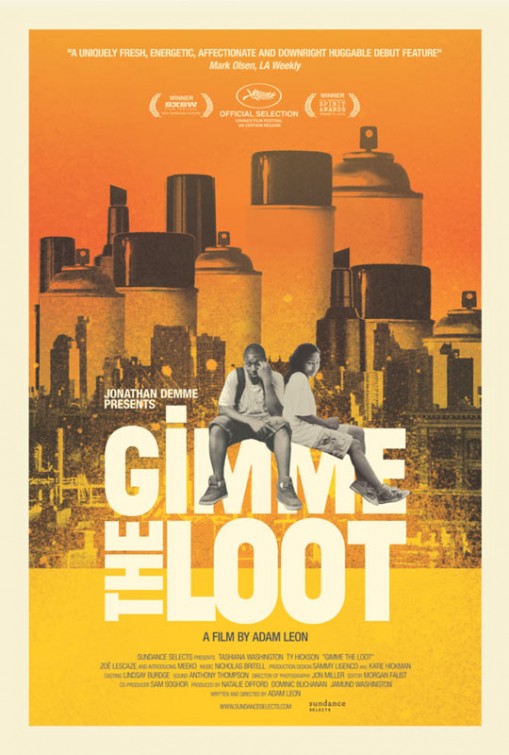 Save $2 OFF any Gimme the Loot screening at the Roxy with code: RB2gimme
May 13-19
GIMME THE LOOT
ADAM LEON / USA / 2012 / 81 MIN
At PFS Roxy 20th and Sansom Streets
This energetic indie hit follows smalltime graffiti artists Malcolm and Sophia as they hustle and scam their way to executing NYC's biggest coup: tagging Mets stadium's iconic big apple.
By delivering weed to flipping stolen phones, Sophia and Malcolm (Tashiana Washington and Ty Hickson) attempt everything in the playbook to scrounge up the $500 they need to pull off their next "bomb," but run into unexpected obstacles at every turn. With his feature debut, director Adam Leon demonstrates a keen eye for offbeat, memorable characters - from a lovelorn sneaker enthusiast to a drug dealer who's more interested in conversing with clients than hawking his wares. But charismatic newcomers Washington and Hickson really steal the show, gamely veering from arrogance to crushing insecurity and back again in a way that will resonate with anyone who has ever been young, ambitious, and broke. Full of boisterous humor and high-risk highjinks, GIMME THE LOOT carries on American indie cinema's storied tradition of shaggy, slice-of-life storytelling while staking out its own territory driven by singular lead characters and a particularly trenchant take on life in diverse but socially stratified New York City.
CAST: Ty Hickson, Tashiana Washington, Joshua Rivera, Melvin Mogoli
PHILADELPHIA FILM FESTIVAL ALUM - PFF21
Awards/Festivals: SXSW (Grand Jury - Best Narrative Feature), Cannes Film Festival, Chicago International Film Festival
Reelblack and the African American Museum in Philadelphia are proud to present the Philly Premiere of ARRAY Releasing's ECHO PARK.  Screening will take place Thursday May 12 7pm at the African American Museum in Philadelphia.  Tickets $7-$13.
ECHO PARK is a lyrical romantic drama that embraces the physical terrain of Southern California and the emotional landscape of love lost and found. Directed by acclaimed celebrity photographer turned filmmaker Amanda Marsalis (Vogue, GQ) and starring Mamie Gummer (CBS' The Good Wife, CAKE) and Anthony Okungbowa (The Ellen DeGeneres Show, MOTHER OF GEORGE).
ECHO PARK takes viewers inside a diverse East Los Angeles neighborhood where residents contend with life and love while being challenged to define themselves in spite of their zip code. Sophie (Gummer) flees from her life of status and security, developing an unexpected romance with Alex (Okungbowa) who is also in search of a new start.
ECHO PARK held its world premiere screening at the 2014 Los Angeles Film Festival and is an official selection of the Ashland Independent Film Festival and Toronto's Female Eye Film Festival.
GET TICKETS NOW AT https://www.eventbrite.com/e/films-with-aamp-echo-park-presented-by-reelblack-array-tickets-24439212342
Reelblack and PEC Present A TRIBUTE TO PRINCE
Friday May 13, 2016 at The United Bank Building, 3750 Lancaster Avenue.
TWO SHOWS! 6:30pm and 9:00pm.Get advance tix at rbprincetribute.eventbrite.com
In honor of the Genius, Reelblack and PEC host a night of rare documentary and video performances of PRINCE ROGERS NELSON. We will screen a seldom seen British documentary showing highlights of his career, then round out the night with over an hour of his best performances Compiled by Reelblack founder Mike D, the clips will span his entire career, from his earliest TV appearances, rare bootlegs, interviews and classic scenes from his films. Come celebrate and sing along with us.
James' SIDE OF THE ROAD JERK CHICKEN will be vending outside and we will have some very cool Prince related giveaways.
NOTE: A limited number of first come, first served tickets will be available at the door for each show ($5.00/please bring cash), however tickets bought online will have seats reserved for them up until the show starts.