Fathom Events and the Metropolitan Opera celebrate 11 years of the Emmy and Peabody Award-winning Live in HD series with "The Met: Live in HD 2016-17 Season" on the big screen.
Reelblack is giving three lucky readers a pair of passes to see RUSALKA on Saturday February 25 at 12:55pm.  We have passes to local theaters in the city as well as in the suburban areas.
This is the final show of the Fall season.
ENTER TO WIN BY REPLYING TO THIS EMAIL WITH YOUR FULL NAME, PHONE NUMBER and MAILING ADDRESS IN THE BODY OF THE MESSAGE.  Winner will be selected at random and notified Wednesday evening.
Kristine Opolais stars in a new production of the opera that first won her international acclaim, Dvo?ák's fairy tale opera about the tragic water nymph Rusalka.
RUSALKA (Dvo?ák)- New production
Saturday, February 25 (LIVE) - 12:55 p.m. ET / 11:55 a.m. CT/ 10:55 a.m. MT/ 9:55 a.m. PT
THE SMASH HIT WEST END MUSICAL The Bodyguard is based on the Oscar nominated film and features irresistible classics including "Queen of the Night", "I Wanna Dance with Somebody" and of the biggest selling songs of all time - "I will Always Love You".
February 21-26 at the Kimmel Center.
Deborah Cox will not be performing on the following dates:
Saturday Feb 25 at 2:00pm
Sunday Feb 26 at 6:30pm
Get tix at https://www.kimmelcenter.org/pdp-pages/201617/broadway-philadelphia/the-bodyguard
Reelblack is giving away a a pair of tix to see it to one lucky reader.  Enter to win by sending an email with your FULL NAME AND PHONE NUMBER in the body of the message and the phrase THE BODYGUARD in subject line to Reelblackinc@aol.com
Good luck!

A conversation with Walter Mosley about the legacy of his friend Harry Belafonte anchors a trio of screenings: The Strolling '20s, Kansas City, and Carmen Jones
Saturday, February 4, 2017

Astoria, New York, January 30, 2017—Actor, musician, activist, and humanitarian Harry Belafonte will turn 90-years-old on March 1, 2017. On this occasion, Museum of the Moving Image will celebrate his legendary career as an artist and activist—a little early—on Saturday, February 4, with a three-film retrospective and conversation with Belafonte's friend, the best-selling author Walter Mosley. The Harry Belafonte Pre-Birthday Celebration will feature screenings of The Strolling '20s, a television special produced by and starring Belafonte and featuring Sidney Poitier, Diahann Carroll, Sammy Davis, Jr. and more, that has hardly been seen in 50 years; Robert Altman's Kansas City, which features Belafonte's favorite of his own performances; and Otto Preminger's classic Carmen Jones, in which he stars opposite Dorothy Dandridge.

This program is the fourth annual Black History Month collaboration between the Black Filmmaker Foundation and the Museum of the Moving Image and is organized and moderated by Warrington Hudlin, President of the Black Filmmaker Foundation and Vice-Chairman of the Museum of the Moving Image. Previous programs include Massa's Gaze, Endangered by the Moving Image, and The Color of Comedy. This program is part of the Museum's ongoing series Changing the Picture, sponsored by Time Warner Inc.

Admission to Individual programs is $15. A day pass including admission to all programs is available to the public for $25 ($20 students/seniors). All events in the Harry Belafonte Pre-Birthday Celebration are free for Museum members at the Film Lover and MoMI Kids Premium levels and above.  See below for schedule and descriptions or visit movingimage.us/belafonte

SCHEDULE FOR 'HARRY BELAFONTE PRE-BIRTHDAY CELEBRATION' (FEB. 4, 2017)
All screenings take place in the Redstone Theater at Museum of the Moving Image, 36-01 35 Ave, Astoria, Queens, New York.
The Strolling '20s
SATURDAY, FEBRUARY 4, 1:00 P.M.
Produced by Harry Belafonte. Directed by Charles Dubin. 1966, 60 mins. Digital projection. With Harry Belafonte, Diahann Carroll, Sammy Davis, Jr., Duke Ellington, Gloria Lynne, George Kirby, Brownie McGhee, Sidney Poitier, Nipsey Russell. The great poet Langston Hughes wrote the script for this star-studded hour-long TV special that was designed to evoke the "tempo, feeling, and spirit of Harlem in the 1920s." This was Belafonte's first TV production, broadcast on CBS.

A Conversation with Walter Mosley: The Living Legacy of Harry Belafonte
SATURDAY, FEBRUARY 4, 2:15 P.M.
Walter Mosley, the prolific author best known for his Easy Rawlins mystery novels including Devil in a Blue Dress, will talk about his friend Harry Belafonte's living legacy as an artist and activist, in a conversation with Warrington Hudlin.

Kansas City
SATURDAY, FEBRUARY 4, 3:30 P.M.
Dir. Robert Altman. 1996, 116 mins. 35mm. With Harry Belafonte, Jennifer Jason Leigh, Miranda Richardson, Steve Buscemi. Robert Altman's lovingly crafted film set in his hometown is a period gangster film, filled with jazz, kidnapping, drugs, and featuring Belafonte's favorite of his film performances. As Roger Ebert wrote, Belafonte "shows a hard-edged side not often revealed in his performances, plays Seldom Seen as a wise, canny, proud black gangster."
Carmen Jones
SATURDAY, FEBRUARY 4, 6:00 P.M.
Dir. Otto Preminger. 1954, 105 mins. DCP. With Harry Belafonte, Dorothy Dandridge. Following up on his successful 1953 screen debut Bright Road, Harry Belafonte co-starred again with Dorothy Dandridge in this early CinemaScope musical, which adapts the love story of Bizet's Carmen to World War II. Belafonte plays the young soldier Joe and Dandridge is the alluring parachute-factory worker, Carmen Jones.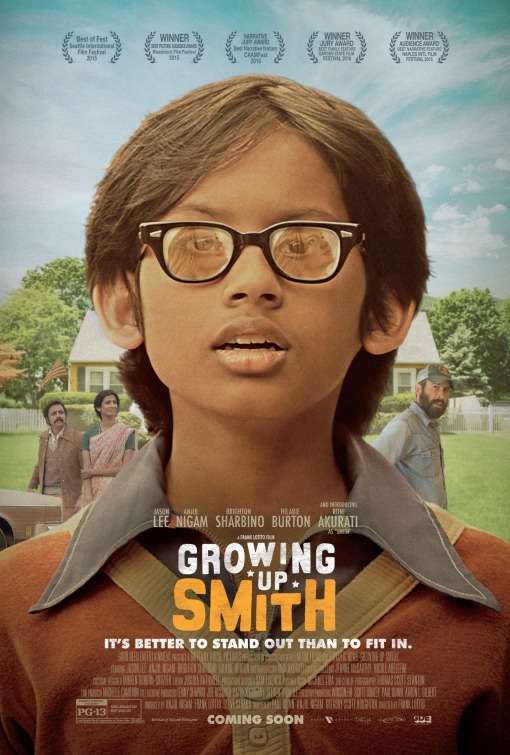 Following the theatrical release of Growing Up Smith (In theaters February 3rd), producer, writer and actor Anjul Nigam (Bhaaskar Bhatnagar)  and actor, Roni Akurati (Smith Bhatnagar) will be participating in a special Q&A at the AMC Hamilton 24 in Hamilton, NJ on Saturday, February 4 after the 1:30 p.m. showing of the film. This will be in conjunction with a nationwide tour in celebration of the film's opening weekend. The duo will be making various stops across the country. Tickets for the 1:30 p.m. showing are available for public purchase on-site or at Amctheatres.com. Growing Up Smith is the feel-good, coming-of-age story of Smith, a 10-year-old boy from India growing up in Small Town, America in 1979. As the boy's family tries to straddle the line between embracing the American Dream and preserving their Indian heritage, Smith sneaks out for a taste of Kentucky Fried Chicken, dons a Saturday Night Fever costume, and contends with his parents as they send him to school with a yellow squash instead of a pumpkin to carve for Halloween. And as Smith falls head over heels in love with Amy, the girl next door, he finds in Amy's father, Butch, the all-American cowboy he wishes his own father could be.

Tix can be purchased in advance at https://www.eventbrite.com/e/soulcomedy-warmdaddys-presents-dick-gregory-by-popular-demand-tickets-31089759307?aff=es2
NOTE:there is a 2 ticket minimum.  Leave a comment below if you want to roll solo and are trying to find another member to purchase tickets with.
Wednesday February 15th!!
SoulComedy @Warmdaddys is honored to welcome back…
Comedian. Activist. Educator.
The venerable
Dick Gregory!!
ONE NIGHT ONLY!!
The author of "Nigger" & one of the originators of political satire & social comedy, live & hilarious at
SoulComedy @Warmdaddys
In a time of change four our country, let us enjoy an evening of laughter and information one of America's wisest & funniest voices.
$35 Admission
SPECIAL EVENT!!
No passes/discounts accepted
Reserved Seating Available:
COMEDYBYTURAE.COM
THIS WILL BE A CAPACITY EVENT. PLEASE GET YOUR TICKETS NOW!!
For a change of pace, I've arranged for a group discount on tickets to see comedian DOMINIQUE when she performs at the Punchline Comedy club in Northern Liberties/Frankford on Friday February 17 at 8pm. Tix (when using the code below) are just $15 (must be purchased in pairs) There's a 2 item minimum, but you can bring food in from the Happy Hour. We will be given a designated section. The club is really nice–good acoustics and not a bad seat in the house. Please RSVP on the meetup page as well as purchase your tickets using the link so that we know who to expect. We can meet at the bar around 7:30 then go in together.
Use promo code MEETUP for $15 tickets to the 8pm show. Here's the ticket link: http://concerts.livenation.com/event/02005186966C1E6F
Happy hour is 5-7pm with drink & specials and half-priced appetizers. There is a paid parking lot under I-95, as well as plenty of adjacent street parking (Free parking also at Sugar House, which is 2-3 blocks away).
What is there to know about Dominique Witten? Well, if you're interested in high-powered comedy, everything. From headlining comedy clubs, to showing-out on television, Dominique is the new face of funny in America. She's created laughs on stages all across the world, including NBC's "Last Comic Standing," HBO's "Def Comedy Jam," Comedy Central's "Chappelle's Show," O.W.N.'s "Herlarious" and the hit television series "Black Jesus," now airing on Adult Swim.
The highly anticipated documentary, I AM NOT YOUR NEGRO, opens today at the Ritz Fiva and Cinemark Rave University City.  The film, inspired by the writings of James Baldwin and narrated by Samuel L. Jackson, is nominated for an Academy Award.
On Wednesday 2/8, Reelblack will host a Movie Meetup in support of the 7:35pm show at the Ritz Five, 2nd and Walnut Streets.  Tix are $7.00 and can be purchased at the boxoffice, or in advance at
We are also giving away Run of Engagement passes–good for admission at any showing of NEGRO at the Ritz Five on Monday through Thursday, to four lucky readers.  Enter to win by sending an email with your FULL NAME AND MAILING ADDRESS in the body of the message and the phrase, "I AM NOT YOUR NEGRO" IN THE SUBJECT LINE to Reelblackinc@aol.com Winners will be selected at random and passes sent out on Monday.  Good luck!