Behind-The Scenes Standup comedy documentary "LADIES AND GENTLEMEN, JORDAN ROCK" to premiere exclusively on YouTube beginning June 5.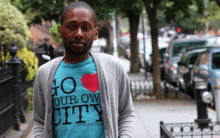 After spending a year playing the festival circuit, Reelblack's original short documentary, LADIES AND GENTLEMEN, JORDAN ROCK makes its Youtube premiere on Tuesday June 5 ay 12pm EDT.
At noon tomorrow, it will be posted on the official Reelblack Youtube Channel www.youtube.com/reelblack
Produced, directed and edited by Reelblack founder Michael Dennis, Ladies and Gentlemen, Jordan Rock is a glimpse into the world of the titular 21 year old up-and-coming stand-up comedian. Following in the footsteps of his older brothers Chris and Tony (and Cousin Sherrod) is the ultimate challenge. Can he find his voice and make a name for himself on the New York comedy scene?
Jordan Rock is a sequel of sorts to Dennis' 1989 short "Who Is Chris Rock," Which has collected over 120,000 views on Youtube since it was first posted in March of 2010 and quickly went viral. It was at comedian Judah Friedlander's (who was cameraman on "Who Is Chris Rock") suggestion that Dennis make a film about Jordan, who had just moved to NYC from South Carolina around the time that people began to discover the earlier film.
The 25 minute documentary, which features appearances by many veteran standups, including Dean Edwards, Judah Friedlander, Ardie Fuqua, Marc Maron and Aries Spears has screened successfully at many festivals beginning last spring including The Langston Hughes African-American Film Festival (Seattle), The Roxbury International Film Festival (Boston) and the Philadelphia Independent Film Festival. It premiered last Friday June1 on PhillyCAM TV and will be broadcast on consecutive Friday nights at 7:30pm throughout the month of June. It is available on DVD (paired with a remastered "Who Is Chris Rock") exclusively through Reelblack.com and will stream exclusively on Reelblack's Youtube channel beginning Tuesday June 5 at 12pm.
"Through our Youtube channel we'd been doing interviews with comedians for years including Paul Mooney, Patrice O'Neal and Keith Robinson. This was a chance to do something longer form and capture a genuine talent at a very early stage of development, says Dennis. We're not staking the claim that Jordan is or even intends to be 'the next Chris Rock.' What we want to say is that even if you have it in the genes to be a successful comic, there's still a lot of hard work and dues paying required to become great. Hopefully the film will inspire others to pursue their dreams."
View the entire film at http://www.youtube.com/watch?v=21GrQhq_1iA
View the trailer http://www.youtube.com/watch?v=6mkLghy9I8s
View Who Is Chris Rock http://www.youtube.com/watch?v=7ZWjzZsQ2Y0
Buy The DVD at http://reelblack.com/wordpress/?page_id=19
Twitter @Reelblack. Official Website www.reelblack.com
Comments