THE NEXT STEP - BLACK FILMMAKING IN PHILADELPHIA 1/30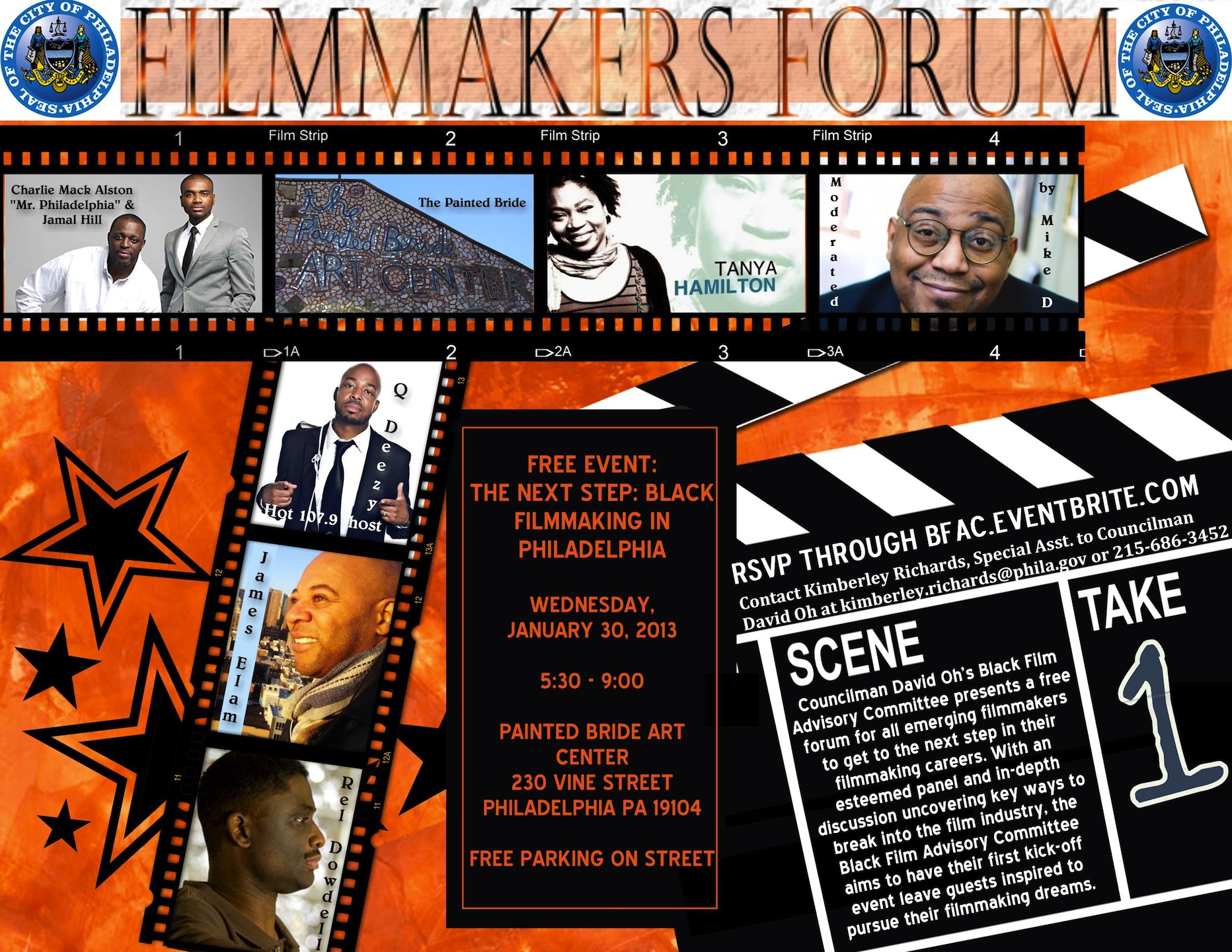 Come out and engage in a discussion with an esteemed panel of filmmakers, who took their films from conception—-to completion—-to distribution!  RSVP NOW AT http://bfac.eventbrite.com

Whether you're an experienced filmmaker or just starting out, the panel will inspire you to take your next step!

Panel discussion moderated by Reelblack founder Mike D.!
Panelists Include:

Charlie Mack Alston "Mr. Philadelphia" ~ Philanthropist, Producer & Jamal Hill Director/Writer of "Streets"

Hot 107.9 Radio Host Q Deezy- Actor/Producer "Exit Strategy"

Tanya Hamilton ~ Writer/Director "Night Catches Us"

Rel Dowdell ~ Writer/Director/Producer "Changing the Game"
James Elam ~ Producer

R.S.V.P via Eventbrite, Space is limited! Parking is Free after 5 p.m.
Doors Open 5:30 p.m.

Contact: Kimberley Richards, Special Assistant/African American Community Outreach to Councilman David Oh at: Kimberley.Richards@phila.gov

Event Description:

Through the Office of City Councilman At-Large David Oh, The Black Film Advisory Committee, a committee of members from prominent media, film and art backgrounds, will host an event geared towards Black and minority filmmaking in Philadelphia. Located at the Painted Bride Center, the committee aims to bring professionals in film and various filmmaking mediums, to inspire, network and educate filmmakers on how to get to the next step. Through an in-depth panel discussion uncovering key ways to break into the film industry, the Black Film Advisory Committee aims to have their first kick-off event leave guests inspired to pursue their filmmaking dreams.
Black FIlm Advisory Committee Mission:
The Black Film Advisory Committee is an initiative stemming from Councilman David Oh's committee on Global Opportunities and Creative and Innovative Economy. The Black Film Advisory Committee will create opportunities for Black filmmakers and increase a space for diversity in art in Philadelphia. One of the committees' main objectives is to make Philadelphia a hub for aspiring filmmakers. The Committee will host workshops, seminars and fundraisers that will benefit both Black filmmakers and other minority filmmakers in Philadelphia.
Comments